You will need
- time;
- will power;
sports equipment;
- video player or computer.
Instruction
Self - defense- actions taken to protect yourself, your loved ones or property against the aggressor. It is wrong to understand self-defense only attacks, painful receptions or shots from the weapon. Of the many dangerous situations you can go through negotiations, persuasion, finally, just to escape.
However, if you've decided not to retreat and not to give up, learning self defense at home should start with assessing their own physical condition in accordance with which you need to choose the path that you will develop. For strong young men approach the study of Boxing or kickboxing (disciplines closest to a street fight), and fragile girls better Aikido or to study the methods of protection with the use of weapons of self-defense.
There are many video courses on self-defence, and to choose among them is not easy. Immediately deselect those that offer guaranteed results in the shortest possible time. There are no miracles, and any professional knows that the staging of the most simple strokes take months of training. At the same time, it is not necessary to choose very exotic and complicated martial art designed for a very high level of physical fitness. For example, in one of the schools Wushu beginner is offered on the third lesson, to perform a back flip. In most dangerous situations this ability you do not need. Select the Golden mean, for example, all the same box.
In addition to training on the syllabus of self-defense regularly exercises on General physical training. Running, pushups, pullups, work with dumbbells or a barbell is just as important as the knowledge of fighting techniques. In the end, even not having special skills in martial arts, you will attract fewer potential aggressors sports.
Note
No knowledge, skills, and weapons will not protect you if you are not able to use them because of the psychological barrier. It is the hardest to break down at home, so the best choice would be a self-defence course with a trainer.
Useful advice
Buy cheap punching bag or a bag that you can beat not only in the course of self-defense, but just for getting rid of stress.
Advice 2 : How to learn how to fight karate
Karate – an ancient martial art that came to us from Japan. It is the art of attack and defense is based on strikes with hands or feet, i.e. without the use of weapons. Learning how karate can anyone, from child to pensioner.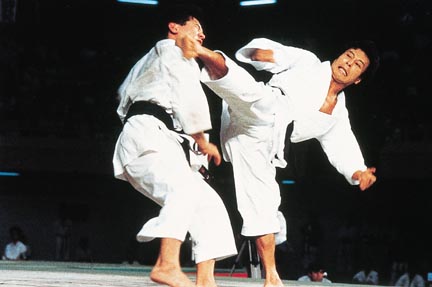 Instruction
First, you need to get an idea of karate as a sport and means of self-defense. Check out the Internet thematic websites dedicated to different styles and schools of karate. Select the most suitable direction. And also remember the ones that you absolutely do not fit (for example, the direction of Kyokushin is considered the most difficult and toughest of all areas of karate).
Further, when you have decided on the desired styles, you need to choose partition. View ads local sports schools. They are constantly there is a set of groups as beginners who want to learn how to fight and more prepared athletes who want to raise the skill level. Or, if you have heard of a particular section in your city, or karateschool with good reviews, ask there. If the result is worth it and the classes will be fun, it is better to spend the extra time on the road.
Before you make a final decision, be sure to check with a trainer (
karate
-schools coach called "Sensei"). Be sure that you have had a good relationship with your future mentor. Only an experienced Sensei will be able not only to supply good
karate
technique and learn to fight but to raise
morale
.
Once you start training, don't forget to continue self-education. Watch themed movies dedicated to the great warriors of karate, the founders of karateschools, as well as paintings, raising the spirit of war. Ask your Sensei to recommend you some literature dedicated to martial arts in General and karate in particular. And don't forget to devote time to General physical preparation. Without a good physical shape not be able to master the basic techniques of karate and to learn how to fight well.
Note
Learning to fight, do not misuse their skills. First, the enemy might be stronger. Second, the best fight is the one avoided.
Useful advice
You can learn a lot of useful information by attending workshops by recognized masters of karate, as well as competitions and demonstrations. Great communication with the athletes morale.