Instruction
Don't forget that hunting skills would make the Dachshund a very special dog and will require you to respect her dignity throughout. This is a fairly well-known German hunting dog breed. From the XVI century, it makes an indelible impression on the hunt. The famous German zoologist A. E. Brehm noted that they are intelligent, smart, funny and very alert, will not be seduced to a stranger. In addition, dachshunds are great companions. Currently, they have a lot of chances in the cities.
Be sure to keep in mind that even-tempered and calm but energetic and funny Dachshund brings joy and lonely people, and numerous family. She usually prefers a single host, while gently tied to all other family members. It perfectly protects the house, the owner, his things, having a booming and loud "voice". With excellent scent and hearing, the fee is not distracted by unnecessary noises, as do some breeds of retrievers and Terriers.
Explain to the children and remember ourselves that the Dachshund is very cute and fun, but it will never tolerate to his dismissive and rude attitude. It will begin to show stubbornness and disobedience, can do the opposite, claiming their dignity. Remember that the contents of your fees should be based on love, mutual respect and trust. Do not resort to severe measures. When poor contact with the owner, she's vindictive, selfish and touchy.
The Dachshund is easy to keep the apartment: it is small and very clean. Her hair look is quite easy. For long-haired and wire-haired varieties get a special brush and smooth coat dachshunds brush mitten.
Always ensure that your pet does not overeat and move more. Do not let the fee too high to jump. This may damage the spine and lead to displacement of the intervertebral discs.
It is interesting that no dog takes as much ingenuity and independence, like a Dachshund. If you see the dog as a companion, then you will appreciate her strong personality, brave heart and intelligence. The Dachshund is a hardy and viable, rarely sick, has a stable nervous system, which is characteristic of species with a strong Constitution. She is a tireless companion, can withstand high physical loads, despite their short legs and small size. Many dachshunds are good swimmers and hunt in water.
More walk with the dog. Dachshunds love to frolic in the fresh air, practicing his hunting instinct. On walks do not forget that they are still jealously guards have been posted, to protect their master. They can blindly throw at the dogs that exceed them in size and strength. It is important to know that for the serious and daring Dachshund respects all the dog tribe. Determination and firmness of her intent to not leave any doubt, even the most large breeds.
Training a Dachshund, patience and perseverance. There is an opinion that dachshunds are stubborn and rebellious. This is easily explained by her hunting skills. After all, on the hunt, fighting with the beast in the hole, which sometimes surpasses it in size, she more often uses her resourcefulness and ingenuity than physical strength. Imagine what this small creature needs to make their own decisions, not relying on the instructions of the owner. Therefore, manifestations of some tweaks taxes in everyday life surprise, but are completely reasonable. She will not rush with the performance of your team, not sure if it's absolutely necessary. But you will find unquestioning obedience at the coincidence of her and your opinions.
The fee grant some freedom in the house. Here she feels like a mistress always knows who is where and doing what. As a rule, it chooses the warm and cosy corners, loves to sleep, wrapping in a blanket. This dog loves the comfort and warmth. Trusting his master, loves to sit on his hands or knees.
Advice 2 : How to train a Dachshund
Many different breeds of dogs by nature have outstanding intellectual ability, but if you want your dog was really intelligent, well-mannered, considerate and loyal, you should pay attention to its training and upbringing. In this article we will talk about how to train a Dachshund – dogs, characterized by high mental capacity, having a striking nature and fairly trainable.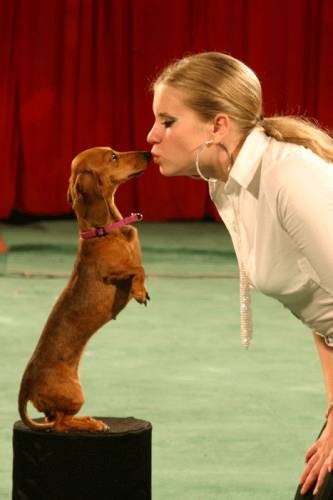 Instruction
The training fee as any other dog is a process of formation of conditioned reflexes, and you have to know certain rules of communication with the dog, if you want the training process was effective.
Teaching a dog a command, always start with the team itself, and then generate action-irritant. This will form the thoughts of a dog a causal relationship, which she will remember. Give commands in a calm voice, saying them loudly and clearly, without stretching the words and coaxing the dog to obey you. The dog will perceive only the most clear and concise command – "sit", "lie", "place", and so on.
Best as encouragement and incentive to follow the command to use any treat – food reflex dogs are very strong, and she will remember that after executing a command it will receive from the owner a prize in the form of food or dog biscuits. Don't hit the dog, I always repeat the same command the same way.
Each dog has its own name, which she learns to respond since childhood. Giving the dog, train it with treats to the nickname gradually. Step away from the dog a couple of feet and, keeping at a distance from her a treat, call the dog by name a quiet and gentle voice.
Bringing your puppy home, you will encounter the need some time to clean up his waste products – the puppy Dachshund is learning to celebrate need on the street immediately. Once you walked into your house with the puppy, put him in a place that is temporarily allocated for dogs as a toilet – it can be nappy or tray.
Don't let the dog get away – give the puppy to understand where he is, and hold it on the seat of the toilet until he does his business. After the puppy goes to the right place, give him a treat and praise. In a short period skill will be fixed.
When the puppy grows up to three months, start to teach your Dachshund to street walks. First time walk in a quiet and peaceful parks or yards so that the fee used to their new environment and were not put off city noise, cars and crowds. Take a walk a treat to encourage the dog.
Give your puppy the opportunity to run and to throw out the accumulated energy. While walking let the puppy team, call his name, but do not take hands to form the habit. Teach the Dachshund to respond to the command "fu" and "impossible" - they are particularly relevant in the street like a dog does not distinguish between edible and inedible objects, picking up from the ground all in a row.
Also very important is the command "to me" - a Dachshund should obey instantly, and thus, to accustom your dog to the team needs from birth. If you want to scold the puppy, never beckon to his command "come".
Important commands that will make your life easier, and will make a dog more bred and agreeable, are the commands "sit", "down", "place", and many others.
For walking you need to fee comfortable and soft collar.
Note
To teach the dog to return to the place you need in everyday life and in special training. Conditional stimuli here are the command and gesture, are unconditional - promotion, slight tug of the leash. To its place the puppy begin to teach from the first days of his arrival in the house.
Useful advice
Training at home. Accustom the puppy to cleanliness in order to teach your puppy not to soil in the house, first, you need it as often as possible to walk. Absolutely need to quickly bring the puppy outside immediately after a meal, bedtime, or long game, otherwise the puppy will nopacket necessary, and then blame only my laziness.
Advice 3 : How to teach a Dachshund commands
The fee, at first glance, absurdly long dog with disproportionately short legs. It seems ridiculous and awkward. Meanwhile this is a burrowing, hunting dogs – moving, funny, has great reflexes, high intelligence and learning capacity. Fans of this breed claim that the fees tend even a sense of humor. If so, then the process of training and learning teams will be interesting for both of you.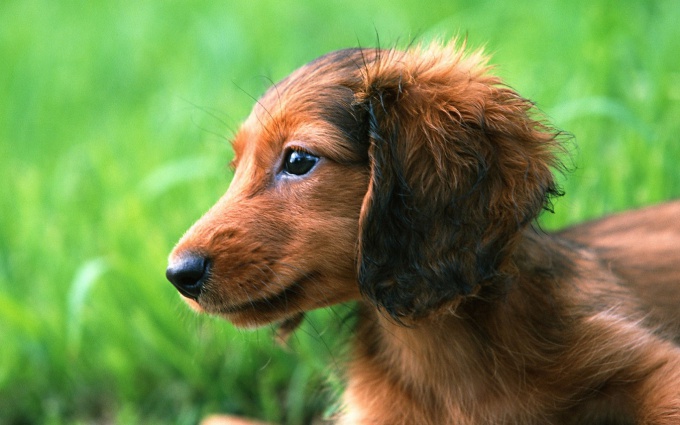 Instruction
With the appearance of a puppy in your house starts his education and training. Even the baby don't let to do something that will not be allowed adult dog: begging at the table, sleep on your bed and the couch, chew on wires, clothes and shoes. Kids can rein in loud command "Fu!" or "No" puppies older are allowed to slap a newspaper, an adult dog – strap. Even a light slap Dachshund perceive as punishment, but realize that you can not do, only if it followed a fault.
The most important command "come" will be easily understood by the puppy, if during feeding you will call the dog that way. When working out the other teams and skills, use that as a reward, some kind of treat .
For dog safety on the street, teach her the command "Next". Perform the exercise on a leash. As soon as the taxi stops adhere to your step, change direction to the opposite. Such a tangible response to its haste or slow, the Dachshund quickly remember and follow this command, especially if obedience will be rewarded.
Useful command "Sit" when the fee can be forced to pull your back legs and sit down by pressing slightly on the croup or on the left hand shoulder where the dog is "pressure point". It is used in the relationship between dogs, dominant dogs put pressure on it when it is necessary to show superiority. When the dog sits, and she will be able to stay in this position for some time, and stroke and praise her, treat yum-yum. When she wakes up, again repeat the exercise. One session should not last more than 10 minutes. Go back to the testing team after a while.
Once your Dachshund has learned to perform the "Sit" command, navigate to the command "down". Sit her down on the floor. Clearly, say the command "down" and gently pull her front paws, forcing to lie down. Praise her, give a reward and repeat the exercise a couple more times. After some time to fix the received skill.
Useful advice
Different teams teach the dog on different days, so it does not get faster and understand what is required of her.
For the safety of your pet, you must first teach him basic commands.