Instruction
Find a suitable shirt. With studs you can wear only shirts with double French cuffs – they have slightly longer sleeves. Do not buy instances equipped with both buttons and holes for cufflinks – if you want to wear both, get two different shirts. Choose from cotton of the best quality that you can afford. If you want to save, look for shirts in the departments of sales specialty stores – in a season where you can buy excellent model semidesyatiletnego discount.
Choose the right cufflinks. If you intend to wear them exclusively in a business setting, can be limited to one pair. Too expensive copies with inlays of precious stones in the office look out of place. Prefer discreet models of brushed gold, platinum, polished metal. They should be small, flat, inconspicuous. Formal dress implies a more prominent cufflinks with monograms, logos, brands, possible insertion of opaque semi-precious stones or mother of pearl.
Today, cufflinks can be worn in an informal setting. Pick a plaid or printed shirt accessories fancy shapes - plaited silk cord, carved from bone or hard wood. Very interesting will look comic cufflinks in the form of animal heads, miniature chess boards, Golf balls and other details alluding to your tastes or Hobbies. Shirts include studs, can be worn with jeans and a simple single breasted jacket or plain knit pullover.
A great option, which has become a classic striped shirt, buttoned cuff-links with coats of arms or coins. Add a blazer and silk scarf in the neckline of the shirt is the image of the gentleman of leisure ready.
Learn how and easy to wear a shirt with cuff-links. Her cuffs should protrude from the jacket sleeve a little more than regular shirts with buttons. However, do not pull the cuffs at full length – the cuff should be visible only on the arm, bent at the elbow. If you wear a shirt with a pullover, a little modernite his sleeve, showing the cuff in all its glory. Be sure to rehearse in front of a mirror – you have to look a little sloppy, but in any case not sloppy.
Think about the design of the neck shirts. In a business setting required tie appropriate suit colors. In the evening it is possible to replace silk plantroom, stabbed to death with safety pin, made of the same material as the cuff links. With a sweater, or club jacket wear a shirt without a tie, unbuttoned a few top buttons, or tie round neck slim woolen or cotton handkerchief.
Note
In the classic version, according to etiquette, wearing cufflinks on the cuffs of shirts, which at 1.5 cm peek out from the jacket sleeve. That is hence the rule, cuff, cuff button must be visible. Modern style "keel" allows you to wear cufflinks without jacket, sometimes even with the shirt on the issue.
Useful advice
Cufflinks should be matched to the color of clothing with denim decoration more harmony cufflinks, decorated with blue nail Polish; similarly selected cufflinks with the presence of precious stones. Cufflinks are usually worn only on shirts with double cuff (also called French) or a white shirt with a single cuff without buttons.
Advice 2: How to wear jeans men
Men's jeans have long lost the status of a working pants. Today they are worn to the office and to picnics, famous fashion designers include them in their collection. To jeans emphasized your strengths, delicately hiding the flaws, and learn to choose correctly and skillfully combined with the clothes already in your wardrobe.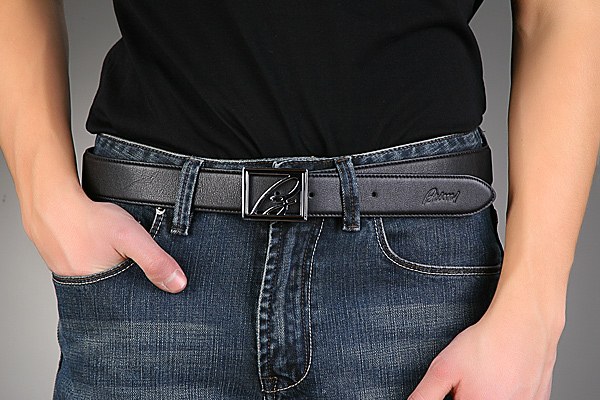 Instruction
Select the appropriate model of jeans. Men of small stature should stay on straight or tapered pants. Those who differ too thin, fit classic straight cut, and models with large pockets, visually adding to the volume. If you have been a belly, choose jeans with low waist, slightly baggy style.
Do not give up the opportunity to emphasize your strengths. Men tall and athletic may prefer straight models with low waist, balancing the proportions. Owners of a slender figure and long legs fit skinny jeans, nice tight hips.
Trying on new jeans, pay attention to length. Pants should go on the shoes, half closing the heel. Too long jeans you can
tuck
, especially effectively they will look great with high shoes with thick soles. But too short pants is not worth buying – they will give the impression that you just grew out of his clothes.
Pick the right shoes. In warm seasons wear jeans with loafers, in the heat of a valid flip-flops and sandals without socks. Deciding on these options, don't forget the pedicure. In bad weather wear jeans with high lace-up shoes or sports shoes. Don't wear them with classic shoes and painted models.
Complement the comfortable pants with a belt. Pick it up in tone to the shoes. The optimal choice is a belt of moderate breadth of high-quality thick leather or a good substitute. Do not buy models with flashy buckles, chains and large logos.
With jeans wear practical clothes – shirts, turtlenecks, Polo shirts. Men of small stature to withstand the whole suit in one color, choosing black pants, a thin sweater or turtleneck of the same color. Tall people can wear contrasting combinations – for example, by wearing dark blue jeans orange or grey jumper.
The combination of jeans with a blazer today is quite acceptable. Try blue or blue pants with a fitted single-breasted jacket from thin wool or cotton. Pick up a Polo shirt the right color. The people of creative warehouse can combine black or blue jeans with eye-catching velvet jacket in a rich dark hue. This ensemble can be supplemented with a shirt with cufflinks and a bow tie.