Instruction
Apply light hairam a beautiful shade, rinsing them with a decoction of chamomile, turmeric, cinnamon and hops. Toniruja dark blonde or red hairs with the help of ingredients such as walnut extract, cypress, sandalwood and shells of hazelnut.
Prepare dye from onion peel, which contains quercetin to dye hairin red-orange tones. Pour 50 grams of husk a glass of water. Boil the mixture on the heat for 20 minutes. Allow it to infuse, and then strain. For thick paint, you can add flour or starch. Apply evenly on the hairs, cover them with plastic wrap. Wrap head with a towel. After 1-2 hours rinse the paint with warm water. Bright hairs after the procedure will turn bright red and the dark will acquire a Golden-brown hue. In addition, the paint will make the hairs more robust and accelerate their growth. To give hairam light tint rinse their decoction of onion peel.
Use henna or Basma – natural dye. To get a darker shade in henna add 3-4 drops of iodine or brew it strong tea or coffee. Adding walnut infusion, you will give hairam a beautiful chocolate shade. If your hairs hard and the paint falls on them is bad, add in henna, the juice of half a lemon. The mass is better kept hairOh, add a teaspoon of honey. For more intense color, apply paint on clean hair, you rinse with plain water. Wash your head with shampoo after 4 days after painting.
To give hairam a light shade, use unstable foams or gels, are easily washed off with water. Toners and soft colors, contains less oxidizer, put hairam much less harmthan conventional paint, and wash off 10-20 times.
Make the illumination using the services of the salon. This procedure is a non-persistent staining, causing hairam the least harm. During the illuminations you can find not only the basic color of the hair, but the color of the tint.
Advice 2: How to dye your hair with folk remedies
Hair coloring with the help of folk remedies not only help to give the hair the desired shade, but also perfectly heal and strengthen them. Most often the basis of the coloring of the masks are henna and Basma. In addition, the often used onion peel, chamomile, cocoa, rhubarb and even regular tea.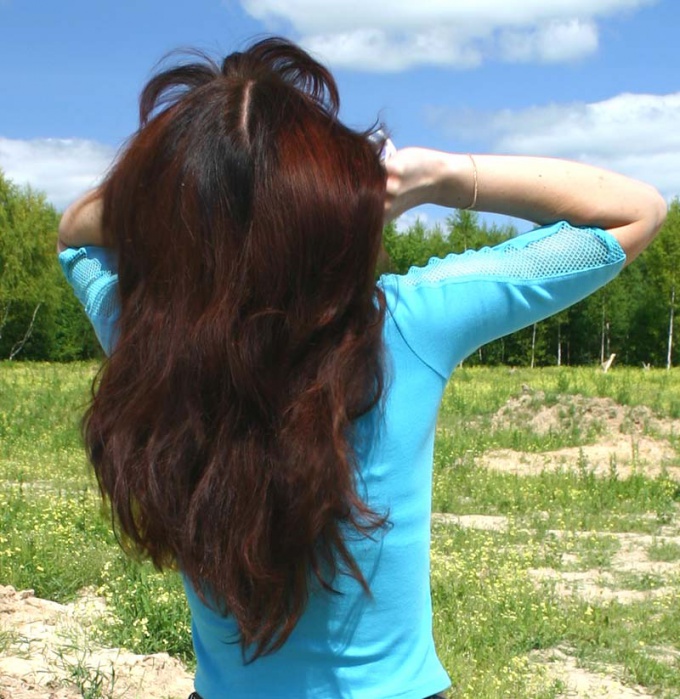 Instruction
We all know that the artificial hair dyes adversely affect their structure, gradually destroying it. The alternative is dyeing the hair with folk remedies. The advantages of this method include the General improvement and strengthening of hair getting the desired shade, the lack of chemical components that are harmful to hair.
The effect of natural dyes, as a rule, short-lived. And Yes, a noticeable effect cannot always be achieved the first time. Put cooked means need only for the whole length of the hair. The longer it takes to wash off, the more intense color it is, but to keep more than one and a half hours is undesirable.
Coloring hair yourself, to predict what the end result is a shade that is almost impossible. It is better to try colouring on one strand to try to predict the color. If you want to achieve a Golden color, two methods can be used.
Take fifty grams of the dry husk of the onion, pour 200 g of water and boil twenty minutes. The solution is then cooled for half an hour apply on hair and rinse.
Three tablespoons chopped chamomile flowers pour a liter of boiling water, steep for at least an hour, then strain. Solution massage into hair and keep for half an hour. Chamomile is possible and not to wash off.
If you need a bright Golden color, take a bag of henna and dilute two or three tablespoons of chamomile extract, cooked according to previous recipe. The resulting mask apply for half an hour and rinse thoroughly.
If you want to buy the bronze shade, use the mask in two parts henna and one part of the Basma. Mix in proportions according to instructions and apply for half an hour and then rinse.
Want to dye hair to a bright shade of mahogany? Need a mixture of one packet of henna and four tablespoons cocoa. Dilute to the consistency of thick cream and apply for twenty to thirty minutes, depending on desired color intensity.
Become a hot Brunet you will help taken equally henna and Basma. They must be applied as a mask for half an hour.
To achieve dark brown pour three tablespoons of black tea a large glass of water and boil for twenty minutes. Massage the solution into hair and hold it in for half an hour.
To get the blonde shade, you need twenty grams of roots and leaves of rhubarb, pour a half liters of white wine or wine vinegar diluted 1:1 and boil for half an hour. Infusion rinse hair and leave for half an hour.