You will need
To prepare the malt:
- rye;
- water.
For the first recipe:
- rye flour – 2 glasses;
- rye malt – 0.5 cups;
- honey – 2 cups;
- raisin – 1 glass;
- water – 5 liters.
For the second recipe:
- rye flour – 0.5 kg;
- water – 10 liters;
- sugar – 0.5 cups;
- yeast – 10 grams.
Instruction
For making kvass malt-based you'll need to make the malt from germinated rye grains. To do this, soak the rye in an enamel saucepan. Ten hours after beginning of soaking, drain the water and leave the grain for two hours.
Pour the rye water and again soak for ten hours. Drain, dry grain and soak for another ten hours.
Place soaked grains in a wide shallow dishes and sprouted at a temperature of about twenty degrees. From time to time hydrate your rye. Germination takes three to four days.
As soon as the roots that emerged from the grains reached a length of four-fifths of the size of the grain, the malt can be used. However, you can keep it no more than two or three days.
Malt can be stored for future use. For this purpose dry seeds germinated at a temperature of about seventy degrees during the day, clear them from sprouting roots and grind in a coffee grinder. Keep the malt in well sealed glass jar in a cool place.
For making kvass mix rye flour with malt, fill with boiling water so that after mixing of turned the dough consistency reminiscent of sour cream. Allow the mixture to stand at room temperature for one day.
Pour the mixture into an opaque container, add the raisins, and five gallons of hot water. Mix all the ingredients and leave the wort to steep for ten hours.
Strain the wort, add honey and soak at room temperature for six hours.
Again strain the liquid, pour it in a glass bowl, cover and leave in a cool place. Four days later home brew you can try.
Brew of flour can be prepared without malt. To do this, pour the flour with boiling water, spreading it to the consistency of sour cream and stir the lumps. Dissolve the yeast in a small amount of water. Wait until the dough has cooled to a temperature of thirty five degrees.
Add in the dough the yeast, sugar, warm boiled water and leave to infuse during the day in a warm place.
Strain the resulting drink, pour into glass containers with lids and put in a couple of days in the fridge.
Advice 2: How to cook kvass is made from rye flour
The kvass
in Russia has always been considered a traditional drink, to cook it could any hostess.
Brew
you could drink all the time: before and after work to quench their thirst, before and after meals, etc. recipes of making it a great variety. But the most common and well-liked is considered
the brew from
rye
flour
.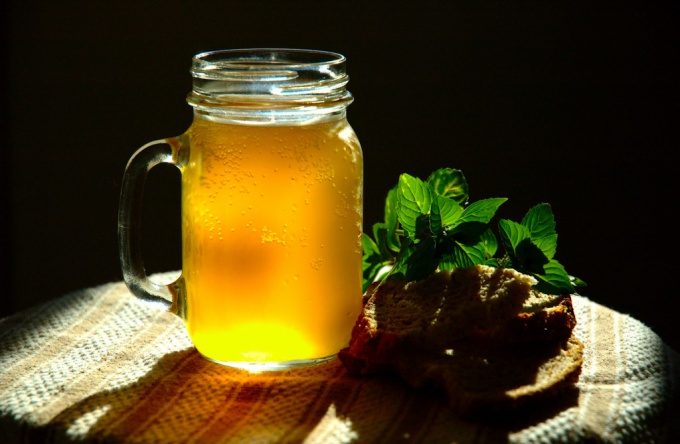 You will need
½ Cup sugar
0.5 kg of rye flour
8 liters of water
15 g of fresh yeast.
For kvass from rye bread toasts:
½ Loaf of bread (for breadcrumbs)
rye flour
sugar
30 g of yeast
Instruction
Dissolve yeast in warm water and leave to increase in volume.
Rye flour pour the boiling water and knead the dough to get the consistency of thick cream. Allow the dough to cool to about 35 degrees.
Then dilute with warm boiled water, add the sugar and the risen yeast. Stir and leave until the fermentation process for about a day.
After that, strain and put in the refrigerator for two days.
Can this recipe to diversify and prepare a brew from roasted rye bread. To begin, prepare crumbs of bread. Fry them until the color what shade you want to brew. If it is good to fry the bread to a dark brown, dark brew with a rich taste and slightly toasty crackers will give the brew a light color.
In three-liter jar put a tablespoon of rye flour, a tablespoon of sugar and fresh yeast. Pour warm water and leave until the beginning of the fermentation process.Wait until the top to receive a cap of foam. Add a little more sugar to taste, toasted croutons and add in a mixture of warm water. Don't forget to leave room for the fermentation, it is about to start narrowing banks.
Cover the container with a thick cloth and place on the tray, so as not to stain the table dripping drops during fermentation.
Best jar of kvass and store in a cool place for about 2 days. When he reached the desired color, strain it through cheesecloth again and let stand in a cool place. This drink is already possible to drink.
Useful advice
Instead of yeast, you can use the starter from the earlier brew. Unlike yeast it will give the brew a more mild taste.