In fact, the process of drinking mate is a ritual, the observance of which brings not only aesthetic pleasure, but also helps you to feel better the drink itself. Drinking mate uses a special Cup, called a Calabash or porongo. It is a pear-shaped fruit of a pumpkin, which cut the tip and the extracted pulp. Her tree peel dried and sometimes smoked a little bit on fire. Often the edges of the trim with silver. Calabash in any case should not be covered with paint or varnish. The surface needs to breathe.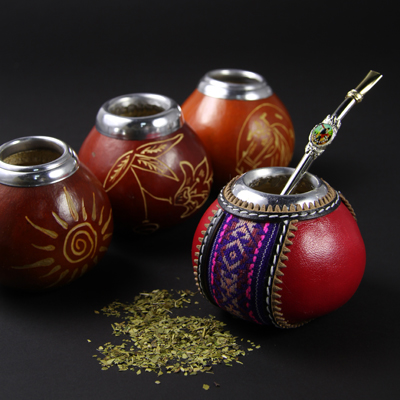 Once you become the proud owner of a Calabash, to use the Calabash should be recovered. To do this, half fill the Calabash Yerba mate, pour hot water and leave in this condition for a day. Then pour the contents and thoroughly scrub the inside of the gourd with a spoon, which is wrapped in a soft cloth. The procedure repeated twice.
For Calabash gourd, hand-made by recognized masters, there is another kind of process of recovery. In Calabash mate fall asleep halfway. Then fill to top of a good cognac. Let it sit a day. Then clean the Calabash, opolaskivanie cold water. Dry with a soft cloth, then give a bit of cognac and opolaskivaniem them of the vessel wall. Now Calabash can be dried. And after drying, let's start the enjoyable process of drinking.