Now the skirt is heavily modified, retaining only the remarkable form. The length of such skirt a little above the knee and lush form needs to be narrowed at the bottom. This style is able to visually increase the missing volume in the hips or Vice versa to hide it. To make the legs slimmer, choose a Shoe with a heel of any height, but the higher the heels, the visually longer legs.
Tulip skirt are usually worn in warmer seasons because it is made of light materials. Give preference to dark tones for the top. You can pick up a top in pastel or bright colours, as long as the image looked perfectly full. Tulip skirt can be worn with t-shirts, asymmetrical shape. To achieve the ideal image should give preference to blouses and tops made of silk, satin or chiffon. The blouse can be decorated with bows or ruffles, and tops include decorative elements in the form of beads or small pebbles.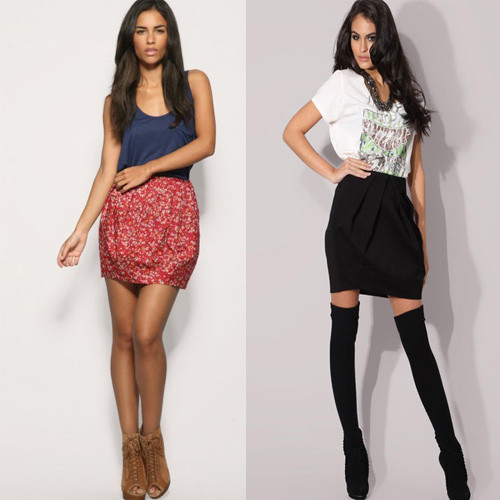 The Tulip skirt looks sexy with a corset. This way you can complement a jacket made of lace fabric or the blouse of the above fabric. To create a feminine or office image pair this skirt with a cropped, jackets, shirts, turtlenecks, which is color coordinated to her.
This skirt is recommended to choose shoes with heels or wedges. It can be shoes, sandals or boots, you can sometimes wear flats, most importantly, to form an image.
Of accessories with the skirt-a Tulip should wear a neat belt. Fashion designers also suggest to complement your fine necklaces, bracelets or pearl decorations.