Colorful decorations, balloons and flowers
There is probably no such children, who wouldn't love balloons. That is why balls are the most common items that most often the parents resort to decorate the room for birthday. This method of decoration is one of the cheapest ways of decorating, and if you show imagination, the room for celebration is just newsnet. From balloons to make different shapes animals, flowers, and clowns, can be stretched bright garland across the room near the ceiling, and you can just inflate a lot of balls in the shape of a heart with helium and put them in a room that they filled all the space above the ceiling. Regarding the choice of colors of balls, then you need to consider the tastes of your child and his gender. For example, for room decor boy it is better to use balls blue, green, white, orange, girls red, yellow, pink, etc.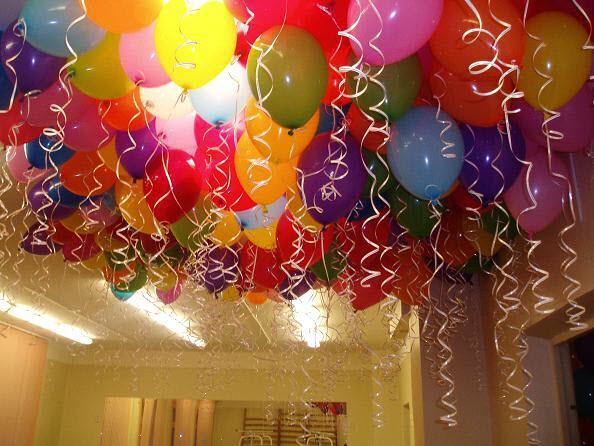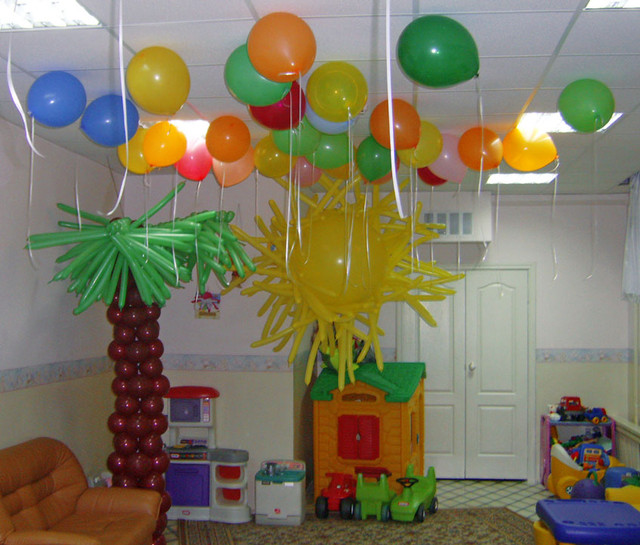 Also a child's room can be decorated with artificial flowers made with your own hands. The Internet to find ready-made templates, colors, print them out, cut out and decorate their walls and ceiling of the room. If your child has a favorite cartoon characters, they too can print out and decorate a room.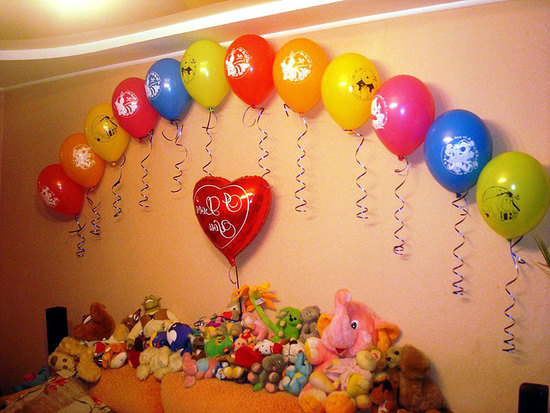 If you have a little time on the decoration, you can buy ready-made posters, garlands with the inscription "happy Birthday" streamers and other accessories to decorate the room.
A festive table decoration for birthday
The table with Goodies is one of the most important parts of a festive interior, which is why his collection and decoration, and the choice of food must be approached with the utmost seriousness. Down with boring plain tablecloths, let them replace the more bright and vibrant counterparts. Put under the dishes interesting mats, lay the napkins with the image of a popular cartoon. As for utensils, here preference give forks, spoons, plates and mugs of unusual shapes and decorations.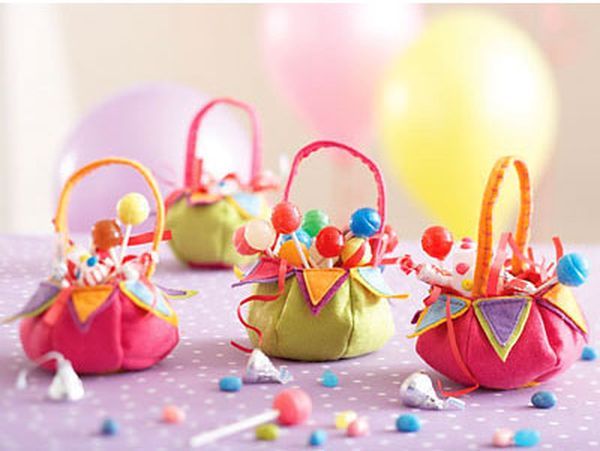 Also decoration of the festive table can serve the cake. Order your cake in advance, selecting the dessert, for example, in the form of a ball, fruit baskets, cars or any other form at its discretion.