Instruction
Different chemical composition of fly ash depending on the grade of the burnt wood. The use of ash is not always good, as applied to soils, ash increases its alkaline reaction, thereby making it difficult for plants to access nutrients. Ash from garbage, chemically treated or painted wood should not be used as fertilizer, as it contains hazardous or potentially hazardous chemicals, heavy metals. Ash should not be used with fertilizers containing nitrogen, such as fresh manure, ammonium nitrate, urea, ammonium sulphate. When used together with ash they will lose their properties. A month after making the ash applied to the soil nitrogen fertilizers. Ash is used for alkalinity organic matter, mixing with the compost heaps, where it helps to maintain a favorable environment for organic matter.
Do not use ash fertilizer on alkaline soils where bred plants-acidophilus. These include azaleas, camellias, blueberries, cranberries, rhododendrons, Heather. The main thing for these plants - the soil is acidic. Acidophilus does not grow alone, in their soil always contain the right microorganisms, specific types of mushrooms. The cranberries these fungi grow with the roots and take out the sour of soil nutrients. Cranberries feeds these mushrooms with their juice, and they form a mutually beneficial symbiosis. Without these mushrooms, the cranberries will feel bad or die, and these mushrooms grow only in acidic soils. A typical acidophilus are all plants of sphagnum bogs: Labrador tea, sphagnum mosses, Belous.
Acidophilus share in the extreme, preferring to grow only in strongly acidic soils, the moderately prefer a moderately acidic soil and mild, which survive even in slightly acidic. To extreme are, in addition to sphagnum and brown mosses, compact and magellanici mosses, green mosses and moss. Average include in the group of ferns, cat's-foot, sedminek and bearberry. To weak acidophilus include bells, Solomon's seal, oregano. Plants such as strawberry, mother and stepmother, cornflower, are indicators of oxidation of the soil in the meadows, and when they appear, gardeners are taking steps to normalize soil.
Instead of ash as a fertilizer and soil mulching for plants of acidophilus can be used peat, weak tea and coffee grounds, pine needles. All these compounds are acidic and are great for growing on windowsills ferns, azaleas, hydrangeas. A slightly acid reaction have chips and sawdust, this material can also be applied to plants of acidophilus. To lower the pH and create alkaline environment, use eggshells. Not used, only the shell hard-boiled eggs as boiling water with prolonged exposure out of it leaches all the calcium.
Advice 2 : How to make soil ash
Wood ash is one of the most cheap and available fertilizers. It is used not only to improve the soil and to combat pests of the vegetable garden. The ash contains calcium, potassium, iron, copper, sulfur, boron and molybdenum. And most importantly – in wood ashes, no chlorine, which is feared by many horticultural crops.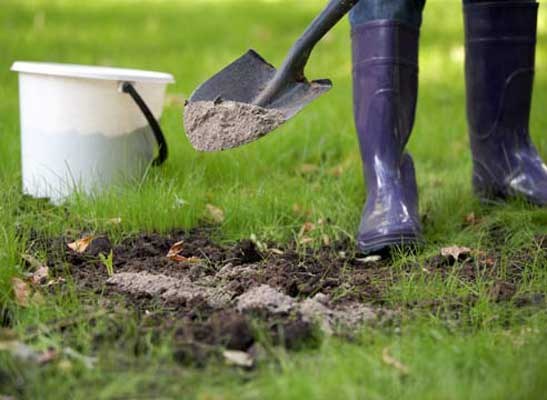 Instruction
Wood ash should make the soil skillfully. It is not recommended to be mixed with superphosphate, nitric mineral fertilizers and poultry manure. The efficiency of the ash is increased when it is combined with compost, peat and humus. In this case, ash should make the soil surface and then seal with a rake. Then you can add organic fertilizer and dig the soil. Ash is the most valuable purpose complex. If one square meter to make 70 grams of wood ash, will fully provide for the need of plants in Bor, which is often lacking in sandy soils.
Introduced into the soil, the ash acts is far more effective than any other potash fertiliser. Just one kilogram made of ash will increase the potato crop at 8-10 pounds. In the tubers increases the amount of starch. Effective use of this natural fertilizer for cabbage and cucumbers, which cannot tolerate a large amount of chlorine. The ash prevents any variety of cabbage from the defeat of Clubroot and black leg.
Wood ash is suitable for growing all vegetables. 100 square meters of land required 10 pounds of ash, which is recommended to make a spring or fall by digging (on sandy, peaty or sandy – spring, loamy and clay soils in autumn). But the effect of this fertilizer lasts for three years.
You can use the ash as a top dressing. When transplanting add it to each well for two tablespoons. Under the courgettes, cucumbers and squashes should be one Cup of ash per square meter under digging. Under the peppers, tomatoes and eggplant make three cups of fertilizer per square metre when planting seedlings – a handful of ash in each well. To get rid of the cabbage flea beetle, cabbage fly and the onion fly, mix equal proportions of ash, tobacco dust, obodrite plants at the rate of one glass per meter.