The choice of color underwear
As a rule, transparent blouses prefer to wear slim women to highlight their forms. Blouse will look impressive only if properly matched to her underwear. Stylists claim that are particularly relevant such clothing will be on a summer day and in the evening.
Under transparent clothing need to wear bras in Nude. If a woman wants to be dressed up and sexy, but it does not go beyond decency, she should opt for a translucent lace blouse and up under her linen beige.
Few people know that the selection of bra beige color, it is very important to its hue match skin tone. Underwear should be completely invisible. Looks very sloppy the way in which a lace or chiffon blouse matched linen, very well observed under clothing. Most fashion stylists believes that this is simply unacceptable.
Younger and flawless slender person can afford to choose the linen tonal sheer blouse. For example, under the black lace clothes you can wear black lingerie. For teenage girls going to a disco or a youth party, it is also possible to combine a transparent blouse with a contrasting colour bra.
In some companies, wearing sheer blouses to work is prohibited. As a rule, these organizations have a certain dress code, to violate which is strongly discouraged.
The choice of the model of the bra
Order transparent blouse look feminine and sexy underwear that a woman wears at the same time with lace or chiffon clothing, should be of high quality and expensive. It is desirable that it was combined with the material of which is sewn blouse. To lace the clothes fit lace bras and sheer chiffon things combined with more simple models.
If a woman wants to look sexy, but at the same time, it can be worn under the blouse a little more coverage. For these purposes, perfect tank top. Especially attractive is
a white
translucent blouse with t-shirts in white. Black blouse you need to wear only with black shirts.
Most men admit that they think women in transparent clothing is incredibly sexy. The main thing that the fairer sex still remained a mystery.
If a woman still opted for the bra, it is necessary to choose its size, so he was not overly loose, but not cut into the body. It is possible if you choose too tight underwear. When choosing a bra, it is better to opt for a more closed models. Transparent blouse itself is a very bold piece of clothing. Combine it with a very open bra, which can be seen in the nipple, is highly undesirable.
Advice 2 : How to wear transparent blouses
A few years ago, sheer clothing has been trendy seasonal accent. Today it has become a popular trend enjoy wearing stylish girls. To the ensemble with transparent blouse turned to Frank, but not vulgar, properly fill it.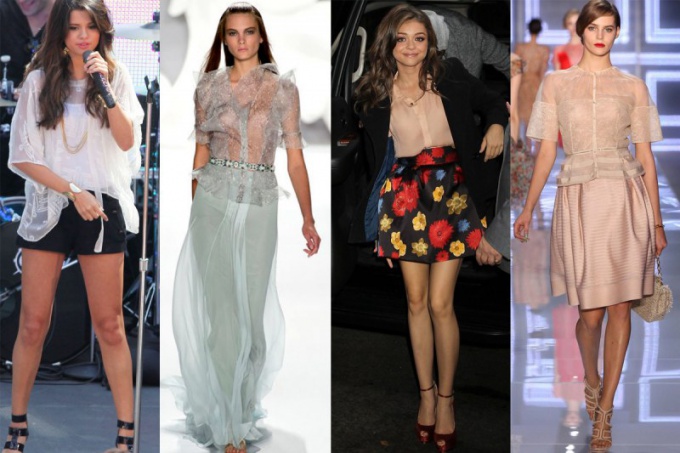 Transparent blouse business style
Transparent chiffon blouse is a great alternative to boring cotton shirts. Sweater is wonderful dilute strict office will make you more feminine and romantic. In order not to introduce confusion in the head male counterparts, pick up the thing correctly and competently complete your work ensemble.
For labor day that will suit blouses in classic colours. For example, elegant and modest look brown, black, beige product. Also note the chiffon jackets with simple prints: polka dots or thin stripes.
Choosing a transparent blouse for the office, refrain from the complex prints and bright colors. Stripes and polka dots also should choose low-key. For example, pastel or classic colors.
Under a transparent blouse pick the right bra or shirt. The best option is linen beige colour, without any decoration. This bottom is perfect under blouses all colors. If the black sweater you can wear identical color underwear/t-shirt. Over sheer blouses in the event it is necessary to use a jacket.
Transparency at every day
Transparent jackets are a great item of casual style. In this case, combinations of much more. Also a wider selection of blouses: let in your wardrobe with bright colors and unusual prints.
A gentle way will help to create sweaters in pastel shades: pink, peach, beige, ivory, etc. better for them to choose identical or similar colored underwear. A great option would be an elegant or a retro bustier-bra. As the bottom can be layered puffy skirt, shorts, skinny pants. Also the transparent jacket can be combined with simple dresses simple cut.
Spectacular bras in retro style – the perfect base under a transparent blouse. This underwear looks impressive, but not pretentious or vulgar. You will feel beautiful and stylish girl.
More passion to your image add a transparent jackets of bright colors. Red and orange blouse safely combine with a dark bottom. The color of the pants/skirt and pick a top/shirt. The jacket fastened, not completely, but only for a few bottom buttons. The most glamorous colors: black, dark blue, graphite. Combined with intense shades they will make your image bold.
If honesty is not your Forte, combine sheer blouses usual. For example, wear them on top of concise slim shirts, tight shirts. In the color ratio choose contrasting combinations: yellow with black, red and beige, blue and orange. Monochrome combinations are best to be only with blouse light/pastel colors.
Advice 3 : What to wear with a long blouse
Long tops very comfortable and practical. New style classic allows you to use it in a variety of styles and combinations, showing your taste and sense of style. Long blouse is a new trend which perfectly fit into the wardrobe of a modern girl.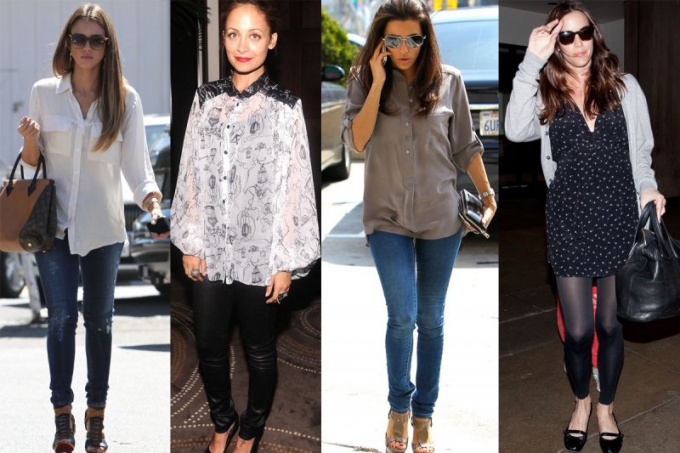 Features long blouses
Long blouses are a few of the silhouettes. The most popular fitted blouse. They look neat and visually narrow the waist. The second most popular model is the blouse straight cut. Such models – the perfect base for business as well for everyday.
Unwind and relax with comfort you will be able in a long blouse A-silhouette. It is correct some of the shortcomings of the figure: tummy, full thighs, hips. It is also interesting blouse, with sewn belt. Most often, it is located at the hips or at the waist.
Long blouses differ not only in styles but also in length. Some models can cover only half of the thigh, while others are more like tunics. The most popular sleeve – ¾ or to the wrist.
Long blouses classic style has simple collar and full-length button. More romantic options have cutouts, decorated with ruffles, ribbons, edging ribbons. Also, different materials from cotton to a dense semi-sheer chiffon.
Long blouse: rules of compatibility
Today long blouse gladly worn by many girls, from Housewives to stars of the first magnitude. The popularity of the items to prove its convenience, diversity of styles and the ability to create a variety of images using one product. Combine long shirts with basic and casual pieces.
Long sweater classic cut and color (white/black) feel free to wear a suit. Also, it will be a great addition to
a skirt
to the knee. You should not combine this blouse cut with wide-leg pants: the ensemble will be too voluminous.
For daily image simple long blouse, perfectly combined with narrow pants or leggings. Of course, the top must be released to the "outside". Complete set cardigan, jacket, vest, or blazer. Wide blouse grab strap at hip level.
Creating a set, pay attention to the difference of textures. For example, leather skinnies perfect long blouse made of chiffon or silk. A tight top is better to combine light tights.
Cotton blouses to skinny jeans. You can throw the top down on the body, or to wear down top. In the second case, the blouse can also be left open, but just a knot.
Long blouse boldly mix and match with mini-dresses. Particularly impressive look contrasting color combinations. Augment the image with a long necklace, small bag and shoes or boots with a wide shaft.
Summer long blouse can also be worn as a beach cover tunic. Add a wide-brimmed hat, beautiful shoes/sandals, big bags and sunglasses. If you need to look more solid, complete kit shorts/breeches or a short skirt.