The choice of color underwear
As a rule, transparent blouses prefer to wear slim women to highlight their forms. Blouse will look impressive only if properly matched to her underwear. Stylists claim that are particularly relevant such clothing will be on a summer day and in the evening.
Under transparent clothing need to wear bras in Nude. If a woman wants to be dressed up and sexy, but it does not go beyond decency, she should opt for a translucent lace blouse and up under her linen beige.
Few people know that the selection of bra beige color, it is very important to its hue match skin tone. Underwear should be completely invisible. Looks very sloppy the way in which a lace or chiffon blouse matched linen, very well observed under clothing. Most fashion stylists believes that this is simply unacceptable.
Younger and flawless slender person can afford to choose the linen tonal sheer blouse. For example, under the black lace clothes you can wear black lingerie. For teenage girls going to a disco or a youth party, it is also possible to combine a transparent blouse with a contrasting colour bra.
In some companies, wearing sheer blouses to work is prohibited. As a rule, these organizations have a certain dress code, to violate which is strongly discouraged.
The choice of the model of the bra
Order transparent blouse look feminine and sexy underwear that a woman wears at the same time with lace or chiffon clothing, should be of high quality and expensive. It is desirable that it was combined with the material of which is sewn blouse. To lace the clothes fit lace bras and sheer chiffon things combined with more simple models.
If a woman wants to look sexy, but at the same time, it can be worn under the blouse a little more coverage. For these purposes, perfect tank top. Especially attractive is
a white
translucent blouse with t-shirts in white. Black blouse you need to wear only with black shirts.
Most men admit that they think women in transparent clothing is incredibly sexy. The main thing that the fairer sex still remained a mystery.
If a woman still opted for the bra, it is necessary to choose its size, so he was not overly loose, but not cut into the body. It is possible if you choose too tight underwear. When choosing a bra, it is better to opt for a more closed models. Transparent blouse itself is a very bold piece of clothing. Combine it with a very open bra, which can be seen in the nipple, is highly undesirable.
Advice 2: Is it proper for a woman to come into the office in a transparent blouse
Office dress code dictates the rules. So sweaters with cleavage, short skirts are unacceptable in the workplace. Among the prohibited items include also the transparent blouse.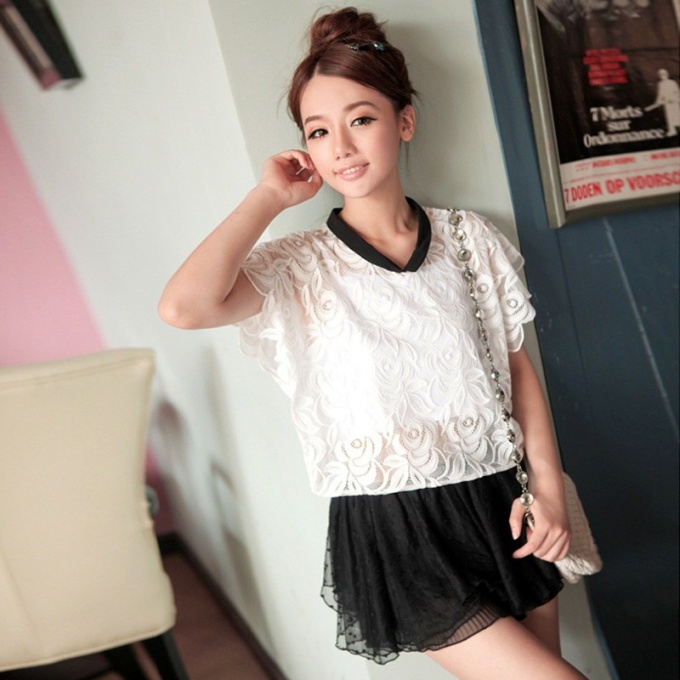 Imagine this situation: there is a meeting or business negotiations, all employees are dedicated, then enters the room with a Secretary in a sheer blouse. Many will say that this is unacceptable, and you would be right.


Dress code


According to the dress code, you can apply for a job in a transparent blouse under it if there is any Mike. Also note the surroundings of your outfit will help distract different patterns on the material from which it was taken. If you dress like that then you don't have to worry about its appearance and its appropriateness in the office. Through such patterns, your image will be quite interesting and luxurious. So the choice is yours.

Fashion trend currently - sheer blouse, adorned with beads. Similar thing you can wear under a jacket or cardigan. To Supplement the image will help earrings and a small strand of pearls. In this outfit you can also include pants made of thick material, in any case, do not select for this purpose a narrow model. Otherwise, you simply will look tacky and tasteless. Semi-sheer blouse in a must have small pockets. It is necessary to consider the factor that a few practical things from a translucent material - it's overkill.

Your image should be only one detail is made from translucent fabric. In this case this detail is transparent blouse. All other parts of your image should be made of thick suiting. This combination will make you look bright and expressive. So in any case it will be a great choice.


What to wear with a sheer blouse


In addition, the optional transparent blouse to wear to the office. It is possible to come up with a different purpose. Fashion designer chose this year to choose for their collections transparent things. Sheer blouses are now at the peak of popularity.
This blouse will make you look sexy and feminine. But one mistake can cause your image would be flat and vulgar. This should not be allowed in any case, so choose bras with cups made from heavy material. Do not purchase a model with lace.

Sheer blouses can be easily combined with a variety of models of clothes. It can be jeans, shorts and skirts of lightweight material. For a romantic date transparent skirt is a perfect option that will transform you in a moment.

For going to the theatre or cinema, you can pick a translucent blouse, a long skirt made from heavy material, as well as high-heeled shoes. The image will help to complete a small handbag.