The types of tea roses

This variety was brought to Europe from China in the XVIII century and immediately attracted the attention of growers and breeders. Despite the fact that the tea rose is quite capricious in care, the results of the labors for its cultivation are the real prize, which you get to admire her beautiful flowers. Some of its species as a result of hard and long selection work have become less sensitive to cold and many species of pests it is not terrible. This hybrid tea varieties, which can, with some effort, to grow even under comfortable climatic conditions. Therefore, the hybrid tea rose can be seen in suburban areas and in Central Russia and even in Siberia, however, where they can grow only in a greenhouse.

Popular varieties of tea rose, which can be seen in Russia belong to the hybrid tea varieties and so-called floribunda and grandiflora. View floribunda is the result of crossing hybrid tea and the polyanthus varieties. These roses characterizes mnogovekovoe, but the shape of the buds closer to the tea rose, though more flat, and the aroma is less pronounced. Due to resistance to low temperatures, this species used for landscaping in urban areas.

Look tea roses grandiflora can be identified by long stems, decorated at the ends with elegant buds, more buds resemble their progenitor – tea rose varieties floribunda.


Varieties of tea roses

As a result of crossing tea roses with remontant appeared grade Wienerwald with large buds are salmon-pink in color, whose diameter can reach 10 cm High bushes with thick branches grow well in the trunk, pleasing blooms from early summer until autumn.

The variety La France was launched in 1867, is one of the most favorite varieties among gardeners. Resistant to cold and an abundance of beautiful buds with a great aroma. Doris Testerman no different shimmering shades, but in and of itself a rich orange color large buds of this variety are wonderful, and the dark green leaves looks great. For hybrid tea and apply two-tone varieties of Kordes Perfecta. At the base of the flower petals have a pale cream color, and the edges are dark red.

Of the subspecies floribunda belongs to the popular white and cream Edelweiss and bright red variety Montana. These varieties are characterized by abundant and repeated flowering is very good in hedges.
Advice 2: Rose varieties suitable for cultivation in Central Russia
Who does not dream to have a garden, a fragrant delicate aroma of roses and captivating view of their buds? The dream could become a reality – just persevere, and roses bloom not only in the South, it is possible to grow delicate flowers and in the middle zone, the Urals and Siberia.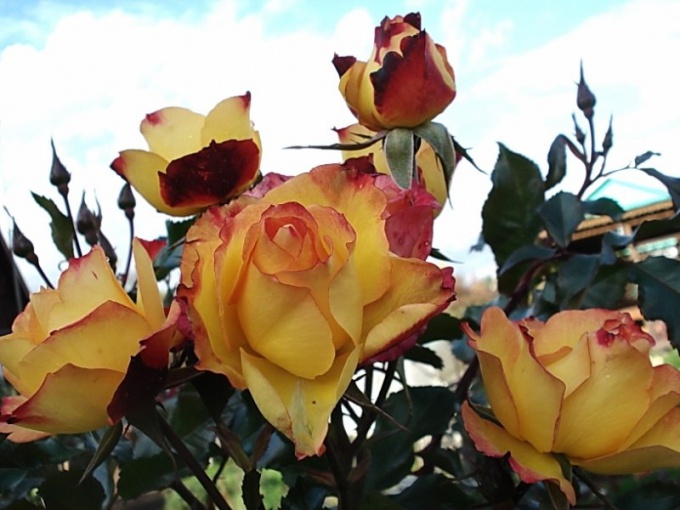 Breeding roses is not in place, currently there are a large number of varieties for cultivation not only in mild climates, but in other, more severe climatic conditions. To avoid disappointment in the cultivation of roses, you should carefully consider the choice of varieties and try to collect as much information as possible about updates.


Popular varieties of roses


Most impressive of all, they are also the most demanding hybrid tea roses. These varieties are able to bloom twice in a season, the second wave comes at the end of August – September. In the middle lane these roses can be grown if carefully to their shelter for the winter and let them bloom in autumn. To do this, the buds in the second wave of flowering you need to cut to the roses were better able to prepare for winter. For shelter you can use fir spruce branches, peat or shrubs to fill the earth. In most cases, roses do not suffer from freezing, and from vyprevaniya early spring when, under the shelter formed by the excess humidity. To avoid this, in the early spring you need to remove the shelter and in the fall to handle the roses from fungal infections.

Climbing roses can also grow in the middle lane, if you cover them for the winter. The whip fall gently removed from the grates and put on the ground, cover the top with spruce spruce branches, covered with peat or soil. In all other respects the requirements are the same as for hybrid tea varieties.

More hardy polyanthus roses, they are less affected by low temperatures and humidity, so it is worthy to take its place in the garden. Some disadvantages are that they are not decorative, but for many gardeners, these roses like.


What roses should grow


The most unpretentious are considered garden roses, they are also called wrinkled (in the leaf). They can withstand low winter temperatures without shelter, because these varieties are derived from wild rose, which grows everywhere, is not afraid of pests and diseases. Thanks to this relationship garden roses are adapted to growing in the most extreme conditions, spend the winter without shelter and annually grow wild. The disadvantages of these roses can be attributed to their relatively short flowering period and a simple form of the flower, which is closer to the flower of wild rose.

Among the garden roses, special attention should be paid to the canadian rose – flower, they have also refined as hybrid tea roses, and the bushes unpretentious, like a Park of sorts. Once planted a Bush of the canadian roses, you can enjoy its blooms for decades, you do not need to take care of her shelter.

It should be noted that for a lush and lasting flowering time, all roses need a good mineral feeding several times a season, only in this case they fully disclose their capabilities and all season delight the gardener with their blooms and fragrance.