Instruction
Do not dispose of old appliances for a total dump. According to experts, even an old kinescope is able to bring great harm to the environment. If you bury it in the ground, it will be a source of heavy metals. This also applies to computer monitors, but rather, it is the plastic base that even fire cannot destroy, what can we say about nature.
For disposal of old appliances there are several places receiving it for secondary circulation or processing. For example, recycled you can take the old fridge, washing machine and cooker, gas and electric, as they are a source of ferrous and non-ferrous metals. The processing can include plastic, glass or rubber items, TV, microwave, VCR.
To donate old equipment to a repair shop. But remember that the TV produced in the days of the Soviet Union, is unlikely to be adopted, but modern technology will take you with great pleasure. Of course, get paid for it the fabulous sum is impossible, but it's much better than just to throw it in the trash.
Today, in most large stores specializing in the sale of new home equipment, very often held shares, allowing you to swap old equipment for new. The result is surrendering them, an old TV, you can get a discount on the purchase of a new. In these stores, in addition to TVs, you can exchange the cartridges, the old manual meat grinder, microwave ovens, blenders and more. It is not necessary to engage in the overall delivery of the cargo by yourself, you can use the services of movers kindly provided by the store. Often, this service is completely free.
As an option, an old but still working equipment you can give to people in need. Remember that donating old equipment, you not only loose your house or apartment from unnecessary waste, but also care about the safety of the environment.
Note
For the abandonment of the old marker technology in the wrong place by the Russian law provides for fines.
Advice 2: Where to donate old printer
Throw the old, obsolete home appliances to the landfill in our country is prohibited. However, it can often be seen in garbage dumps. The problem is compounded by the fact that today people often have to change older models to new and improved. Where, then, to take an old printer, if you purchased another?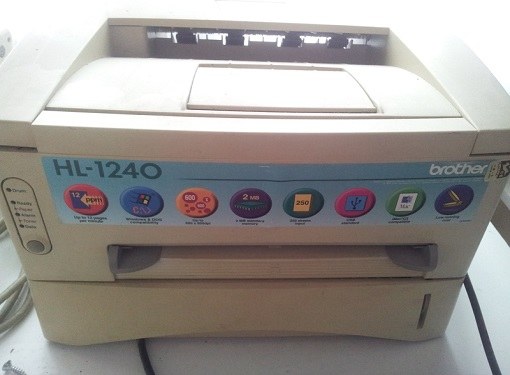 Instruction
Give an old printer for recycling. Bring it to a special area for debris of this kind, which later transferred to the processing company. To use this method to get rid of unnecessary printer obtained in the case, if in your city there are playgrounds and firms in this direction.
Turn in your printer within the stock, which from time to time takes place in large specialized shops of home appliances. Particularly advantageous in the case that a new model of printer you have not yet acquired. Then, passing on the stock exhaust period, the printer, you will receive a tangible discount on the purchase of a new.
Sell your old printer if it still in working condition. Place an ad to sell on the Internet in a special forum or website. Sometimes a person needs a printer, but to buy a new he had no money. For it is quite suitable variant of purchase second-hand printer for a low price.
Turn in your unwanted old printer in point of reception of old appliances for parts. A lot of money on this, you will not earn, but get rid of the device without harm to the environment. As you know, any kind of appliance contains substances that have a negative impact on the environment and human health.
If you bought a new printer and the old one has nowhere to go, throw a cry of acquaintances and friends. Certainly, among them there is someone who don't have a printer. In accepting the gift of the device, the person will thank you.
You do not need the printer to give to charity. There are special funds, organizing fees of old appliances. To find out whether you have an obsolete printer, call the organization to which you are going to make a donation. It so happens that social centers will only accept equipment that is in good working condition.