Pitfalls when choosing the right dress
The popular problem is weight. Many beauties trying numerous diets, starve themselves and sweat in gyms to get closer to the runway ideals.
However, problems exist in very slender beauties. More often, the nature of the thinness deprives the girl nice curves and femininity, making the figure more angular and somewhat boyish. To change the situation, adjusting silhouette, to help spectacular dresses.
Skinny girls often resent because of problems with the clothes to find your size in adult stores simply impossible. Because of this beauties, you have to shop in children's departments, things which can hardly be called sexy.
When choosing the right dress, avoid two popular extremes. The first is purchasing the outfits is a smart style. In such thing you will look awkward, and it just emphasizes the lack of weight. The second mistake was the choice of dress "- skinny". This style will highlight any problem areas, detect the lack of the breast and strongly protruding bones.
So feel free to enjoy accessories. Don't use too large pieces for decoration of the neck – this will further accentuate the thinness. But chunky bracelets and rings will help to create a visually lush hips. Possible refuse bags-favor bags to elegant clutches.
The perfect dresses for slim figures
Dress for very skinny girls must perform several functions. First, to give the volume in the right places: chest and hips. Second, to emphasize the elegance of the shape, its fragility and elegance. Thirdly, to make the girl sexy and spectacular.
Very nice on skinny girls look dress retro silhouettes with not a lush, and a full skirt just below the knee. While a great choice will be dense materials in large pattern (flowers, peas) or horizontal stripes. Slim waist belt outline the waist, a full skirt will give your hips a rounded shape, the boat neck visually increase the chest.
Feel free to use the female "stuff", for example, bras and tights with the effect of "push-up". Also remember: strong thinness stylists do not recommend bare knees and hands.
A great option for skinny women are light chiffon dresses romantic style with multiple ruffles and ruching. Most of these models have the elastic under the bust or around the waist, 3/4 sleeves and knee length. This style will make your figure visually "bigger".
Should not refuse and from elegant styles with a low waistline. The lap top helps to emphasize the chest, and concise flowing skirt below calf will add the weight to the hips. Of accessories click the small hat, a scarf, a pearl necklace.
Pay attention to dresses with a Tulip skirt. This cut is the perfect skinny girls wishing to attract the attention of men. Surround the bottom will create a nice looking roundness, and contrast belt at the waist will emphasize your small size. In this dress figure will look attractive and balanced.
Advice 2: Clothing for girls with a boyish figure
Times of worship Marilyn Monroe, and overweight female figures were. The time has come the girls, whose bodies do not have such a smooth and lush curves, as in beauties of the last century.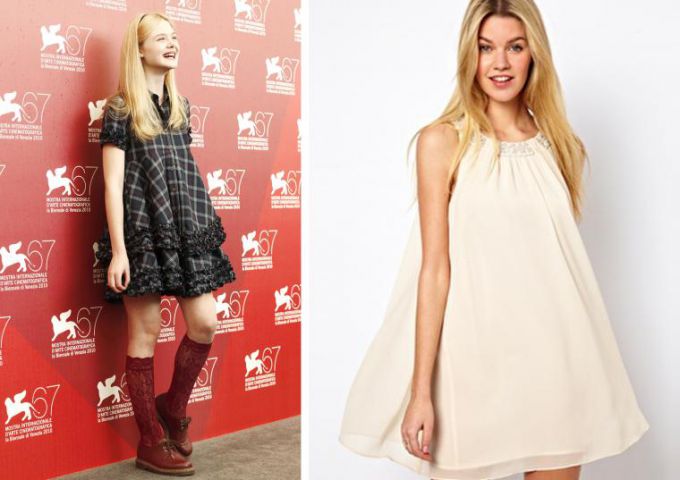 Fashion shows filled with skinny models, whose figures resemble a boy, and a huge number of girls sit on diets in order to achieve the same results. In today's world, the girls with boyish figures as feminine, as the owner of magnificent forms. To reveal their sexuality with the help of clothes, you can resort to various tricks.
Clothes that will conceal imperfections and highlight the advantages of
Girls with a boyish figure usually have broad shoulders, small Breasts and a slim waist. This is not a problem. Broad shoulders help hide thin blouse with lace sleeves. It is advisable to choose a solid pastel color. To combine these blouses can be with skinny jeans and leggings. To Supplement the image will help large bracelets, handbags, or shoes with high chunky heel. Narrow chest and wide to the bottom of the dress will help to create the illusion of curvy hips. These dresses are usually combined with wide belts. As much as possible to divert attention from the broad shoulders and small Breasts, you can focus on your feet. You need to choose pants and jeans with bright and contrasting prints. But this method is only suitable for those girls who have slender legs.
In General, girls with a boyish figure luck. They can afford to choose clothing that is not available to other fashionistas. Thus, it is possible to flaunt in their original outfits, the admiration of men and a envy of her friends.