What fish suitable for frying
Of fish that is found in the rivers, for frying it is better to choose the one that has less bones, although under fried crispy crucian carp are worth a bit of hard time choosing numerous and very sharp bones. Delicious fried carp, catfish, pike and perch, and trout.
Of sea fish you need to choose the types whose structure is delicate and a bit watery. Good for frying, cod, Pollack, whiting, cod and ice fish as well as tilapia, sole, halibut, flounder, sea perch, pelengas, garfish, sea bass, bream, pangasius, Pollock. Red fish for frying it is better to take more fat – salmon, trout, and salmon.
But in fact, delicious roast you will be able any fish, if you know the secrets of its correct preparation.
How to fry fish
The secret and main difference between fish and meat, is that it is better to cook freshly caught. In this case, you are guaranteed not to feel a peculiar smell of fish oil, which can ruin even an expensive fish, but kept in the store in violation of the rules. In addition, freshly caught fish has a pleasant slightly sweet flavour and a particularly soft texture.
In that case, when you "caught" in the store, a fresh fish seller caught in the pool, it is also possible to cook without fear that it will be tasteless. But if the fish from the ice, not stopping to check its freshness by looking at the gills, touching the carcass with your finger and believing eyes. Feel free to smell the fish, especially because the cost is quite large. To freeze fish at home and store it also need correctly – just put it in the freezer in a tightly closed plastic bag.
Specific fish odour can be eliminated if 1-1,5 hours to hold the carcass in milk.
Frozen carcass must be correctly thawed by placing it on the bottom shelf of the refrigerator or leaving for a couple of hours at room temperature. Thaw the fish in the water, especially in running, not because of the nutrients go into the water. If you want to fry fish for a child, it is better to do it in the batter. In this case, cut off with her fillet, so you do not pull out the bones, breaking the crisp of the batter. How to fry a fish, depends on the size and thickness of the pieces.
River fish of small size to the small bones have become less visible, need to fry, making diamond-shaped cuts on the sides with a pitch of 1-1,5 see
For good fresh fish, no spices other than black pepper and salt, is not required. Enough salt and pepper it, roll in flour and fry in sufficient amount of well-heated vegetable oil. Lemon fish sprinkle after it fried or put on the dish a few slices of lemon to be willing to acidify the fish did it themselves. Garnish well suited mashed potatoes, boiled rice, fried or lightly steamed vegetables.
Advice 2: How to fry flounder
Flounder, and many do not include in your diet because of the odor when cooking. However, this fish is very useful, it contains a lot of iodine, easily digestible protein, in addition, it poses no threat to the family budget.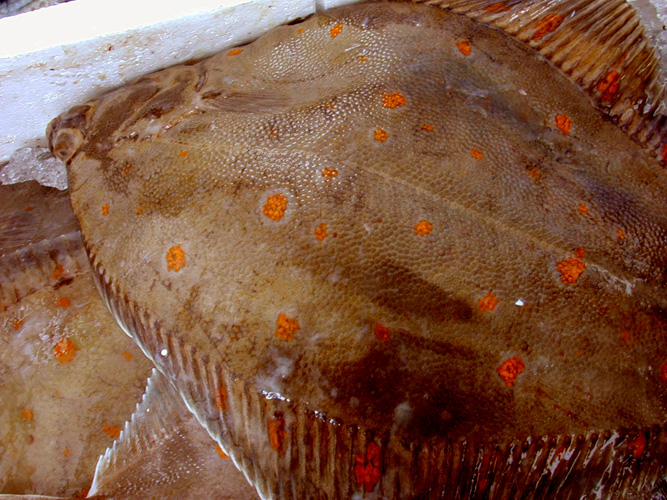 You will need
Cutting Board
A sharp knife
Oil for frying
Flour
Bow
Spices
Instruction
If you have frozen whole flounders, first defrost them at room temperature. If the fish is fresh, proceed to its dissection.
Put the fish on the Board light up belly (so can see better the inside of the fish and the line at which to trim the head). Then gutting the fish and wash thoroughly under running water.
Turn the fish and cut off the tail and sharp fins. Do this very carefully so as not to prick.
Next, clean the small scales from the skins of fish, RUB it with salt and spices and put in a bowl to promarinovatsya.
In this time slice peeled onions, prepare the flour for breading and heat the pan with vegetable oil. The temperature of the heated oil should be high enough, otherwise the fish may stick to the pan.
Then perform the following sequence of steps: coat the prepared fish in the flour to
flounder
remained juicy, and put the breaded pieces in hot oil. In order to avoid unpleasant smell when frying fish, sprinkle chopped onions.
Then turn the fish and Dozhivem it from the other side. When frying sometimes podrachivat the pan that the fish did not stick to the bottom.
Serve
the plaice
with boiled potatoes or rice.
Note
Spines in fins flounder is very sharp, be careful.
Useful advice
There is a version that the odor is coming from the skin of the flounder. If the fish is frozen, try to remove her clothing. This should be easy.
Advice 3: How to cook sea language
Fillet of sea
language
is no longer a delicacy. It is very tender, soft and juicy, than rightfully earned a worthy place in the hearts of professional chefs and ordinary Housewives. Ways of cooking quite a lot, as it is a universal basis. Of cooked soups, stew it with vegetables, baked in foil. The taste of sea
language
and perfectly accentuate citrus fruits such as lime, lemon or tangerine. It blends in perfectly with potatoes and other vegetables. Sometimes served with cereals.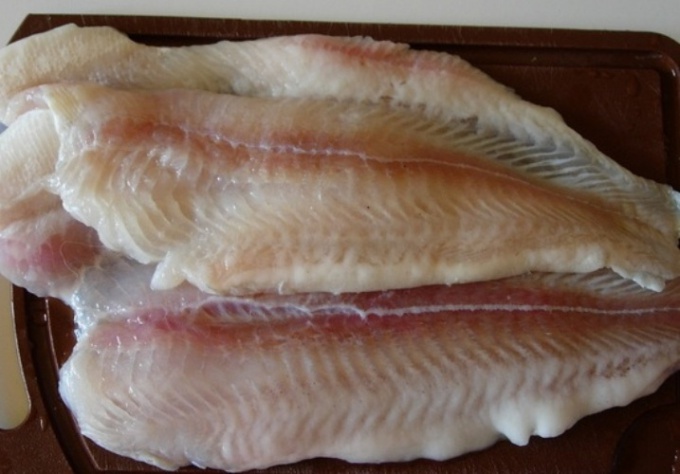 You will need
salt
pepper
flour
vegetable or olive oil
butter
tangerines.
Instruction
The preparatory work phase with the marine language ofom is its defrosting. The best way to do this: take the bag with the right piece, put it in a small container filled with cold water, and then put it in the fridge to thaw. In this case, will not damage the structure of the carcass, additionally it is the most safe for health method, since the number of the resulting bacteria will be much less than at room defrosting. Do not allow the fish to complete thawing and begin cooking while it is still slightly frozen. This will keep the integrity of the pieces.
Next, cut each fillet into 2-3 pieces, depending on size. Add salt, pepper, a little roll in flour and fry in vegetable oil. Remember that the fish is fried very quickly, so not worth it long hold on the fire. 5-7 minutes in a well heated pan, on each side, would be sufficient. Fried pieces should be dried on paper kitchen towels or napkins from excessive fat. Quite often the fish do not rolled in flour, and just fry, basting with each side of citrus juice. But in this case, perhaps shredded pieces, as fish is very delicate.
The sauce for this fish should not be acute or too fragrant - this will inhibit the smell and the taste of the sea language. The ideal option would be a sauce, consisting of only two ingredients are butter and fruit 75 grams of oil you will need 1.5-2 Mandarin) to cook it, just melt the butter and squeeze the juice from the Mandarin. You can substitute tangerines for the lemon, then the taste will be more familiar and simple.
Put on a plate pieces in the form of a fish, pour them with sauce. As a garnish you can use boiled potatoes. Also perfect steam vegetables or grilled vegetables.
Advice 4: How to fry Pollock fish
Pollack is
a delicious
, lean fish. It is easy to cut, it is not a lot of bones. Not all diet includes beautiful fish, meanwhile, Pollack is very useful. It contains substances that are useful for schitovidnoj glands, digestive and nervous systems. Pollock cooked very quickly. Pieces of fish roll in flour, and if you bought fillets, can be cooked in batter.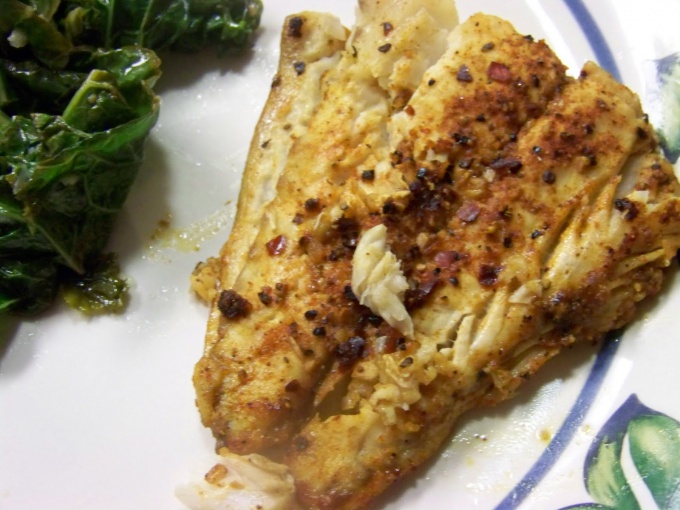 You will need
Fried Pollack in the flour:

Pollock;
flour;
sunflower oil;
spices.
Fillet of Pollock in batter:
Pollock fillet;
3 eggs;
200 ml of milk;
200 g flour;
spices.
Instruction
Fried Pollack in the flour.

Have carcass Pollock. With a knife make an incision on the peritoneum. Pull out the insides. Using kitchen scissors, cut the fins and tail. Rinse the inner part of the carcass under cold water.
Cut the fish into pieces. The pieces should not be too small. Add salt, pepper.
In a bowl pour the flour. Into the flour, you can add herbs and spices.
Pour sunflower oil into the pan. Will rakalite the pan.
Obvalivat the pieces of Pollack in the flour and immediately place into the pan.
Fry fish about 5 minutes, then flip each piece to the other side. Reduce heat, cover skillet, and simmer the fish for another 2 minutes.
Fillet of Pollock in batter:

Cut the fish in small pieces. Add salt, pepper, add spices.
For batter, whisk eggs with salt. Add milk, stir. Add the flour, mix again. If the batter is too liquid, add more flour.
Fillet pieces dipped in batter.
Pour in pan with sunflower oil. Will rakalite the pan. Fry the fillets on both sides until Golden brown. Each side fry for about 5 minutes.
Note
Do not thaw frozen fish under hot water. In this case, the fish will be too crumbly and will not obzhivatjsya. Pollock can be defrosted naturally or in the microwave.
Useful advice
If your hands smell of fish, wash them in salted water or wipe a slice of lemon. Lemon can also be wiped the cutting Board. During cooking you can add in boiling oil a few drops of lemon juice, then the smell of fish will be less intense.

At the end of cooking pieces of fish can be spread with mayonnaise or sour cream.

If you want to make the fish more juicy and tender, before cooking, leave the pieces in milk for 30 minutes.
Advice 5: How to fry halibut
Halibut is a fish fat and very hearty. Fried halibut is especially appreciated among seafood lovers. In this form it is most juicy. And with different recipes of cooking, halibut can give a very original look.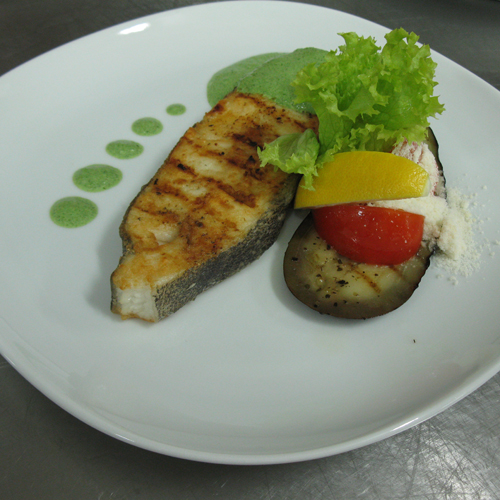 Instruction
In order
to prepare
the roasted turbot on the classic recipe, take one kilogram of fresh fish. Clean it from scales, remove the gills and fins, gut. Rinse under cold running water. Cut halibut into serving pieces. On a flat plate pour fifty grams of wheat flour, add your favorite spices for the fish and one teaspoonful of salt. Roll each piece of halibut in flour on both sides. Place frying pan on a high heat and carefully heat it. Pour on the bottom fifty grams of vegetable oil and place the halibut pieces in the pan. Turn down the heat to minimum and fry the fish for about ten minutes - until Golden brown. Do not hold the halibut in the pan longer than the specified time, otherwise it will be too dry. Serve the grilled halibut to the table on lettuce leaves.
In order to prepare a roasted halibut in a more exotic form, take two hundred grams halibut fillets. RUB it with salt on both sides and good pepper. Lay the fillet on the bottom of the pan with a thick bottom. Pour the juice of one grapefruit and leave to marinate for fifteen minutes. At this time, prepare the sauce. To do this, chop one bunch of watercress and mix it with two tablespoons of sour cream, same amount of mayonnaise 1/2 teaspoon of Dijon mustard. Add salt and pepper to taste. Shred as fine as possible one head shallots and add to the sauce. Place pan with halibut on high heat and fry one minute on each side. Turn off the pan and pour prepared sauce.
In order to give the halibut original view, use the following recipe. To prepare the marinade, take a bowl and pour in it 4 tablespoons of olive oil, add to it two tablespoons lemon juice, salt and pepper to taste. Squeeze into a bowl one medium clove of garlic. Take 700 grams of fish fillet and cut it into 4 pieces. Marinate the fillets in the prepared mixture for fifteen minutes. At this time, preheat a small frying pan and fry in it two tablespoons of sesame seeds. As soon as you feel the characteristic aroma, remove the pan from the heat. Chilled sesame seeds add two teaspoons of dried thyme. Each piece of fillet, sprinkle with salt and sesame mixture on both sides. On a heated pan pour two tablespoons of vegetable oil and place the pieces of fish. Fry for seven minutes on each side. The finished dish garnish with lemon wedges.
Advice 6: How to fry catfish
Catfish – the largest freshwater fish in large enough quantities inhabiting the rivers of Russia. His white meat, tender and fatty. Especially tasty meat
catfish
fried – perhaps this is almost the only right method of cooking this great fish.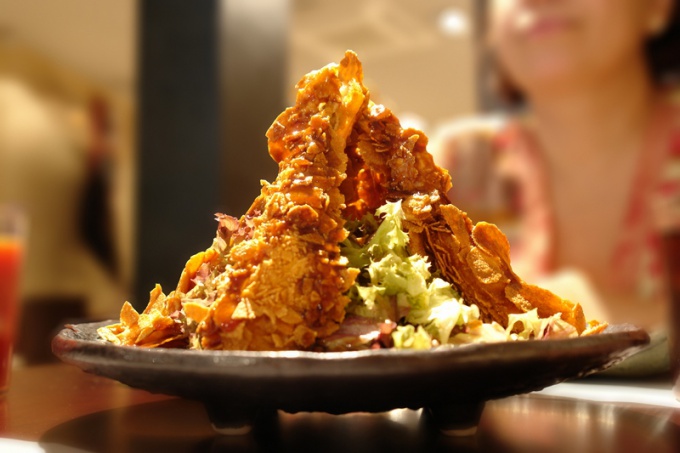 You will need
white bread;
eggs;
flour;
bow;
fresh ginger;
vegetable oil;
ground black pepper;
salt;
dill;
parsley;
nuts;
garlic;
vinegar.
Instruction
Clean, wash, dry catfish, have to fillet and cut into slices.
One onion and 10 grams of ginger, peel and finely chop. Prepare a mixture of onion, ginger, salt and pepper. Pour this mixture the pieces of camoflage fillets and leave for 20 minutes.
The loaf cut off a crust, cut it in small cubes and leave for a bit to make it a bit dried up. In a bowl, whisk 3 eggs. Into a bowl sift 4 tablespoons flour.
Pieces soma zapaniruyte in flour, then dip in eggs, then roll in sliced loaf. In
a pan
heat the vegetable oil and fry the breaded fillets until Golden brown. Remove and drain on a sieve or paper towel.
Catfish fillet serve hot, garnished with chopped dill.
The second way to fry catfish the next. Clean and gut the catfish, cut into serving pieces with skin. Add salt, pepper and bread in flour.
In a frying pan (best to use cast iron, but any heavy-bottomed, which can be put in oven) heat the oil and sauté the breaded pieces of catfish. Once they are browned, cover skillet and place in oven for 5-6 minutes.
Garnish this fish is best suited fried with onions potatoes. Ready fish serve with vegetables, watering the oil in which it was cooked.
Finally, you can also fry up catfish with peanut sauce. Peel and wash the catfish and cut it into pieces in the thickness approximately 2 see Salt and leave for 15-30 minutes.
Roll the fish in flour. In a pan heat the oil to boil and fry the fish. The finished pieces are put on the edges of the dish, sprinkle with chopped parsley and drizzle with lemon juice.
To prepare peanut sauce, shelled walnuts shalt, add soaked and squeezed the piece of bread, crushed garlic, sunflower oil and vinegar. Stir the sauce and add the warm water, so it was not too thick. Whisk the sauce with a mixer and place in the middle of the dish with the fish.
Hard boil 2 eggs, cut each into 4 pieces, season with salt and spread between slices of fish.
Advice 7: How to cook pangasius
Juicy and almost boneless pangasius is best suited for frying. And combining it with a variety of interesting panirovke from one fish you can make some absolutely different from each other dishes.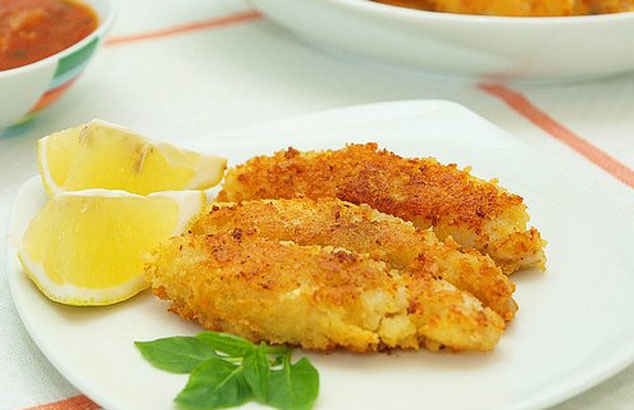 You will need
pangasius fillet;
orange juice;
lemon juice;
soy sauce;
ginger;
salt;
flour;
vegetable oil.
For the second recipe:
pangasius fillet;
salt;
pepper;
the juice of a lemon;
eggs;
dark beer;
vegetable oil;
flour;
dill.
For the third recipe:
pangasius fillet;
salt;
pepper;
tomato sauce;
garlic;
flour;
eggs.
Instruction
To cook the wonton in an Oriental style defrost one fish fillet and cut it into portioned pieces. Then prepare the marinade. Mix in a bowl one tablespoon of orange juice and same quantity of lemon, 2 tablespoons of soy sauce and one teaspoon of fresh grated ginger. If necessary, add salt.
Fold the fillets in a bowl with the marinade and leave for 3 hours. In a separate flat dishes, pour 150 grams of flour. In a frying pan heat 5 tablespoons of vegetable oil and place the fish on which you must roll in flour. Fry the fillet on medium heat on both sides until Golden brown.
Cook the catfish in beer batter. For this, 700 g fillet, divide it into portion pieces, add salt, sprinkle with pepper and marinate for half an hour in the juice of one lemon. In a separate bowl whisk 3 eggs with 100 grams of dark beer and a pinch of salt. Will rascality in a pan 100 grams of vegetable oil on a flat plate, pour 150 grams of flour. Dip fillets in egg-beer mixture, then roll in flour and place in the pan. Fry on both sides on high heat until Golden brown. Ready fish and sprinkle with chopped dill.
To cook the wonton in spicy breadcrumbs, defrost and cut into medium pieces 500 grams of fillet, salt and pepper. Make a sauce. To do this, mix 130 grams tomato sauce 3 cloves of grated garlic, a pinch of salt and one teaspoon of flour. Then mix 2 eggs with 50 grams of water and whip it with a beater. Flat dishes, pour 100 grams of flour.
Dip the fillets first in sauce, then in flour and egg, and then again in the flour. Place the fish on a heated pan with vegetable oil and fry on both sides on moderate heat. Serve hot or cold.


Advice 8: How to cook fish whiting
Lean fish is a great source of protein, essential vitamins and unsaturated fatty acids. That is why she is offered a Central place in the preparation of diet or nutrition. Want to heal your body, learn how to cook fish whiting to be tasty, nutritious and healthy.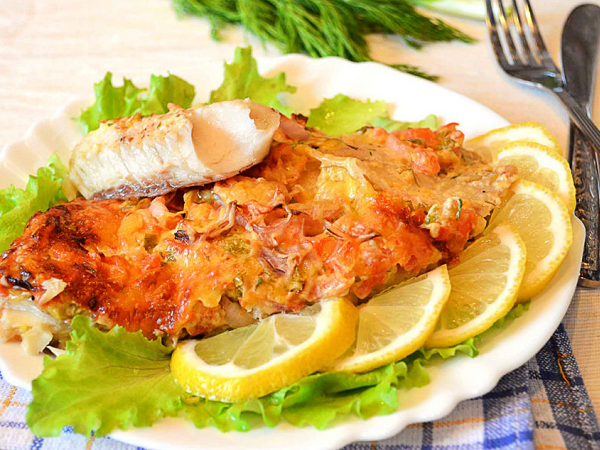 Blue whiting under vegetable coat


Ingredients:
- 1 kg of gutted fish blue whiting without a head;
- 2 bulbs;
- 2 carrots;
- 100 g flour;
- 100 g of sour cream;
- 2 pinches of black pepper;
Sol;
- vegetable oil;
- 30 g dill.

Remove the skin from the carcasses and cut the tails. RUB the fish with salt and pepper to taste, generously roll in flour and fry in hot oil. Empty contents of skillet to a plate, put the dishes on the stove and add oil. Finely shred carrot and peeled onion and fry them until soft, then stir in the sour cream, the sunflower all simmer a few more minutes and remove from heat.

Place the fish in ovenproof form or on a baking sheet, spread evenly on top of vegetable sauté. Whiting bake for 10 minutes at 200oC for 10 minutes. Lay it on plates, sprinkle with chopped dill and garnish with rice or potatoes.


Baked whiting whole


Ingredients:
- 1 kg of gutted blue whiting head;
- 2 million + quarter;
- 2 tomatoes;
- 4 cloves of garlic;
- 30 g of parsley;
- 100 ml of vegetable oil;
- 1 tbsp oregano;
- 3/4 tsp salt.

Oil a nice baking dish with part of vegetable oil and put in her blue whiting bellies down close to each other.
Slice whole lemons and tomatoes thick transverse circles and paste between the fish. Chop the garlic and the parsley with oregano and salt and apply to the carcass. Pour them with the mixture remaining vegetable oil, sprinkle with lemon juice from the wedges and place in a preheated 200oC oven for 20 minutes. Serve the dish in the same pan to save a presentable appearance.


Fish cakes of blue whiting


Ingredients:
- 1kg fillet blue whiting;
- 1 carrot;
- 1 onion;
- 1 chicken egg;
- 2 slices of white loaf;
- 40 g sour cream;
- 1/2 tsp paprika;
- 1/3 teaspoon of black pepper;
Sol;
- vegetable oil.

Soak the slice of bread in water and gently press. Grate the carrots on a coarse grater. Miss whiting fillet through a meat grinder or grind in a blender along with the quartered onion, bread and orange strips. Carefully stirred the mince with the egg, pepper and salt and refrigerate for 20 minutes.

Shape of the fish mass large meatballs and place them in coated with oil baking pan. Generously coat top of cutlets with sour cream and mixed it with paprika (for a nice crust) with cooking brush. Prepare a dish of whiting for 20 minutes at 200oC.