Instruction
Tune in for a long and difficult job. The next day you have to memorize a huge amount of information. Try to create the most comfortable conditions. Hardly something to remember, if there runs a small child or the neighbors make repairs. Minimum number of external stimuli is the key to successful memorization. Everything you need (notes, reference books, textbooks), it is better to put on the table, not to spend time searching.
Plan your day. Divide roughly in half all the tickets. One part teach before lunch, and another after. Think about how many questions you are able to disassemble in an hour. Such planning not only will you strive to stay on schedule, but will leave a couple of night hours for emergency situations. For example, to repeat the most difficult moments.
Systematization – the third step to successful learning. As a rule, the list of exam questions follows the course content, and that, in turn, are built from simple to complex. Do not reinvent the wheel and learn all about it.
Do not forget about the rest. Scientists have proved that to concentrate on anything a person can an hour. Then attention dissipates and you won't even notice, running his eyes over the lines of the textbook, do not understand anything. Preferably after each hour of study to do at least a 5 minute break.
In the list of questions, cross off ones you've already learned. This not only helps not to get lost in the huge amount of information, but also gives a psychological effect. Your brain realizes that you are progressing well.
Write Cribs. Rewriting definitions and formulas helps you to remember them, not only visually. Crib involves muscle memory. Furthermore, they always paid introduction, which can be diluted with examples on the exam.
Cramming is evil. The mechanical reproduction of certain information, the positive effect will not give. It is important that you understand what was going on, and not repeat somebody been defined. Disadvantage of cramming is that a forgotten word at the moment of response on the exam will simply knock you off track. If you understand what I tell, I can rearrange the phrase to find synonyms.
Useful advice
Before the exam you need to sleep. At least a couple of hours. During this time, your brain will be distracted from the work done, information, as they say, to sort through. It was after the holiday you will be able to most accurately and completely reproduce what was learned the day before.
Advice 2: As for day to learn the exam
Students and school leavers are often faced with the fact that in a short time they need to prepare for the exam. But, unfortunately, not everyone is able to properly allocate their time and learn the exam in one day. Following the simple tips, you can not only prepare well for the exam but to pass it successfully, in some cases an excellent mark.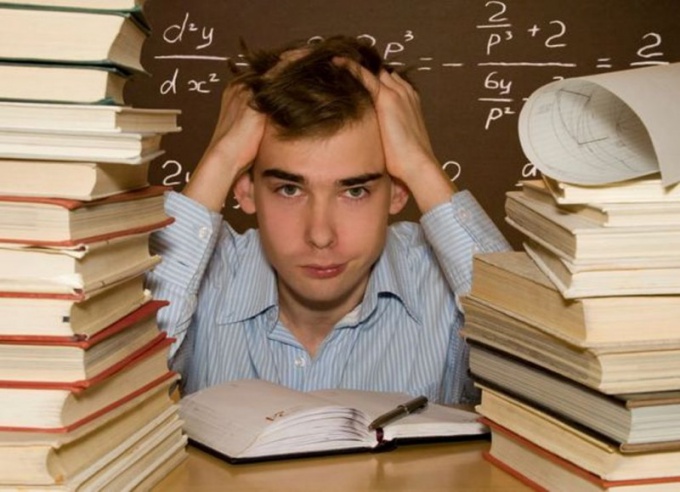 Instruction
Prepare all the necessary material for preparation. These can be lectures, formulas, example problems, drawings, sketches. In advance, find a list of questions or list of topics you should cover during training. Pay special attention to the topics which was given by the teacher for self-study. They are often found in the examination tickets and tests.
Write a small cheat sheet. This cheat sheet will reflect all that you feel difficult to remember. At a critical moment in the exam that you will save as never before. If you have to pass a technical discipline work in the drafts or in the same crib drawings.
Don't worry, if the training you have just a few hours. In any case, do not neglect sleep before the exam, sleep can take at least 5 hours. Do not eat before the exam sedative, it slows down the thought processes and inhibit the brain.
Do not read and do not teach lectures in the order in which they have recorded in a notebook. It is better to teach through the theme, and the fact that miss out, catch up, if there's time. Students believe that this is one of the best training options.
During preparation, do not be distracted and will eliminate any contact with the outside world. Turn off your cell phones, don't check social media, as it usually spent a huge amount of time. You will have time to socialize with your friends and after passing the exam, and now your primary goal is a non-negative assessment of your knowledge. After all, you probably don't want to attend re-sit for a long time.