You will need
- nest;
- the straw;
- fertilized eggs;
- candling.
Instruction
If you are going to evaporate chickens the natural way under a hen-a hen, you should know that not every hen is able to sit on the clutch and successfully to evaporate, that is to survive till the end. This files most often grow out of the hen chickens, evaporated under a hen. Chicks in the incubator, very rarely retain the ability to natural incubation, and attempts to make them the hens do not lead to success.
If you see that the chicken had a desire to sit on the clutch, Dotes, then equip her for breeding. Make a separate nest in a dark place of the house. To do this, bring down the box size of 70x70 cm, place away from bird feeders and perches. If you will boil chickens from under a couple of hens, it is most efficient to separate them from the rest of the chicken population of a fence from mesh-netting. Feed and water hens, all of you will be separate from the rest of the chicken population.
Prepare the fresh eggs. One hen can evaporate approximately 12 eggs and then only if it is quite large. Chickens for broiler hatching eggs are not suitable. Suitable only purebred breeds of egg or meat-egg hens.
All eggsthat you are going to evaporate, it needs to be fertilized, to check them by candling, clean and carried no more than 10 days ago.
Your task is that you have to put in the slot the required amount of eggs, ready to evaporation and plant them on the chicken. Will the hen need to steam or not is not up to you. The most optimal period for incubation is considered to be the beginning of the evening. So put the hen in a prepared socket immediately after the evening feeding, cover, nest wicker basket.
Once a day release the hen for feeding. The first days of incubation, feed the chicken only whole grain and water with clean water.
After 4 days the trash can to remove the chicken since the eggs will not rise. During feeding, a hen running very quickly, eats, drinks and sits down again on the clutch.
If you notice the crushed eggs, then replace them, but it can be done only in the first two or three days.
After 6 days, check the eggs by candling. This is best done during feeding chicken. All eggsin which no embryos, remove.
The Chicks will begin to hatch approximately 21 days after the start of incubation. Use the chicken hen is very convenient, as there is no need to monitor temperature of the incubator and adjust the humidity.
Advice 2: How to cook fried chicken
Prepare the roast chicken is simple enough, and the result is not bad. But do not forget that chicken can be cooked a real delicacy, it is only necessary to connect the imagination and desire.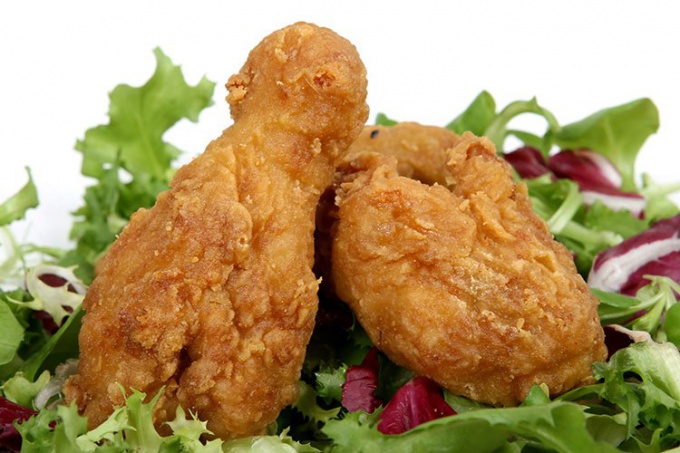 You will need
For grilled garlic chicken:

chicken (about 1.5 kg);
3 cloves of garlic;
2 tsp. of the salt;
1 tsp ground black pepper;
5 tbsp sunflower oil.
For grilled chicken with honey and Cayenne pepper:
1-1. 2 kg chicken;
100 g of liquid honey;
2 tbsp Apple cider vinegar;
200 g flour;
2 tablespoons breadcrumbs;
2 tsp ground Cayenne pepper;
2 eggs;
50 ml low-fat cream;
150 ml vegetable oil;
salt
fresh ground black pepper – to taste.
Instruction
Fried chicken
with casecompare
the chicken
under running cold water, have in pieces: wings, legs and thighs in half, breast into 4 pieces, the back into 3-4 pieces. Cut the fat, but do not remove the skin, you can barely cut it. RUB the pieces with salt and pepper on all sides, tightly put in a bowl and refrigerate for 10 minutes.
Preheat the pan, pour 4-5 tablespoons of refined vegetable oil, wait until the butter starts to boil, and then put into it some pieces of chicken skin side up. Fry on medium heat for 10-15 minutes, check that the pieces are not glued to the pan, move them from place to place so they are not burnt. Flip the pieces skin-side down and fry for a further 10-15 minutes, also stirring occasionally. Turn heat down if chicken starts to burn.
Peel 3 cloves of garlic, crush them in chesnokodavilke or very finely chop with a knife. Garlic oil each piece of chicken and diatomite on low heat under a lid for 3-4 minutes. Flip the pieces, brush with garlic side down and diatomite for another 3-4 minutes.
Fried chicken with honey and Cayenne personnalite into a bowl two tablespoons of Apple cider vinegar, add 100 milliliters of liquid honey and mix until smooth, you can do it with a blender or whisk.
Rinse the chicken in cold water, cut the fat (you can remove the skin if you don't love her). Have the chicken in equal portions, put them in a bowl or pan and pour marinade – a mixture of vinegar and honey. Cover and refrigerate for 3-4 hours. Stir chicken about once an hour.
Sift the flour into a bowl, add the breadcrumbs and Cayenne pepper, stir. In another bowl pour the chilled cream, add two eggs and lightly beat with a whisk. The mixture is supposed to be monochrome, with light bubbles.
Take Tolstoganova pan heat 150 ml of vegetable oil is not higher than 150°C. Remove the chicken pieces from the marinade, dry them with paper towels, dip each piece into the egg mixture and cream, season with salt and pepper to taste, roll in mixture of flour, breadcrumbs and Cayenne pepper.
Put the pieces (first the legs, thighs, wings) in a pan and fry for 5-7 minutes on each side to form a beautiful crust a light Golden color. Reduce heat and cook until tender 5-6 minutes. Then just cook the white meat and the back. Fry them 3-4 minutes on each side, and then on low heat for another 2-4 minutes.