Instruction
Thinking how to dye your hair a light ash blonde
shade
, first choose the correct paint, given the natural color of your hair and hints that you have previously dyed hair, as the mixture of pigments, the new paint with the remnants of the previous coloring pigment can lead to quite unexpected results. Going to the store for paint ashen, give preference to products Koleston Perfect, which, depending on their species help to give the hair a light ashy shade or to paint them in dark ash tone.
Future hair coloring in ash brown color comes from the natural color of your locks, so when painting be sure to note the following points. First, if your hair is light by nature, immediately apply on their pigment composition, slowly covering the whole head, starting in the paint with the hair roots. After applying the coloring composition will leave it on the hair as much as written in the instructions for the paint and then rinse thoroughly. Remember that the saturation of the ash-blonde color does not depend on consistency of paint, so even gels and special coloring shampoos should not be overexposed – it will cause significant damage to the health of your hair.
Secondly, the owners of dark curls, wishing from dying to a mysterious ash blonde hair color, associated with the image of the Snow Queen, you have to first prepare the hair for coloring, and the coloring procedure in a given situation will take place in several stages. First lighten your hair two to three shades, using sold in specialty cosmetic stores illuminators, trying to get rid of yellow or reddish hue. After clarification, give the hair a few days to "rest" and then apply on them a coloring composition, giving the ash-blonde shade.
To paint the hair don't to yellowish or even greenish tint, experts recommend to add in hair dye blue pigment, but the desired effect when you experiment with paints can only be achieved in salon. After staining in the ash-blonde color keep shade created with a special toning shampoo, otherwise it will quickly be washed away. For future applications in the same tone already not coat the coloring composition of the whole head, better to apply the bleach, and then dye only the roots.
Advice 2: How to achieve light ash hair color
Ash is one of the most hazardous and demanding shades. But at the same time, it is the dream of many women, because it gives the image of sophistication and cool soft. To vykrutasy into a nice ashy color of hair is very difficult. But there are a few secrets how to achieve the perfect color.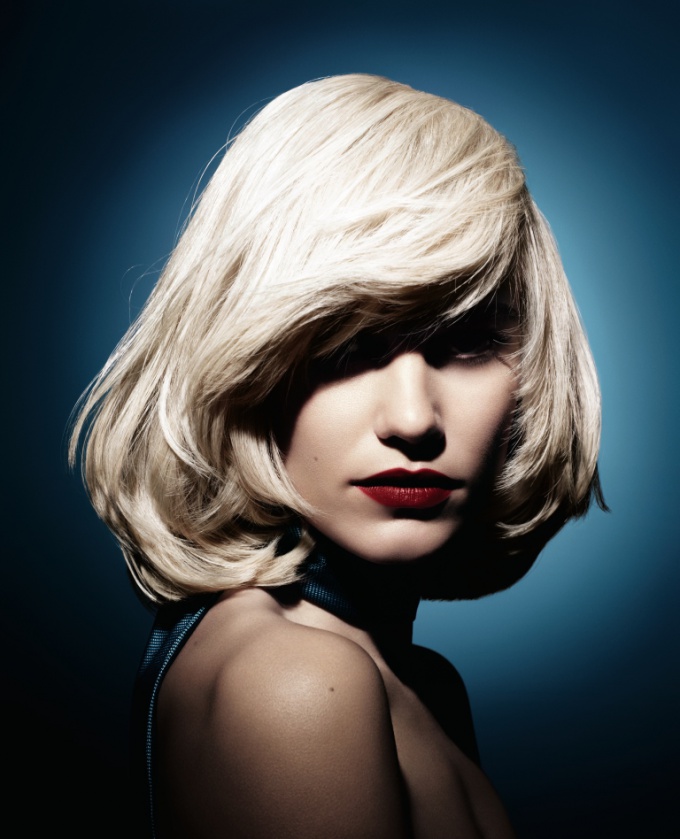 You will need
- paint;
- special hairdressing tools;
paint discoloration.
Instruction
This color is perfect for girls with a cold type of appearance. Before you dye your hair grey, make sure you are fair skinned and with blue eyes. Also the skin should be in perfect condition. After all, ash strongly emphasizes all the flaws on your face. Moreover, it even enhances these defects several times. In addition? you need to remember that ash can significantly wear out their owner. This will happen if a woman has wrinkles.
Care hairAMI and hydration - the key to successful staining in gray color. After all, to get it, I need more than one procedure. And each of them greatly spoils the quality of hair. And even if the color is even after several colourings, without moisture the hair, you look dry and lifeless.
To get the ash color on dark hair- Ah, they first need to lighten up. However, to trust such a procedure better professionals, not to spoil your hairs still in the initial stage of becoming ash-blonde blonde. Colouring red, light brown and dark hairin ash, very often get a greenish and yellowish tint. Dealing with it will help toners ash, purple or silver. They'll just turn down this shade to help even out the color. The easiest way to become the owner of the ashy shade of light blonde. To achieve a noble tone by painting the hairs with no additional bleaching.
The gray color - the color of the mysterious, but very naughty. In addition, when stained difficult to achieve the desired tone, so it is also very capricious in care. Experts recommend: if you want a little longer to keep the color after coloring - make a lamination. Then the gray color will not fade for 3 weeks. Besides, it is necessary to preserve the color to use delicate shampoo for colored hair. Adhering to these recommendations, you will be able to create an image of a mysterious woman, cool and gentle at the same time.
Advice 3: How to dye bleached hair
The hair falls on bleached hair is bad - unevenly and with the divorce. Structure bleached hair is such that it has voids that were previously filled with natural pigment of hair is destroyed in the process of clarification. Dye fills the voids unevenly, hence, obtained a divorce. The scales of the bleached hair is damaged, they revealed it so the color can wash out of my hair in 2-3 washings.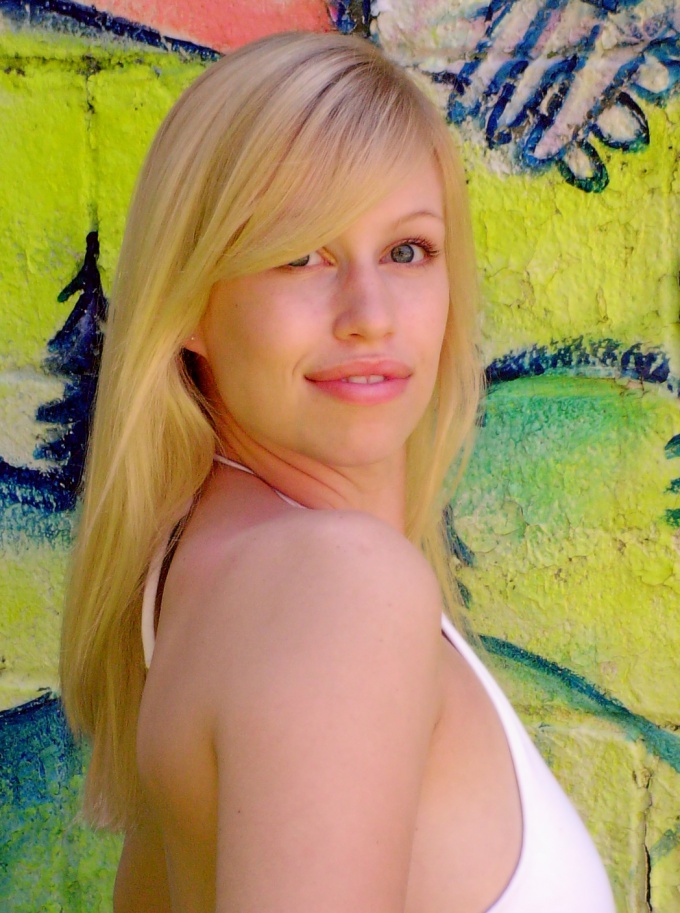 Instruction
When coloring bleached hair remember that ash and brown color hair can give a green tint, especially on the dry ends. If you want to dye bleached hair in a dark shade then it is better to prefer warm tones with a Golden sheen.
If you want to recolor bleached hair to your natural color, it is also not so simple. Do not expect much that you'll get your natural shade on the hair. It is better in this case to seek the assistance of the hairdresser, which will prompt you with professional paint that is appropriate for your hair type. Do not look for your natural color on the package of paints sold in the store, because on bleached hair these dyes may behave very unpredictable.
Another tip - choose a hair color shade lighter than your natural shade, since it is possible that the effect of staining is more intense than you realize. Do not keep the paint on the hair more than a specified time, the color is also too dark.
After coloring your hair use shampoos and conditioners to enhance and maintain the color, they wash the pigments from the hair. While the color is not to fixate on the hair (and this will need to produce at least another 2-3 staining, don't do masks with oils for the hair that promote flushing the dye from the hair.
If you are going to dye bleached
hair
to a dark color: red,
black
, red, you should know that these shades fall on bleached
hair
is extremely bad - your
hair
can become dirty-red or dull gray. From dark shades is best to choose those that are close to natural: chocolate, walnut, etc.
Applying the color on bleached hair, start doing it from the back. On whiskey and ends apply the paint of the paint and that the color was more even.
Advice 4: How to dye your hair in the correct color
To painted
hairs
in harmony with your image and emphasized the natural beauty of eyes and the refreshing
color
of a person, first of all, you need to know what color suits you the most. Choosing any paint from the palette corresponding to your
color
otipo (this principle correspond to the natural colors of your face), a good coloring you should also consider the original
color
of hair, the exposure time of the paint and some other nuances.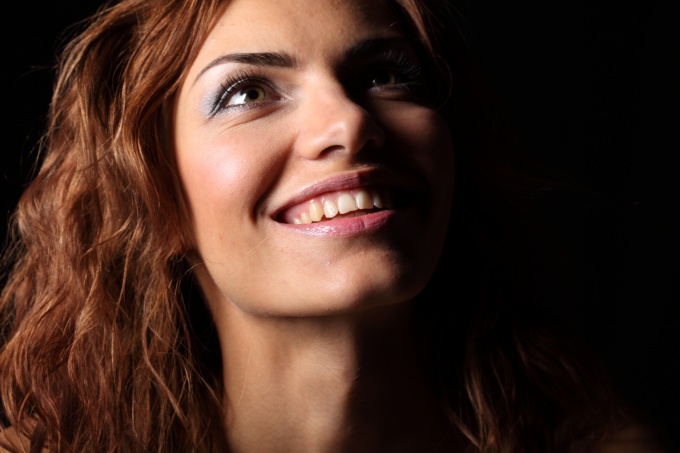 You will need
-the required number of hair dye and oxidant-reagent, based on the length of your hair
-nemetallicheskie dishes for cultivation of dye
-a brush for applying paint
comb with a few teeth
mirror
-hair clip
-watch or timer
-hair conditioner
Instruction
Determine what colorotipo, warm or cold, can be attributed to your type of appearance. For this, first, determine what shade is your skin in daylight. A Golden hue is warm (spring-autumn), bluish, or pale pink – cool (summer-winter). Warm colorto otipo match the Golden hues of hair, from light brown to dark brown hair, green or brown eyes. Bright palette of Golden hues and lighter eyes are "spring", a rich, warm shades are "autumn". Cold colortip the "winter" is characterized by a combination of light skin with dark hair and bright blue or black eyes, this is a very contrasting colorial combination. Light shades of hair, from blond to light ash hues and light brown hair and light eyes when a bright, bluish skin – signs of "summer" sweetia.
Select a paint in accordance with shade, suitable for your colorto otipo. Keep in mind that a pure black and white color accentuates the defects of the skin, so use them if you are sure its in good condition. In addition, lighter shades accentuate the tenderness and femininity, the more saturated will make your image more vivid. The older a woman is, the more light shades of a paint for hair it is desirable to adhere to.
Keep in mind, darker than your original color of hair, the harder you will achieve purity of the selected light shade. Conversely, if the original color of hair light, then dark shades can be a little brighter and richer. Optimum hair coloring 1-2 shades darker or lighter than the original. If you want to give your hair a fashionable shade or bright colorroom nuance lighter than your original tone, the brighter sound colorthe new color.Use the pre-lightener, if you want to dye your hair in a much lighter shade than your original colour.
Read the instructions for use before you begin to stain. If your skin is prone to allergic reactions, do not forget to test for allergies to components of your chosen paint. Please note that any staining by means of chemical reagents (namely, they are the basis of hair) is performed without washing the hair, to mitigate the traumatic effect used for dyeing alkali. Should not exceed the maximum allowable time keeping paint on the hair. Observe the paint the recommended time – this is a guarantee of durability of the staining.
Always use fresh paint. Try to evenly paint over each strand. For self-coloring divide the hair frequent partings in the direction from ear to ear with a rare crest. Pay special attention to the occipital area – often due to some inconvenience it stained well enough, so it is best to start with her. Modern technology of dyeing involves the contact of the paint with air, so the head at the time of exposure of the paint does not cover(with the exception of paints based on natural ingredients – henna and Basma).
Rinse the hair with after the staining procedure. After washing, be sure to use conditioner – it smoothes the scales of the hair, a raise in the dyeing process, making hair smooth and shiny. Dry hair.
Note
Don't forget that the colored hair needs additional care and rehabilitation. Seriously damaged hair if used improperly, hairdressing preparations must intelligently and systematically to heal and to restore.
Useful advice
Please note that the quality of the staining affects not only the fulfillment of you basic rules, but also your health as well as the structure and General condition of your hair. Difficult types of staining is best left to a professional.
Advice 5: How to dye your hair in blue color
Deep and mysterious blue color of hair for the brightest creative personalities who are not afraid to show others your personality. However, in the quest of becoming like a heroine fantastic film, one cannot forget the health of the hair, without which no one hairstyle will not to face.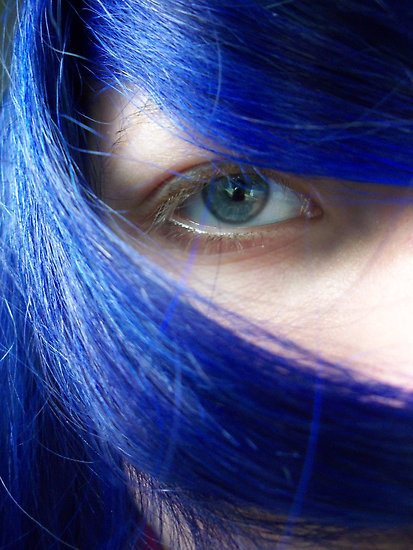 You will need
- resistant paint blue;
- toning balm.
Instruction
Select the desired color. There are many shades of the same blue tones. Blue-black
hair
look not so extravagant: they will only pour a cold blue light. It would be important to have clothes, accessories and makeup that can be augmented. Using cool shades of shadows and turquoise sweaters, and you will underline and blue strands. The rich color of Indigo is sure to turn you attention, but will focus on hair, which must always be perfect. Light blue shades hair make the look more delicate and touching, but they should not be used if your skin is very pale.
Consider the structure and length of hair. To get a nice rich color, the hair will certainly discolor, after which they can become thin and split. Be prepared that the restoration of the former volume and this can take several months, and some strands will have to be cut off. The darker natural tone of your hair, the more powerful the "chemical attack" they will have to go through. It should be remembered and length. Best bright colors look great on short straight asymmetrical or stepped haircuts. The owners of wavy and curly hair it is better to choose more natural colors for painting. Blue wavy curls would look as a wig or will cause undue Association with Malvina. In this case, it is better to paint in blue all the hair and a few strands or bangs.
Paint the hair with light paint. It will last on the hair for a few weeks, during which time you'll get used to my new image and decide whether you like. Toning balm Rokolor" offers a large selection of colors. He steadfastly kept on the hair for at least 2 weeks and not spoil the hair, as do dye containing ammonia and peroxide. However, apply conditioner caution: along with the hair he wears, and skin. Alternative may be to paint companies "Stargazer", "SanoTint" and "Directions". Their palette includes shades of Indigo, which will look quite bright in the first place on light hair. Dark hair will pee blue. The drawback of all these funds is the instability, and caught in the rain would be dangerous. Under the influence of water, the ink can leak and stain the neck, shoulders and clothes.
Resistant hair dyes of blue color is almost there. Deciding on a radical change of image, it is necessary to find a good stylist that is able to mix several tones. Close to blue offer the company "Igora Royal" and "Schwarzkopf", but the tint is not too strong. To achieve a bright color will have to maintain the tone by using one of the toning means.
Note
Dyeing the hair in extreme colors is always a risk. The resulting color will probably be very different from stated on the packaging.
Useful advice
The blue color is very particular about the choice of clothing and accessories. Consider your entire image before you dye your hair.
Advice 6: How to dye my hair ashy color
Ashy shades of hair remain on the crest of popularity in the last century. These noble steel overflow occurred fashionistas of all ages. How to achieve popular colors?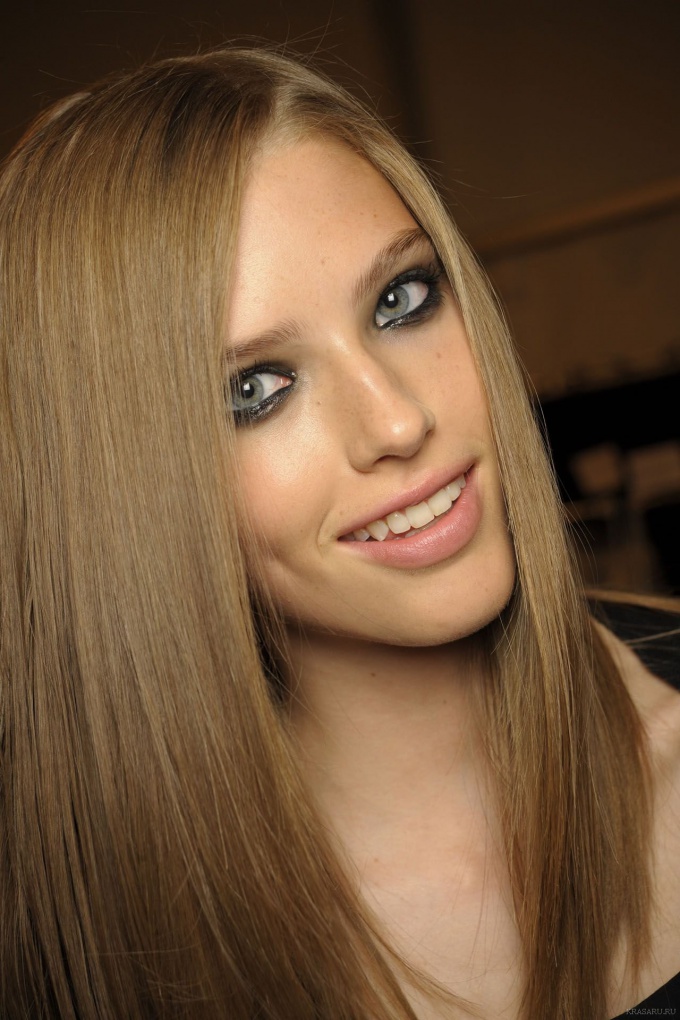 Instruction
Paint to give hair ashy shade to choose, based on their hair color. Brunette to achieve this colour the most difficult. First you need to bleach
the hair
a special composition, and only a couple of weeks to paint in the desired color. These procedures have a harmful impact on hair, so after bleaching and toning, be sure to use reducing agents. So the appearance was right on time tint growing dark roots.
Chestnut and blonde hair to give the gray color a lot easier. It is enough to use hair dye. Discoloration is not required, if the color difference is not more than 2-3 shades. If the existing tone of your hair suits, make it ash will help toning shampoo. It consists of a purple dye which gives a beautiful silvery hue. Very careful you need to be using this money on light hair. If you overdo the shampoo, the hair will become bright purple.
Blonde to ashy color you painted the hair for 1-2 shades darker or lighter natural. It is better to use a gentle non-ammonia. The paint will not only get the desired shade, but also can strengthen the hair and engorged them with nutrients. Before applying dye tool, make sure to read the instructions. The exposure time is extremely important, and a flush composition sooner or later you can obtain an unexpected result.
Below the gray color is preserved longer and moved to yellow, if any type of staining, use once a week toning shampoo. It will refresh your hair color will make him rich. Don't forget about strengthening balms and masks. Even healthy hair needs from time to time to be nourished with vitamins and minerals. This will avoid split ends and will make the curls shiny and silky.
Advice 7: How to dye your hair without yellowing
Blondes have always been in fashion. Therefore, most of the fair sex is constantly attempting to lighten your hair. But the result will not always be successful – instead of the expected noble shade can cause unpleasant wetness.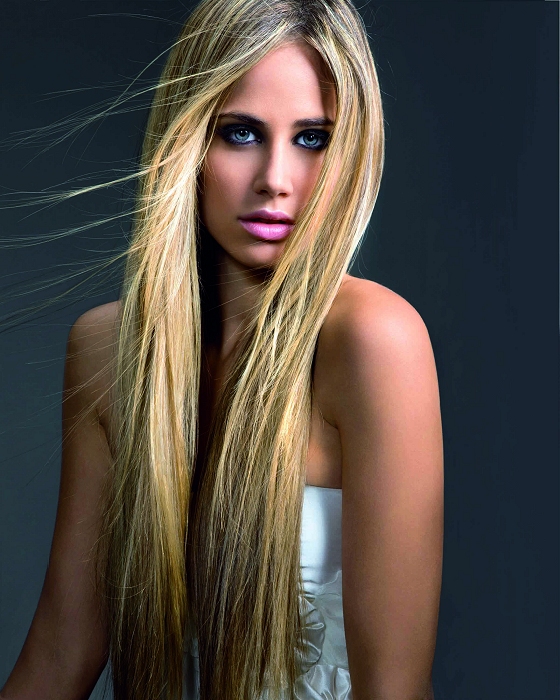 Instruction
In General, dye
hair
it is recommended to the beauty salon. An experienced master will select the correct paint, will tell you which shade will turn out whether it will fit you. If you wear makeup at home, then consult with a specialist before
staining
, especially if
hair
is damaged, has split ends or perming. Gonna have to wait to be painted, if the head is small sores or inflammation. Be sure to talk to the Barber if
the hair
was colored with henna or Basma. In this case the risk of
of yellow
, of red color or spots is very high.
If you do decide to paint the house, do not wash your hair 2-3 days before the procedure. Begin to apply the composition from the back. Here the process of clarification takes place less intensively. Therefore, Nidderau paint, you run the risk of such an undesirable shade of yellow.
Dilute the paint immediately before use, then apply to hair. It is also important that the paint was evenly distributed. After all, the yellow is the remnants of a pigment that is not fully oxidized. Therefore, careful painting all the strands – the key to beautiful hair color.
It is not banal sounds, but read the instructions carefully before you begin to stain. Keep the paint on the hair as much time as it specified.
Remember that lightener not only leads to the desired result. Some hair has reached the desired shade, if they dye composition that simultaneously lightens and gives a shade of blond.
If after dyeing light yellowing still present on your hair, rinse the head toning shampoo. Well suited for this purpose, pearl, platinum, silver shades. They must be kept on the hair for no more than 2-3 minutes. Otherwise, you may get purple or gray. Coloring shampoos can be used every week, because after 2-3 wash the yellowness may appear.
Advice 8: How to dye hair to natural color
Hair coloring in natural color is a complex procedure. It is best to apply to the master, who already has professional experience working with paints. At home this can be done only in cases when the existing color of the hair is subject to adjustment. So, the hair, dyed with henna, change is almost impossible, as well as repainted black colorand blonde without special rinsing original color. If existing shade allows you to change, only need to adhere to certain rules.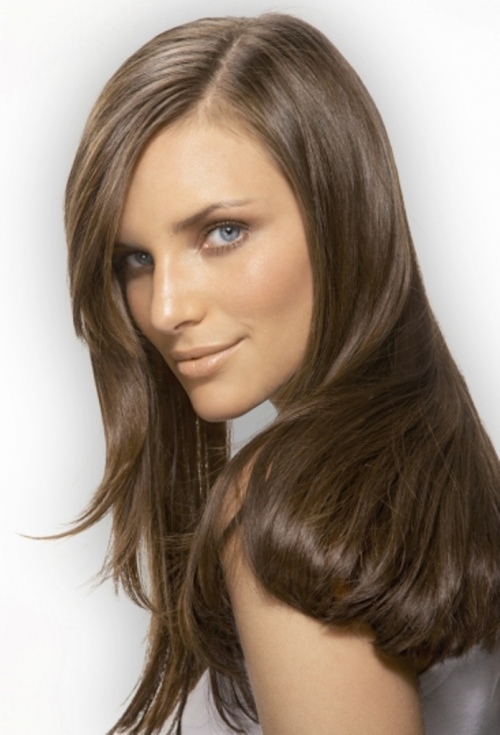 You will need
The hair dye of the appropriate shade.
Instruction
Sometimes girls color hair for several years and with the confidence to identify their own natural color. In this case, you must first wait for the moment when after the last dyeing procedure will take place for about a month. The roots will help to more accurately select a shade, resembling the natural color of hair. To choose it is necessary not only to suit their own desires, but focusing on attached to any paint table colororiented shades.
When the colours matched, it is necessary to test for skin sensitivity. Many people ignore this procedure, although it avoids irritation of the skin. Before you dye the hair in natural colorenough to cause a drop of paint on the back of the hand. If after a while feeling a sharp burning sensation does not appear, then you can apply paint on the head. Additionally washing it up to this point should not be.
The paint should be applied with gloves on, trying not to fall on the skin of the forehead and neck. Previously, these areas can lubricate any fat cream, then wash off accidentally got on them the paint will be much easier. Time keeping the paint varies from 20 to 40 minutes, depending on the manufacturer and the product type. Paint not containing in its composition ammonia, more gentle effect on hair. After coloring hair to wash with usual shampoo, then apply conditioner gives smoothness and fixing color.
Note
Given that repeated coloring is a great stress for the hair, sometimes it's easier to change the way, having a short haircut.
Useful advice
Do not expect that after the first dyeing, the hair will be the same as natural. It's not every hairdresser. However, with each subsequent coloring and haircut of the hair will be closer and closer to get closer to the natural color.
Advice 9: How to give your hair a light tone
Ash hair color is one of the most demanding cool tones. Not every girl fits ash shade of hair. The effect of it can be very unpredictable some paint, great frames the face, radiating nobility and purity. Others are simply old and tries to withdraw into the shadows the possessor of such a shade. How to make hair ashy shade?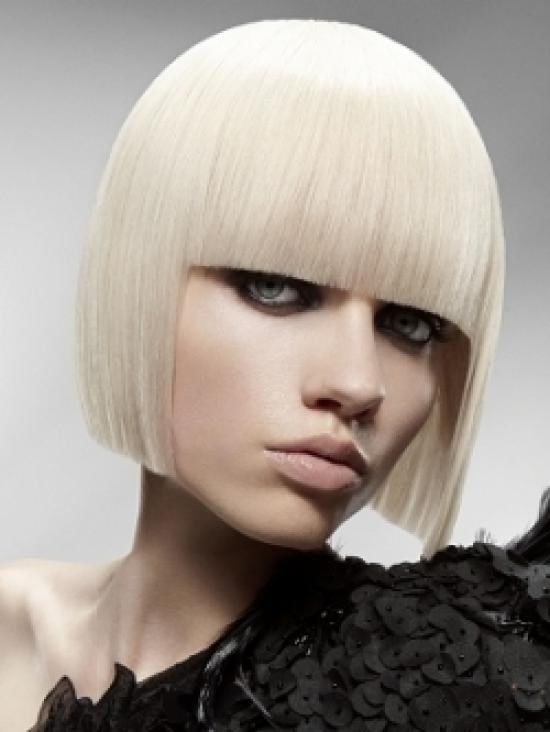 Instruction
To get the ash shade of hair, initially, your hair should have a light tone. But since natural blonde hair has a small number of girls, so you have to resort to lightening a few shades. Only after this process you can use tonic or permanent paint of ashy hue. The only way you will achieve the desired result. From ashy shade best avoided if you have very dark skin or natural hair color with warm shades – red, brown or Golden.
So, before proceeding to the staining in gray shade, you must lighten the hair. To do this, carefully read the user manual and according to it, lightening dilute the drug in a glass container, mix thoroughly.
Apply two thirds of brightening of the drug for the whole length of the hair without affecting the roots. Pay special attention to the tips and entire length. Soak the paint on the head for 20-30 minutes. The rest of the paint apply on the hair roots with a special brush. Spread the mixture on all hair with a comb. Leave the paint for another 20 minutes.
Now you need to thoroughly wash the hair with warm water. Apply a small amount of shampoo to lighten hair, lather and rinse. Squeeze on the head of a balm spread over the entire hair length and leave for 3-5 minutes. Rinse thoroughly with warm water and dry the hair. If necessary, repeat the procedure of clarifying one week.
You can start giving the hair a light ash hue. This can be as a stand, the paint and toning shampoo – it is more gentle. During the transition to gray color, it is necessary to remember about moisturizing scalp and hair. So as to obtain the desired ash and rich color without the green and yellow shades usually takes more than one painting. Hair very much to suffer, look lifeless and dry.
To get a light ash shade, it is advisable to contact the salon of beauty, in this case, your hair will suffer minimal damage. To preserve the desired shade, it is necessary once a week, use a toning shampoo. It will help to refresh your hair color and make it more intense. Don't forget about the special masks and conditioners for blonde hair.
Advice 10: How to achieve a grey tint
Ash shade of hair is one of the most capricious and unstable. In search of funds, giving a noble, cold tide, women are experimenting with hair and makeup in green, blue and purple tones. How to achieve a beautiful grey tint from the first time?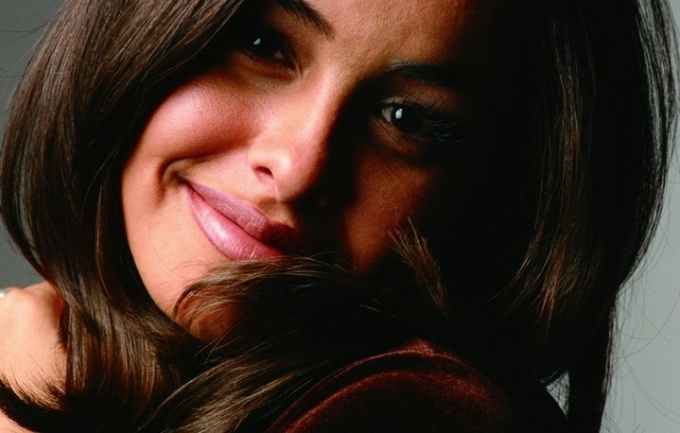 You will need
- hair dye;
an oxidizer;
- I will.
Instruction
When painting use colors cool colors they have in the name of the word "pearl", "pearl", "ash", "platinum", "Sandra".
Prefer professional tools for painting. The difference in price between them and the paints that are sold in stores household chemicals is small, but with the salon makeup is easier to predict the result that will the hair after dyeing. In addition, a professional paint allow you to choose the desired percentage of oxidizing agent, used in dyeing, which is important for those who care about the condition of the hair. Oxidant with a high content of peroxides is justified only in case of strong bleaching hair, while lightening 2-3 shades it will only desiccate the hair.
Purchase so-called mixton – dyes, reinforcing certain shades of hair or neutralizing unwanted tones. Maxtone usually sold in shops of professional cosmetics, in addition, they can be ordered online. To give hair an ashy shade used gray, blue and green (also called anti-red) color. They are added to the color mixture with an oxidizing agent prior to application to the hair. The number likstanov needed for dyeing a particular tone, different for different manufacturers. It is stated in the instructions in centimeters, because meekstone before adding to the mass of the ink squeezed out of a tube on the line.
If you want to give a light tone and existing hair color, bleaching powder, use a paint tone on tone appropriate to it. You can also tint hair with regular paint ashen hueusing a weak oxidizing agent is 1.8%. Due to the low content of peroxide tinting won't damage hair and will give the desired shade.
Useful advice
To maintain the cold shade of the bleached hair after dyeing use products that neutralize the yellowness. They contain the purple pigment, "cuts off" the unwanted yellow and red tints.
Advice 11: At what age you can start to dye your hair
Girls first thoughts about coloring your hair usually appear during adolescence, but mom and teachers often oppose such cosmetic procedures until at least 16 years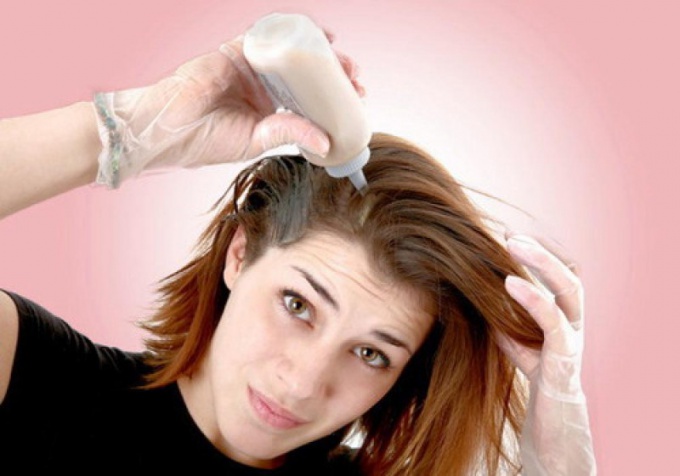 Why you should not dye your hair up to 16 years

When you put on makeup, decides not only the young fashionista, but also its environment, and in particular parents and teachers. Parents are usually opposed to worrying about the health of the hair. Indeed, even the most gentle of paint have a negative impact on the hair, but the girl has a whole life ahead. Teachers often worry about the morality of their charges: girl with dyed hair often look older than their age, and inevitably attract the attention of the opposite sex. Given that 16 years old girls still do not understand men, bright appearance can play in truth a cruel joke. The disapproval of the teachers because they rightly believe that teenage girls need to think more about learning and not about regular touch up root touch-up.

Many adults of the girls started wearing makeup too early, later strongly regretted and spent a lot of effort to return to its natural color. Only here the initial density and the health of the hair back is not always possible, and even expensive cosmetic procedures sometimes do not give the desired effect.


How to choose a color for the first painting

If you do decide to dye your hair, and you have it for the first time, be careful when choosing colors. Remember to darken the hair is always easier than to lighten, so choosing between the colors, it is better to give preference to lighter. In General, the nature of each man was given the hair color, which is best, so you should not choose a shade that is different from the natural. Painted the hair in a color close to natural, you'll rarely touch up the roots, they don't stand out and spoil the appearance. During the first experiments with hair it is better to avoid red and red shades. First, they are not suitable. Secondly, to get rid of them very difficult. If you haven't decided on the color, do not rush to buy the paint, take shampoo. It harms the hair much less and completely washed in a week.

When buying paint no need to save. Cheap means it does not contain any protective substances. Even after a single application of this product the condition of the hair deteriorates significantly. Better if the hair coloring is carried out in a Barber shop or beauty salon. An experienced master will help you choose the right shade and apply paint evenly. So you will achieve the best result.