Instruction
Don't try to lose weight through a rigid diet. If you are going to lose weight more than 1 kg per week, the body will slow the fat burning process. A sharp reduction in the caloric content of your diet will signal for the body on the onset of hard times, and thus the energy supply in the form of fat can not spend. In addition, you will not have enough energy to accelerate the growth of muscle fibers.
Reassess your nutritional guidelines. In order to eliminate the fat, reduce daily calorie intake by about 10-15%. Make the meal fraction. Five to six meals enables your liver to fully translate the incoming calories into kinetic energy, without putting anything in reserve.
For active growth of muscles need protein. Therefore, low-protein diets absolutely do not fit. In your diet should be high in lean meat and dairy products. Start the day with porridge or muesli. Slow carbohydrates contained in them will allow you to reduce the caloric content of lunch and dinner by 5-10%.
Eliminate from your diet TRANS fats, smoked meats and fast carbs contained in confectionery.
To get rid of subcutaneous fat, you need regular aerobic exercise. The best way to lose weight is interval running. Alternate Jogging at a moderate pace with short accelerations. Very good helps us to consume the reserves of lipids Jogging on an inclined surface. Run on rough terrain, or install angle of 10-15 degrees on the treadmill. The duration of the run should not be less than half an hour. It is this duration of a load is required to enable the mechanism of fat burning.
Three times a week, spend strength training. This is necessary for both men and women.
So that the muscles grow faster, carry out basic exercises aimed at the elaboration of a large number of muscles at the same time. Narrow focused exercises need only professional athletes, bringing your muscle features to perfection. Your favorite exercise should be deadlifts, chest press, squats, pull-UPS and push-UPS.
Working with free weights helps to build muscle mass than using machines. This will allow you to perform exercises even in the most poorly equipped gym. Bar and set of dumbbells of different weights are there.
Before proceeding to independent strength training, consult a fitness instructor. The effectiveness of the most basic exercises depends on correct implementation. Take the money on personal training to learn proper technique.
Be sure to do in between strength training at least one day of rest. Otherwise, you can "score" the muscle. This will cause muscle growth to slow down significantly.
Useful advice
Note that the higher the percentage of muscle in your body, the faster your metabolism. What muscles are the main consumer of calories. This means that with increasing muscle mass, accelerating the process of fat burning.
Advice 2 : How to properly and quickly lose weight
Many of those who have unwanted weight, looking for a quick way to lose weight. Of course, the secret to losing the extra pounds is primarily in the right diet and a healthy lifestyle, not starvation.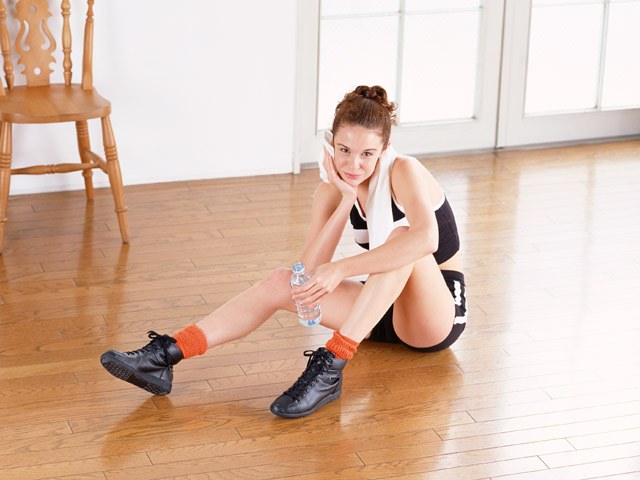 You will need
- 5 pieces of carrot;
- 2 green pepper;
- 1 head of cabbage,;
- 5 purified from the skin of the tomato;
- some green onions and parsley;
Sol;
- fruits and vegetables (except bananas).
Instruction
Eat often, but little. Hunger is the enemy of quick and proper weight loss. Eat in small portions. Preferably, there are a lot of different fruits. Do not have to eat only oranges. Start the morning with fruit salad, at work – use a fruit snack.
Avoid eating fast food, if you want to quickly and correctly lose weight. Exclude from your diet fats. The minimum that you can afford - 25 grams per day. Strike out from your menu, fatty meats, sausages, vegetable and animal fats, cakes, egg yolks, baking, all the sweets and nuts, and other foods where the fat just rolls over. To compensate for the needs of the body fat gain Flaxseed oil and consume it.
Eliminate "bad" foods. This list includes chips, pasta, Coca Cola, canned food, canned compotes and etc. Such products are very harmful for the body who wants to lose weight. During weight loss should be considerably reduced daily rate of carbohydrate intake. As a result, you will quickly and significantly reduce the weight and volume. But you can afford some oatmeal or rice.
Pay attention to the following diet, which you will lose weight in three days. Prepare a special soup. Recipe: you need to take five pieces of carrot, a couple green pepper and one head of cabbage, peeled from the skin tomatoes – 5 pieces, some green onions and parsley. All the ingredients cut into cubes, a little salt and cook. On the first day, eat only soup and a variety of fruits (not bananas). 2nd day: same thing, only instead of fruit, use raw vegetables except beans. Then, the third day: soup plus various fruits and vegetables.
Engage in daily fitness. It is desirable to divide the workout into morning and evening. In the evenings you can arrange a small jog on the treadmill or to the gym.
Useful advice
Take care of yourself, stay slim and beautiful.
Advice 3 : How gain muscle mass fast at home
A beautiful body has always attracted the attention of the opposite sex. And perhaps that's why TV and Internet are full of various ads on the theme "juice up a cool body, doing one hour a week." In pursuit of easy prey, people often no longer understand what price they will have to pay. Free cheese is only in a mousetrap. A beautiful body without any effort- only on the table of the surgeon.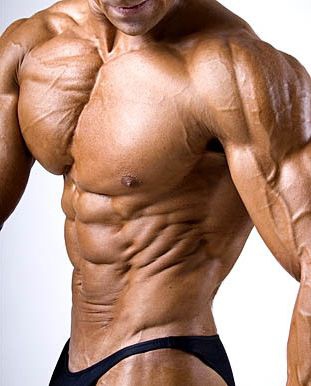 Instruction
Have athletes the Golden rule - only on a certain day they pump certain group of muscles. The rule is universal as to those working in the gym, and for those who started training at home.
If you need it in a short time to give the body shape, then you need to approach training in a holistic manner. First, it needs to be healthy sleep - at least seven hours a day. If there is a lack of sleep, the body will get tired and will start to Deplete itself. This will negatively affect the figure, since all physical exercise will strengthen the muscles but will not make them more visible, and certainly not increase them.
You need to pay attention to nutrition. There is a perception that you need to consume protein in large quantity. Zealous in this is not worth it. This will have a negative impact on the work of the digestive tract.
To achieve quick results is to do several times a day. The morning should do the workout. It will be sort of a warming up of muscles. Also, the workout will accelerate the blood circulation, which will lead to an early improvement in the functioning of the brain and drowsiness will be removed as a hand. At this time, you can perform a standard set of exercises on the overall development of the body. This is a classic push-UPS (preferably with fists or fingers, if they are quite strong), crunches (upper and lower), and the like.
During the day, begin to use. In the absence of exercise machines exercise imagination and begin to develop the body. Instead of the dumbbell it will come down plastic bottles filled with water. Increasing the number of ascents increases the load on the muscles. And don't underestimate the small weight of the projectile.
For the development of the legs will fit squats, jumping out of position semi-squat up, with the feet to his need to press. This will develop as the muscles of the legs, and will have a beneficial effect on the abdominal muscles.
Any object in the house can be adapted for active improvement of your body. Feel free to invent any new methods, techniques and equipment.
Note
Pitching , which has reached good results by training muscles at home, understand that it is necessary to go further and go into any gym, beat both of the loads of the house is not enough. How to build muscle at home?! At home of course you can gain muscle mass, but the effect will be weak, but unless of course yet there is no money ride home, collect the money and to the gym good Luck!
Useful advice
How to build muscle at home? Home is it possible to achieve some serious results? And real whether a complete workout at home? All of these questions I can definitely answer YES! Pump up at home really is possible! A few years ago (2010) I am very seriously interested in the question of muscle-building at home. I had such period in my life when going to the gym almost had no chance.