You will need
soap;
- alcohol solution or hydrogen peroxide;
a piece of gauze.
Instruction
Well wash your hands with soap, as the proper procedure for the removal of earrings-IGL should be carried out only with clean hands, so as not to contaminate it.
Two fingers of one hand confidently hold an earring stud on the front ("head"), with the other hand gently and slowly remove the clasp
earrings
back. The first time the fasteners are removed with a certain force. If earrings can not be, it is best to consult the person who pierced your ears. You can also refer to trauma.
Take a piece of gauze, soak it in alcohol solution or hydrogen peroxide 2% and treat the holes in the earlobes.
About 2 hours be without earrings.
Treat an alcoholic solution of the earrings, which suggest to insert (used previously stud earrings or earrings). If you decided to insert yourself new earrings, it is desirable that they were gold.
Disinfected wear earrings. When inserting do not grip the fastener tightly to the earlobe. Do not remove the earrings in the near future, it is advisable to wear them constantly for the first 6 months. Further, when the channel heal completely, wear the earrings at least thirty minutes every day to avoid unwanted recovery of the skin resulting from puncture channels in the earlobes can be colonized - and then would have to repeat the procedure.
Note
If when removing the earrings you have doubts about the healing channel, or any other signs of inflammation – not delay the time, seek the advice of a specialist who you have pierced ears.
Useful advice
After removing the earrings eagle experts recommend to insert the jewellery without the English castle, but with the diameter of the pin of the same or smaller size as compared to the previous earring-needle. It is best to replace medical earrings-needles suitable gold earrings. Avoid cheap jewelry!
Advice 2 : How to choose a medical earring
Medical call earrings jewelry made of surgical steel. Most of these
earrings
are the people most recently lanced through the ears or with allergies.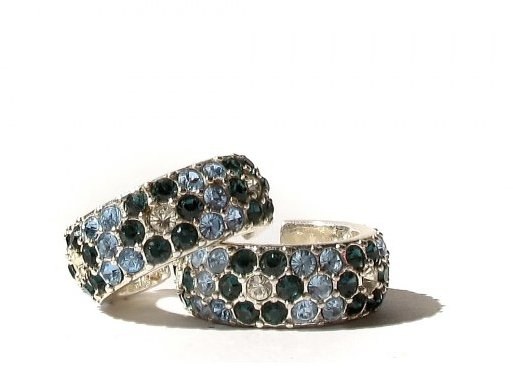 Why you need a medical earrings?
Medical earrings are usually Packed in sterile vacuum packaging fully meets the requirements of antiseptics. Sterile earrings are placed on a special gun and are inserted directly into the ears in the process of puncture. This procedure is virtually painless, and medical earrings cause minimal discomfort during the subsequent socks.
Earrings made of surgical steel is needed to minimize the risk of complications after puncture. This material is absolutely safe, surgical steel is not oxidized, does not cause allergies, in addition, it promotes fast healing of the ear lobe. These earrings need to be worn, without removing, a few months after a puncture, but they can be worn as jewelry after the injured tissue heal. This option is suitable for those who have allergies to other metals.
The average cost of such jewelry ranges from six to nine hundred rubles. Earrings made of surgical steel for much less price can be fake and cause unpleasant allergic reactions.
A selection of earrings made of surgical steel
Modern medical earrings are available in a variety of forms. Most often, they look like earrings with colored stones. Usually these stones are not precious. Most often, earrings made of surgical steel decorated with fionity – artificial crystals.
There are other forms of medical jewelry. Increasingly, these earrings are decorated with hearts, studs, stars, and other symbols. Thanks to this product can be worn as regular jewelry. Many girls buy medical earrings in a variety of variations to wear them every day.
Buy medical earrings can have a master who will pierce your ears. A wide selection of such products in many online stores.
Earrings made of surgical steel and come in different sizes. They should choose, based on the thickness of the ear lobe. Best of all it will make a master, from whom you are going to get her ears pierced. If you have thick earlobes, it is important to choose earrings of correct length, otherwise the follow-up process socks can cause discomfort and even minor injuries.
In some cases, medical earrings can contain impurities of other metals, so if you have a tendency to severe allergic reactions, should consult the master before the ear piercing to avoid unpleasant consequences.
Advice 3 : Gold earrings with amber
Now gold earrings with amber are back in fashion. This decoration easily managed to fit into the collections of many fashion houses. These earrings due to the new design truly stylish novelty. They are able to emphasize the feminine elegance that fit in any way.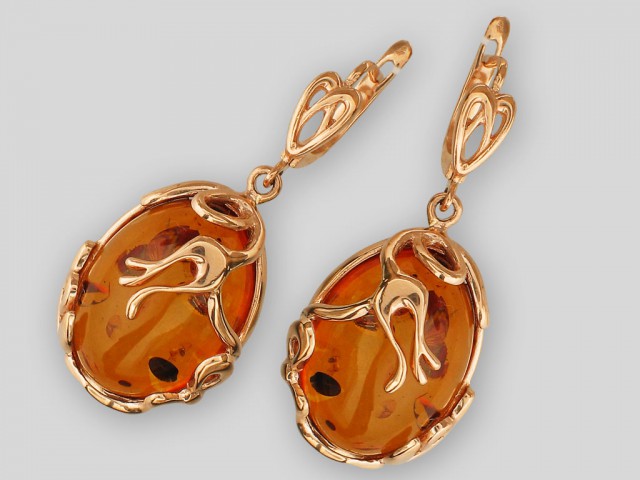 The types of amber earrings in gold
A variety of models amber earrings cannot fail to delight fashionistas. Any girl can choose the option for your image. Gold earrings with amber can be:
in the form of studs;
pendants;
rings with amber flecks;
chandeliers.
Some models of earrings is a large stone of irregular shape set in gold. Quite interesting look earrings in the form of a scattering of small stones. Such models are often additionally decorated with other stones, not only amber.
How to choose gold earrings with amber
First and foremost, pay attention to the stone. Natural amber color is transparent red or waxy, passes through a light. Often the amber changes from brown to white. Gold earrings with amber can be a pleasant milky cream shade - these stones are valued higher because it speaks to his exclusivity! But note too the white color of the stone is a sign of the presence of chalk, therefore the stone is not very good.
Not to buy instead of the original forgery, take the piece of wool. RUB the earrings with the amber hair on the rock were the hairs? Then it is natural. In addition, invisible part, you can coat the stone with a sharp object - the original stone will crumble, the fake - creatica. Of course, it is not necessary for such a validation method to use expensive jewelry, you can damage them.
Advice 4 : Gold earrings: interesting patterns and rules of care
Gold is associated with prosperity and wealth. Gold color accents on the sophistication of jewelry, giving everyday style a drop of individuality and luxury. But not every girl can afford gold jewelry of the highest standard. Here come to the aid of the accessories with gold, which also emit a pleasant warm glow, but it is based on medical alloy, silver or steel - because of this the price of the ornament is reduced significantly.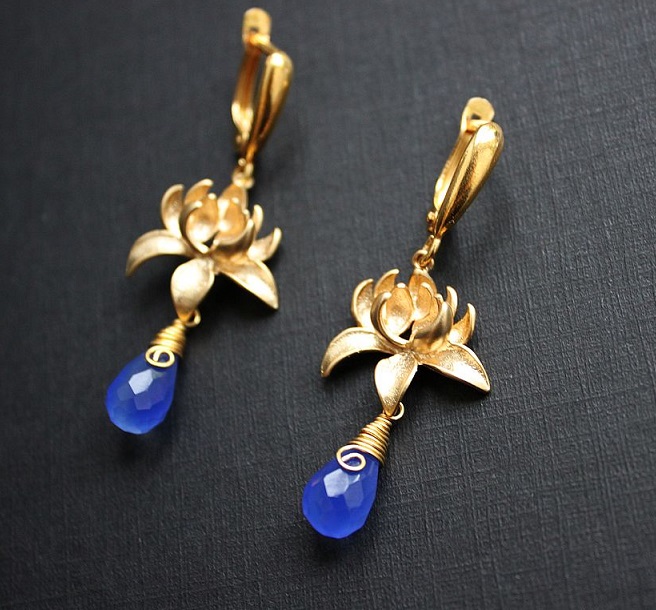 Among the decorations especially popular are gold plated earrings. They may have a different design, but the price is always quite reasonable. Of course, the cost of the product is affected by the nature of the insertion, because such jewelry with semi-precious stones. But precious stones (corundum, diamonds) do not put in the silver earrings with gold.
Gold plated earrings with minerals and stones
Earring with gold plating is often used silver. Because silver is easy to work with, it lends itself well to the procedure of gilding. Jewelers use various inserts in order to emphasize the beauty of jewelry. On the basis of the used stone select several types of earrings.
Gold plated earrings with pearls. Delicate pearls perfectly complements the elegant style of the owner. The combination of pearl and Golden color - it has long been a classic.
Gold plated earrings with cubic Zirconia. These stones transparent colour resembling diamond. Cubic Zirconia is easy to put different shapes or be socketed into a separate part of the jewelry.
Gold plated earrings with Topaz. This option is more rare, because Topaz is a valuable gem.
How to clean gold plated earrings
First remove all surface dust, then wipe the product with a cloth soaked in alcohol or turpentine. Even for cleaning gold plated earrings suitable conventional ammonia or a solution of Marseilles soap.