Instruction
Acrylic paint, diluted with water, acquires the characteristics of watercolour – transparency and shades of tenderness. To achieve this effect in the figure, prepare two water tanks – one you'll wash the brush, the other should remain pure.
Use diluted acrylic soft brushes suitable for watercolor: for filling large surfaces suitable protein, to work out the details in the letter on the dry sheet – columns.
The maximum pure color translucent acrylic will do the drawings on paper. On the primed canvas shades priglushaetsya few and dim.
To get a smooth transition from one color to another, use the technique "on wet". Soak the sheet in clean water and immediately apply layers of different shades. In the point of contact of the paint will mix and form a picturesque reliefs.
Feature of acrylic is its fast drying. Adjust the picture and blur its boundaries immediately after applying the paint in a few seconds, it hardens, and all aspects of the stroke will be clear and visible.
Waiting until the first coat is dry paint, apply the following is in a different shade. Unlike watercolors, acrylic paints will not mix in "dirty" color and will show through subsequent thin layers. Because of this using overlay you can get deep complex tones.
Spots of acrylic different color, you can merge the final layer of neutral shades. He sets a tone all areas of the picture, but will not mix with the color of any of them.
If the acrylic does not dissolve water, it can produce oil. As the basis of suitable paper and primed canvas. In this case it is better to take a stiff brush – the bristles and synthetics.
Acrylic paints have good covering power, so they can sketch the failed piece and the go a new coat of paint. This is useful for "layering" a drawing: you can paint the color of the whole background, then the object on it to fill a white base and paint any color – the hue is bright and clean.
Acrylic can be used not only as the main material, but also as an auxiliary. Often they created the so-called underpainting in paintings that are completed with oil.
Advice 2: How to learn to paint with acrylic paints
Acrylic paint is based on the Matt plastic emulsion, which dissolves the pigment. Acrylic paint - a versatile art material. For painting they will fit almost any surface. There are acrylic paints for canvas and paper, wood and porcelain, cloth, clay, stone and other surfaces.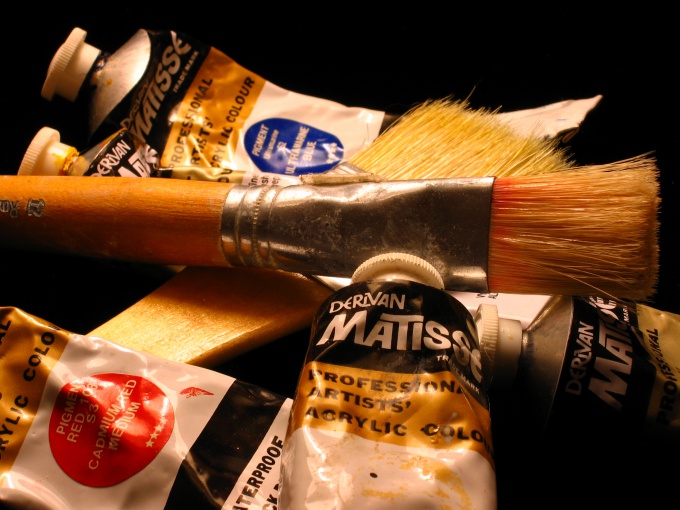 You will need
set of acrylic colors basic spectrum (6-8 colors), water, thinner for acrylic art brush (synthetic, kolinsky, sable, hog bristle), wet palette, a palette knife, the surface to be painted (canvas, thick watercolor paper, cardboard, wood, etc.), easel or tablet, masking tape, a stretcher for canvas.
Instruction
If you are familiar with watercolor or oil, it is easily mastered and acrylic paint. Just keep in mind that acrylic paints dry extremely quickly. If they're completely dry, they form a film which is not washed off with water. This means that you can change the picture only until the complete drying of acrylic paints. It is difficulty to mix them on a normal palette, and creates a need to keep the brush in the water. For acrylic paints sell special palette at the bottom of which is placed a moistened foam. The surface of the paint-mixing wax paper is laid over the wet foam. In addition, these palettes have a tight-fitting cover, which makes it quite long to keep mixed her paint. Very easy to make a moisturizing palette yourself, taking a flat container with a lid, the bottom of which you need to put a layer of wet wipes or toilet paper. The main thing - do not overdo it with water to the wipes didn't melt down. Rethrownew surface wipes, cover them with a sheet of smooth thick tracing paper, which will be the perfect palette for acrylic paints.
Whichever surface you choose for acrylic painting (except white watercolor paper, pre-primed. There is special primer for acrylic paints. Most often
use
acrylic emulsion, which includes titanium dioxide. This gives the surface a white, a need for a transparent acrylic paint. Also, the quality of the soil use dark acrylic paint, which gives the necessary contrast. If you decide to work with diluted
acrylic paint
, which will apply on white watercolor paper, you the ground is not required. The acrylic in this case will be very similar to watercolor, but without loss of color saturation.
Remember that acrylic the faster it dries, the more it adds water. It is easiest to draw the diluted acrylic paint technique "on-wet" when the sheet of watercolour paper previously wetted in warm water and stretched on the tablet. The edges of the wet paper tightly attach to your tablet masking tape. If you decide to write on dry paper with diluted acrylic paints, you moisturize it. It will be convenient to write with both hands: one to directly apply the paint, and the other (wet and clean) - smooth contours, remove islii paint, to soften color transitions and to correct errors. There's a technique acrylic painting, which is called stratified glaze. First, on the work surface to apply a thick paint as underpainting. Then the diluted liquid paint is applied in layers, waiting for the complete drying of each layer. This allows you to correct the dissonance of the colors or change the shades of the General color scheme of the picture. The painting, made by glaze, has an amazing depth, expressiveness and brilliance.
Excellent hiding power and density of undiluted acrylic paints allow you to write the technique of "impasto", as you would with oil. It is best to use drying retarders, manufactured specially for acrylic paints. This will allow without fuss to consider the texture of the brush strokes and to correct any errors, which, however, need to be corrected immediately. When working on canvas need it primed, and, given the transparency of the acrylic, it is better to post on it primary colors as a underpainting.
The brush, which you will work should be selected depending on how diluted acrylic paint. If you want to painting a diluted acrylic paints, brushes of sable, column, ox hair or synthetic. For impasto techniques (i.e. thick acrylic paint) will do more hard brush of bristle, sable or combined with synthetic fibre. In addition, in this case, you can use a spatula, like writing oil paintings.
To simplify the work with acrylic, produce a lot of supporting tools: thinners, retarders drying, glossy, matte and textured gels. Practicing in acrylic painting, you will be able in practice to study their properties and to evaluate the usefulness.
Note
Acrylic dries quickly on the hands. To avoid this, it is better to wash them. If this is not possible, put the brush in the water. At the first opportunity thoroughly wash them, making a circular motion on the bottom of the tank with water and then under running water and with soap. Use only warm water for cleaning brushes as hot water acrylic roll up and clog the brush. If on the hand will remain a little acrylic it can be thrown out.
Useful advice
Diluted acrylic paint is best applied to the working surface (as the background) with the airbrush. With the help of natural sponges and acrylic liquid, you can create amazing effects, as in watercolor painting.