Instruction
Most of the tools for nasal lavage-based physiological solution. They cost sometimes over a few hundred rubles. The price is unreasonably high, especially considering the fact that the saline solution is a pretty inexpensive tool. But the treatment of the common cold is not all that capable of this fluid. Saline solution to rinse your mouth and throat inhalations in diseases of the upper respiratory tract, wash shallow wound. The process of making this tool is pretty simple, requires a minimum of time and ingredients.
If for making saline solution you are using bottled water, it is enough to warm up to 37-40 degrees. If the basis for the medicine water from the tap, it is necessary to pre-boil, then allow to cool to the temperature of the human body.
Prepare a salt of the first grinding. It is well and dissolves quickly, therefore, it is preferable to use it.
One teaspoon of salt with a small slide (in total it will be about 9 grams) slowly sprinkle in a quart of heated water. Stir the solution in the cooking process so that the salt crystals are completely dissolved. At observance of technology of preparation is supposed to be a salty liquid that can be immediately used for medicinal purposes.
Store prepared solution at room temperature, but remember that its shelf life is not more than a day. Homemade non-sterile saline, and therefore gargling or inhalation of stale liquid can cause harm to the body. If you do not have time to use a solution in one day, better to just pour the liquid and prepare a new one. It doesn't take much time, but guarantees a positive effect of treatment and no side effects.
Advice 2 : How to make isotonic solution
If the human body to enter a large amount of hypertonic
solution
, due to the significant difference in the values of osmotic pressure on opposite sides of the cell membranes of cells will dehydrate. In the case of introducing a large amount of hypotonic
solution
the opposite will happen: the cells begin to swell and can rupture. Therefore, injected into the body isotonic solution, an osmotic pressure equal to osmotic pressure of blood, lymph and intercellular juice. How to prepare an isotonic solution?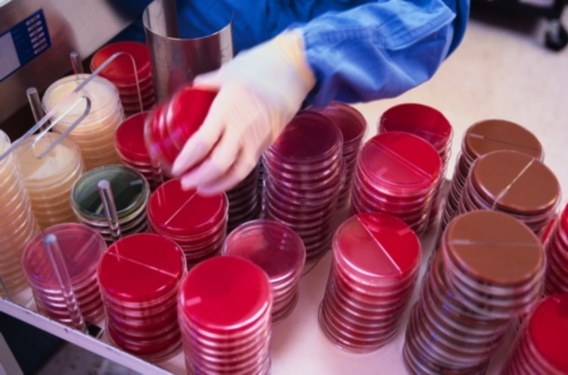 Instruction
For example, to you the task: to prepare an isotonic solution of glucose. This substance is very often used for intravenous injection. Start with, let's recall the formula of glucose: is c6h12o6. Using it, calculate it molecular weight: 180. Therefore, the molar mass of glucose must be equal to 180 g/mol. Also remember that glucose is not an electrolyte.
Next you will help the rule you want to remember. Upon dissolution of 1 mol of any nonelectrolyte in 22.4 liters of a liquid having a temperature of 0 degrees, there is a pressure equal to 1 ATM. Accordingly, as is easy to understand, to create pressure equal to 7.4 ATM, the volume of liquid in which is dissolved 1 mol of a nonelectrolyte, must also be at 7.4 times less. That is to 22.4/7.4 V = 3,03 liters (or approximately 3 liters).
Be aware that these calculations are valid for temperatures equal to 0. Because the human body temperature normally is around 36,6–36,7 degrees, should be amended. Let the temperature of the person (to ease calculations) will be accepted as 37 degrees, then take the solute on a share 37/273 less (approximately by 13.55% less, given that 273 degrees Kelvin correspond to 0 degrees Celsius). In other words, it is necessary to take 0,8645 of the estimated amount of the substance.
So long as you need mol of any nonelectrolyte, to get 1 liter of isotonic solution with the above amendments? Calculate: 1*0,8645/3,03 = 0,2853. Rounded accept this value for a is 0.29.
So, how much glucose you need to prepare 1 liter of isotonic solution? Perform elementary calculations: 0,29* 180 = 52.2 grams. Or, if you consider to use the concept of mass fraction, the concentration of glucose will be of 5.22%.
Useful advice
The increased osmotic pressure under normal conditions is equal to 7.4 ATM.