Instruction
As in any other case, in such exercises an important regularity. If you started to learn to rap, don't stop – continue to read the text as long as possible. Thanks to the practice you will be able to improve their skills.
Maybe at first you will be able to easily and quickly write the word on the go and especially to rhyme them and make the text rhythmic, but with time you will feel that you can more easily way with words, verbalizing your feelings, thoughts and events happening around them.
In the process of learning not to try to come up with the rhymes beforehand – so it will be easier to work with. Rhymes come the author gradually – at first, it is important for you to learn how to recite adequate and rhythmic recitative.
Try to remember that invented on-the-go texts and record them to continue to practice on already written texts, as well as to track changes in their own creativity and their skills to make beautiful and rhythmic rap.
Initially do not worry about specific themes for his lyrics, read the rap that surrounds you in everyday life, use word play, metaphors, talking about what is happening around you and also about current events that relate to many people.
Don't stop during training – even if you are going to make mistakes and be ashamed of their own language, keep talking and soon you will notice how the rhymes and rhythms will appear by themselves in your texts.
It is also useful to listen to other freestylers, partly to learn from the way they read and listen to how they are in the texts and formulate thoughts.
Learn to recite poems, improvising and composing on the go, difficult, but not impossible – to tell stories as often as possible, feel free to improvise both alone and with other freestylers, sharing their experience. The performances in the freestyle round is very important for further developments of your skill.
It is also important to learn how to breathe correctly so as not to choke and not to lose the rhythm during a long recitative. Learn tongue twisters, practice diction, improve lung strength.
Advice 2: How to learn freestyle
Probably on TV or on the Internet you have seen videos in which professionals performed various tricks with a soccer ball: tossing and catching their feet, threw over the head, stuffed in some extraordinary way, and so on. Now, it's called "football freestyle". It may seem that learning to freestyle is impossible, however you just need to ask and be patient. The rest – a trick.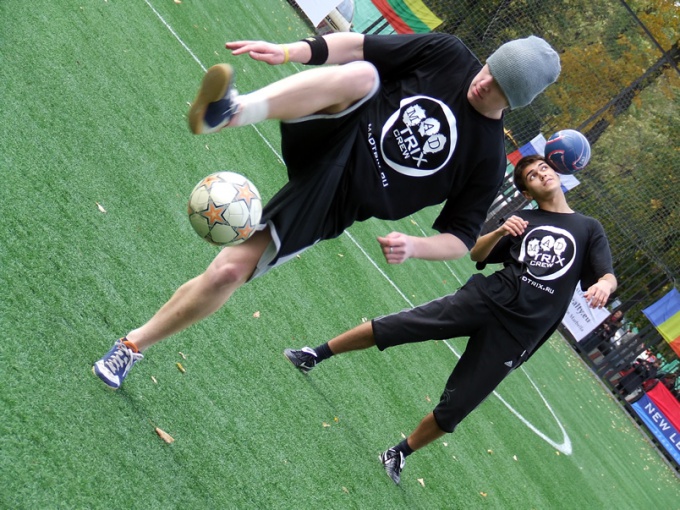 Instruction
For starters, get the soccer ball. If funds allow, buy a special ball for freestyle. Wear shoes and dress appropriately. Clothing should be comfortable and not restrict movement. The same requirements apply to shoes.
Find a comfortable place for learning. The benefit of freestyle is not soccer, but because he does not require a large area for training. Now you can proceed directly to training. The first thing to learn is to fill or "coining" of the ball. Can first try with one foot. Then connect at times the other leg. With proper skill you for a day or two can hit the ball from one foot to the other alternately. Next, you should practice to mint the ball on the knees and on the head. The second much more difficult. To speed up this process you can, if you call a friend and to pass the ball to each other with a head.
Why you need to learn to fill the ball? Professional freestylers of the day stuffed with more than one thousand times. Therefore the results. Chasing the ball in freestyle is the basis of all bases.
Learning to keep the ball in the air using your feet, proceed to practicing your first trick. This trick is called the ATW, which means "around the world". Its essence is that you need to toss the ball to have time to scroll around his leg and successfully catch it, continuing coinage. Of course, for a beginner, freestyler, this trick will be difficult. However, for a couple of days you will be able to master them in perfection.
In addition to this trick is a whole lot of various movements, but to describe them endlessly. Good luck with training.