You will need
150 g of sour cream
Dill
Parsley
Salt
Pepper
Coriander
Instruction
Clean the fish from scales. If it is not eviscerated – remove the entrails. Do this carefully so as not to damage the gall bladder, otherwise the fish may acquire an unpleasant bitter taste. Fish baked in sour cream, prepared entirely with the head therefore it is necessary to remove the gills: they delayed particles of sand, silt and mud. After this, rinse the fish under cold running water and Pat dry it with a napkin.
Salt the fish and sprinkle it with ground black pepper inside and out. Add a bit of coriander. Coat all sides with vegetable oil – sunflower or olive. Put in the abdomen sprigs of parsley and dill.
Another method of preparation can be applied to fish that have a lot of bones. The fish should be cut in half along the spine and remove the spine. Then remove the ventral bone, and made two lateral incisions from the inside out. Appeared in sections of bone should be removed. Then the fillet is formed to shape and then baked as whole fish.
Grease a baking sheet with vegetable oil, lay on the middle of the fish. Fill the glass about 50 grams of water and pour into pan. It is necessary to do to the fish in the oven do not overheat.
Place baking sheet in a preheated 150 degree oven. Keep the fish there for 20-25 minutes. Then remove it and give it a coat with sour cream, without removing from the pan. Sour cream for this dish is better to take fatter so less dripping during baking. Once fish is coated, return it to the oven. Keep it for 10-15 minutes. The result should be a delicious Golden crust. If not, turn on for five minutes grill the fish is browned.
Classic side dishes to fish dishes are potatoes and rice. Fish in sour cream goes well with mashed potatoes, and plain boiled or fried potatoes. The rice should cook for a short time, so as not collapsed, and preserved form. The dish can be decorated with greens, salad, vegetables.
Note
Not overheat the oven. Purified from the scales of the fish may stick to the baking sheet firmly, and scrape up traces of it will be very difficult.
Advice 2: How to cook grilled fish
The one who cares for his health - he knows that fish is good to eat at least twice a week. There are many ways of cooking fish - frying, steamed, boiled, cooked her soups and baked in the oven. You can cook fish on the grill.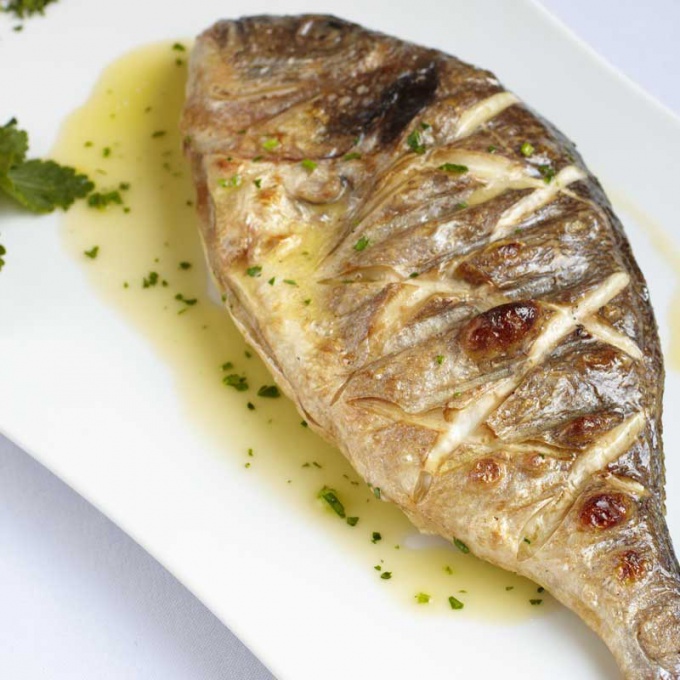 You will need
2 fish (400-500 g each)
1 pod of pepper of Chile
1 small root of ginger
1 teaspoon cumin
1 teaspoon vegetable oil
salt
For recipe No. 2.
800 g salmon fillet with skin
2 pods green chilli
juice of 1 lemon
2 tablespoons soy sauce
1 teaspoon grated ginger
a handful of Basil leaves
Instruction
For roasting on the grill is best suited fat and not very bony fish. Of course, you can use any fish, but it can affect the taste of the finished dish not for the better.
On the grill you can cook fish whole, and you can fry the fillet or steak of fish.
Try to prepare different options, and then decide – what is more to your liking.
Fish on the grill.
Take two small fish (trout, Dorado, mackerel or other fish), wash, clean and gut them. The head is not cut off. Blot the fish with paper towel and air dry.
Make a marinade. For this chili, remove seeds and finely chop it. Peel the ginger root (now it can be bought in any major supermarket) and RUB it on the grate. Mix the chopped chili, grated ginger, vegetable oil, cumin and salt.
Make a few deep slashes on each side of the fish, brush it with the marinade, place in a bowl with a lid and refrigerate for one hour (you can leave overnight).
Fry the marinated fish need in a well heated pan-grill or on the grill for 7-8 minutes on each side.
Salmon fillet on the grill.
Fillet of salmon or other fatty fish cut into long pieces (8-10 cm).
Mix grated ginger with finely chopped chilli, add the lemon juice, soy sauce and chopped Basil. RUB this mixture of fish and leave for 20-30 minutes (can be longer).
Then the fish pieces fold in half and stick a thin wooden skewer or toothpick.
Fry on well-heated grill 5-8 minutes on each side.
Useful advice
If you are going to cook on the grill is not very fatty fish – wrap it before you cook thin slices of fat bacon or ham and chipped wooden skewer. The fat from the bacon will soak into the fish and it will not work dry.
Advice 3: How to cook fish in beer batter
Fish in batter is quite simple and versatile dish for ordinary meals and festive table. The batter can be prepared in different variations: water, milk proteins, sour cream, etc. And if you take the basis of beer, fish after frying will acquire a delicious, airy and crisp.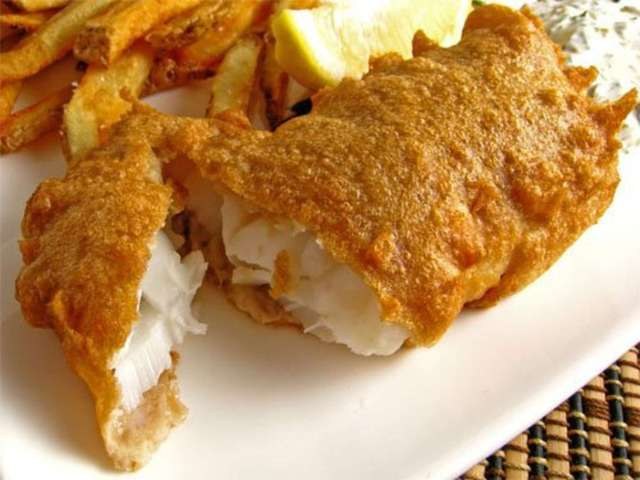 You will need
500 g of fish fillet;
150-200 ml of beer;
2 eggs;
200 g flour;
salt;
pepper;
lemon juice;
seasoning for fish.
For the sauce:
2 cloves of garlic;
2 tbsp lemon juice;
6-8 tbsp mayonnaise;
2-3 sprigs of dill;
salt;
pepper.
For decoration:
greens.
Instruction
For cooking, choose a fish without bones or with a large easily removable rib bones, it may be, for example, perch, tilapia, sole, mullet, salmon, trout etc. to avoid tedious cleaning and cutting fish, buy frozen fillets. For proper defrosting first put it in a cooler on the middle shelf until tender, and then a little soak at room temperature.
Rinse the fillets in running water, dry on paper towel. Cut the fish in small pieces about the size 4x4 cm. it is Possible to show imagination and to divide the fillet into squares, diamonds, strips, etc.
Place the fish in a bowl, season with salt and pepper, add seasoning according to your taste and lightly drizzle with lemon juice. Stir to evenly distribute the marinade between the slices, and leave for 25-30 minutes.
At this time, prepare the batter. Separate the egg yolks from the whites and whisk with salt, add beer, stir, then gradually add pre-sifted flour. In a separate bowl, beat to a froth the whites of and enter them into the dough. Knead it until thick sour cream, if necessary, adding flour, and be careful not to leave lumps.
For frying, take a pan with high sides and bring it to boiling vegetable oil. His number should be such that it surrounds the fish on all sides (about 1-1,5 cm from the bottom of the pan).
Dip the fillets in the batter, lay them in boiling oil and fry over moderate heat for 5-7 minutes on each side until Golden brown. The finished portions are put on a paper napkin or towel to stack fat.
Fish in batter you can prepare the sauce. Chop the garlic and dill, squeeze lemon juice, if desired and add the lemon pulp. Connect the ingredients with mayonnaise, salt, pepper and stir well or blend using a blender.
Lay pieces of fish on plates, pour sauce and garnish with sprigs of greenery. The remaining sauce, put in a gravy boat and serve separately.
Advice 4: How to cook bream in sour cream
The bream cooked according to this recipe, make a very soft bone and the meat is very juicy and tasty, you do not need to use any spices.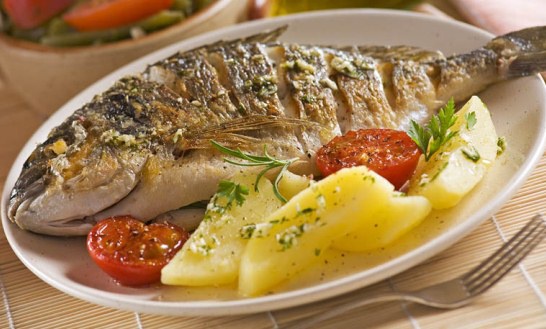 You will need
- bream - 1 kg;
- butter - 1 tablespoon;
- sour cream - 100 g;
- salt - to taste.
Instruction
Bream wash, peel, make an incision on the abdomen and gut. Remove the gills and rinse again in cold water. Fish RUB with salt and refrigerate for one hour.
Heat the oven to 150 degrees. In a frying pan with a thick bottom, melt the butter (you can use 1 tablespoon of vegetable). Remove pan from heat and place on the prepared fish oil. Put the dishes in preheated oven.
When bream covered with a Golden crust, brush it with the sour cream and again put in the oven for about 10 minutes, then remove the pan, spread fish with sour cream again and put in the oven for another 10 minutes. Then pour the resulting bream with the sauce and the oven turn off and soak in her dish for another 10-15 minutes until cooked.
Useful advice
When serving, pour the resulting bream cream sauce and generously sprinkle with greens of dill and parsley.
Advice 5: How to cook Pollock in sour cream
Fish can be cooked many different dishes.For example, a very tasty fish in sour cream. The recipe is very simple and does not require any special knowledge or experience. In addition, Pollack is extremely useful - it contains many vitamins (A, PP, C, etc.), polyunsaturated fatty acids, a large number of legkousvoyaemogo protein and macro - and microelements necessary for human body.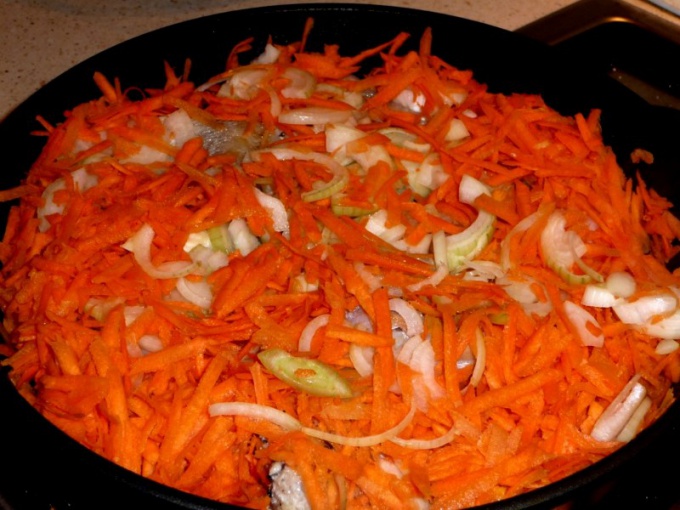 So, to prepare Pollock in sour cream you will need the following ingredients:
- Alaska Pollack (preferably fillet) — 1 kg;
- carrot (small size) — 3 pieces;
- onions — 1 piece;
- sour cream (15 - 20% fat)— 200-300 grams;
- vegetable oil – 2-3 tablespoons;
- salt, pepper and spices - to taste;
- flour - 3-4 tablespoons (optional).
How to cook fish in cream sauce: recipe
First, prepare the fish. Pollack must be cleaned and free from bones. Then rinse it and let dry a little, then cut the fish into cubes or serving pieces.
Pollock is better not to cut finely, as when frying size pieces slightly decrease.
You can then do the vegetables. For this 3 small carrots wash and peel, peel the onion. Carrots grate. You can use your regular large grater for Korean carrot. Onion cut into half rings or cubes as you like, the dish does not become worse. In a deep frying pan heat the vegetable oil.
Grated carrots must be fried in the pan literally 5 minutes, then add the onion and stir. During this time the vegetables will get Golden color. Add the vegetables pieces of fish and mix these ingredients. Salt and pepper them to taste, sprinkle with favorite seasonings. Turn down the fire a little, cover the pan with a lid and leave to stew the vegetables with the fish for 10 minutes. Then add the sour cream, mix well and leave to stew for another 5-10 minutes.
As a side dish to fish in sour cream is perfectly suitable potatoes, rice or any other side dish on the taste of the hostess.
Next, pour in a pan of boiling water so that the pieces of fish were covered with water a little more than half. Then close it with a lid and simmer on low heat for another 15 minutes. You must ensure that the water is strongly not boiling, as Pollack has to stew, not roast. So the fish will be very soft and extremely juicy.
If you want to fish in sour cream came in a creamy sauce before you add the fish, sprinkle small amount of flour. Then stir the chunks of Pollock and flour, and then add the sour cream. Leave to stew for 5-7 minutes, then add water and stir. So Pollock will work in a mild cream sauce that will give the dish some zest.
Cooked dish gets browned and delicious.