Instruction
Start to raise a pet from infancy. An adult cat is extremely difficult to train, while the kids are still able to adjust and accept your attempts to teach them certain tricks. Learning speech is no exception. In addition, training can be males, cats are more picky and independent, and their mouthparts are not as flexible and hard to change.
Listen to the natural language pet. Note how he meows. Each cat in his own way expresses his feelings, emotions and desires. Couching the wealth of cat's tongue in one "meow", you are making a mistake, as in fact it is much richer and differs in each individual. Find the meow your pet "the words", reminiscent of something from our speech.
Start working with was found vocabulary units. Suppose, separate the sound of the kitten reminds you of the word "meat". As soon as you hear it, repeat the word "meat" and praise baby. Reinforcement is an important stage of work. Play and selling the game: say the word "meat". If the kitten responds to the desired sound – praise. In this step, it is essential to exercise powers of observation, because the sounds of the wild cats, usually associated with a particular situation. Says the word "meat" in that moment, who the appearance of the corresponding sound seems the most likely. So you will increase the likelihood of a quick consolidation of lesson.
Do not expand the number of words until you become one. Be consistent and patient. Only after verifying that the first lesson thoroughly secured, begin to expand vocabulary. Do not forget about the constant repetitions.
Don't be too demanding. You can't teach a cat to say the word "meat" as we are accustomed to hear. Remember how difficult it is to understand somebody speaking with an accent. Your pet will also say "word" a little differently. And it all depends on your mood. If you believe that your cat is able to say the word "meat", then you will be able to hear it.
Be careful in demonstrating the talents of the pet in front of guests. Make sure that they understand people don't expect miracles from a cat. All animals are extremely vulnerable and can't stand to be laughed at. If there are skeptics who laugh while showing off your her collaborative efforts, it is better to refrain from public speech and "conversation" with the cat alone.
Useful advice
Engage only when your cat is configured for it. Cats – one of the most capricious of animals, and if they don't want something, you'll never get them to do it.
Advice 2 : How to accustom the cat to the owner
Each cat is individual and has its own character. Whether it's a homeless kitten or fluffy and kind of a homebody. Cats can show their affection very differently. How
to teach
your pet to
hand
?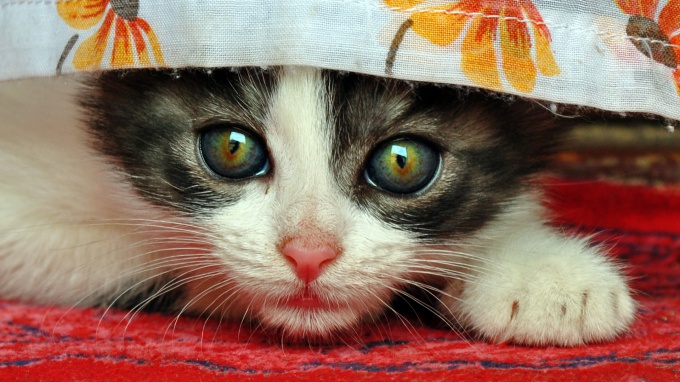 Instruction
So, first you need to learn one rule, cats are very sensitive creatures. To introduce the cat to the owner should be gradual and not Intrusive. If the first time your pet is off the owner – nothing. Is not necessary to forcibly hold the cat on his hands and wait for it you will abccarpet.
To accustom the cat to the owner should gradually. To start, start it just to pet or scratch behind his ear. Then try to lure her with something (e.g. a piece of sausage) closer to your palms. As soon as the pet approached, do not just nervous enough on hand to keep near me. We need to make sure that the cat was distracted or forgot for the time that she's near your palms.
It should be noted that a small kitten is easier to accustom to the hand, than the adult cat. For adult cats will have to be patient.
If your pet is showing you signs of attention, that's good. For example, a cat can go with you in one bed or sit with you on the same sofa. Affection and love on the part of the pet should be encouraged.
You also need to understand that not every cat likes touching. Then we must resort to more serious measures. For example, you can purchase at any pet store special cat spray with a high content of pheromones. Nabryzga this spray the palm of your hand, you sweep as the cat itself will be attracted to you. But do not very often resort to this method as the cat may be addictive and develop the reflex to this medicine. Subsequently, you will be hard to wean cat from this medication. You can also use a special Catnip.
Cats are very touchy creatures. If you have ever hurt your pet, it is unlikely that he will just jump on the hand. Should be treated more carefully and is sensitive to the cat. If you give the cat the love, joy and affection, a cat will answer you the same. So don't despair if in the first month a pet and not used to hands.
Useful advice
It should not be too hard to go after the cat and put her up because then she will be afraid.
Advice 3 : How to teach a kitten to be obedient
Often we first start fluffy favourites, and then suddenly find that we were in the role of Pets, and the cat feels the full owner of the apartment. To problems of this kind arise, the kitten need to properly educate.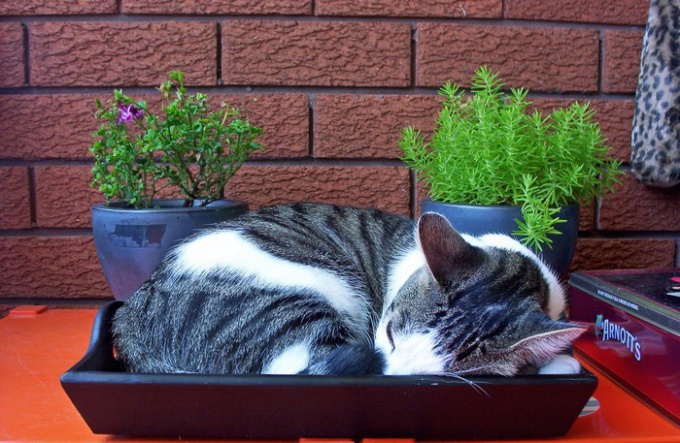 First and foremost, your pet needs a name. It's not fashion or tradition, but a very useful action required to raise the animal. The kitten should be called by name when you caress or feed him. When you punish an animal, to call him a nickname it is impossible because in this case, the kitten would take his name a dirty word associated with punishment.
When your pet defecate in the wrong place or sharpens claws on the furniture, it must immediately be punished. The key word here is immediately, because cats have a short memory. Over time the kitten will no longer be able to associate the punishment with the offense. It is not necessary to punish the animal by physical violence or throwing sneakers: compare their size and the size of a kitten.
Imagine now that you are flying a giant Shoe. It is best to splash water on troublemaker or produce a special effect, for example, to drop the keys on the floor, loudly clap your hands, etc. is a Valid punishment is a flick on the nose, although for a kitten, it may be somewhat painful.
It is not necessary to indulge the kitten in all his whims just because he's cute and fluffy. Decide what you will not allow the animal, and stand your ground to the end.
If the kitten is begging when the family sits at the table, then you should postpone feeding time for half an hour before a family dinner. To feed the pet from your table, of course, not worth it. If the cat does not eat their food, no need to rush to offer him a variety of other dishes. It's possible that he's just naughty. Wait a day or two. If the kitten never touched your food, replace the food.