Instruction
The sale of great importance is the length (not less than 25 centimeters) and appearance of hair. To improve their condition and, accordingly, raise the price one to two weeks, do not use tools and instruments for laying, regularly use a revitalizing mask and be sure to use a balm after shampooing. If you have uncolored hair with a grey hair, its not paint, as the presence of paint on the hair reduces their cost.
To find an organization that will buy your hair, look at the ads about buying hair on poles, in Newspapers or the Internet. Usually these ads offer beauty salons, Studio hair, stores hairdressers.
The condition, length and hair colour affect their value. Depending on the appearance and place of sale of 100 grams of hair can be sold for 500-10000 rubles. If your hair is long, colorless, silky, straight or curly, do not have split ends, you will be able to sell your scythe at the maximum price. Cheaper is not long enough, painted, gray, curly, tangled, dull, brittle strands.
Evaluate your hair and choose the most advantageous offer, based on the state of your hair and the prices listed in the ad. Immediately before the visit to the customer, wash your hair with shampoo with balsam and carefully comb them.
Come in organization, which is engaged in the purchase of hair and (if the final cost after the evaluation of the master you want, sit in the Barber chair. Master comb your hair and tie them tight them with a rubber band, below which approximately five inches to start up another one. Then the Barber will separate the desired portion of hair, making the cut with a pair of scissors between the two tied rubber bands.
After the hair part for sale will be cut, tell the wizard how you would like to get a haircut. When a haircut is finished, go to the administrator and get paid for cut hair.
Useful advice
Do not cut the hair yourself, how to properly cut and Packed strands can get tangled. In this way they will be much cheaper.
Advice 2: How to restore gray hair
Graying hair is a natural phenomenon associated with the cessation of melanin. The cause of premature gray hair can be improper diet, stressful situation in life or a genetic predisposition. To restore and prevent graying of hair by applying the proven tips and recipes.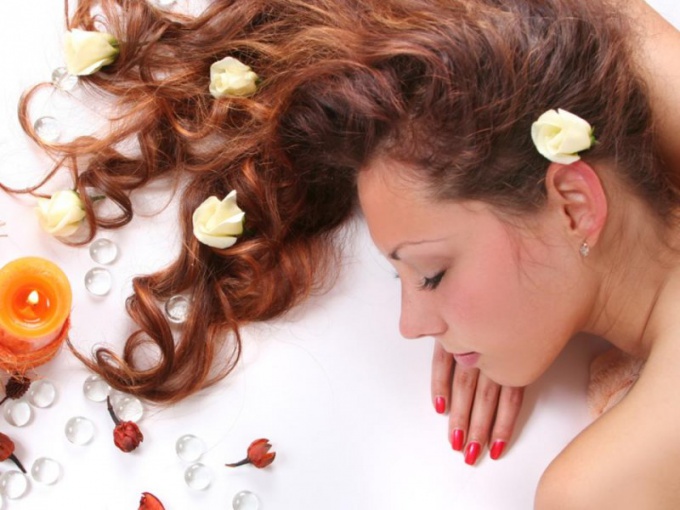 You will need
- lemon juice;
- coconut oil;
- fenugreek seed (powder);
- juice of mint leaves;
- juice of Basil leaves;
colorless henna (powder);
- ground coffee;
- yogurt;
- water.
Instruction
If you have a predisposition to the appearance of gray hair, pay attention to your diet. Eliminate fatty, marinated, spicy and fried foods. Abstain from sweet foods and alcohol. Do not neglect vitamin complexes. To do this, consult a specialist. An experienced doctor, having examined the General condition of your body, will prescribe the necessary course of vitamins. Include in your diet nuts, seeds, mushrooms, carrots, potatoes, egg yolk, kidney and liver. These products are enriched with vitamin Q10, which are able to stop the graying of hair.
Use the product based on coconut oil. Regular holding of this procedure is able to recover and prevent the appearance of gray hair. For its preparation mix 3 tablespoons of lemon juice, 1 teaspoon of coconut oil. The tool light massaging movements apply to root area of hair. To enhance the effect of the mask, wrap hair with a towel. After 20-30 minutes, remove left overs with warm water. The procedure recommended 2-3 times a week.
Make restorative mask for gray hair. For cooking 1 tsp fenugreek (powder) with 3 tablespoons of water and bring the mixture to a boil. Separately, mix 3 tsp of the juice of mint leaves (fresh) and 2 tsp juice of Basil leaves (fresh). Add 2 tsp colorless henna (powder) and 3 tsp ground coffee. Thoroughly mix these ingredients, gradually pouring the cooked infusion of fenugreek and 1 tbsp of yogurt. The tool massage into the hair, evenly distributing throughout. On top put on a plastic cap and wrap head with a towel. After 30-40 minutes, rinse the mask with warm water. This procedure is recommended to be used 3-4 times a month.