The benefits of outdoor activities are unquestionable, you will be able to combine aerobic and weight training is the most effective type of workouts to quickly lose weight and maintain shape. Outdoor fitness equipment will help you to boost immunity and body resistance to various diseases, to develop resistance to stress and relieve depression. After each class you will receive a charge of cheerfulness and positive mood that will last for another 2-3 days until the next workout.

The outdoor fitness equipment you can do without a coach, although in some of these Metropolitan complexes are specialists who receive a salary from the municipality. You can train anyone, regardless of age and gender, you need to choose the machine that will provide you the required load to the desired muscle group. Using the simulator you can pump up the muscles of the arms and back, hips and buttocks, abs and etc.

Despite its slightly flippant view – outdoor fitness equipment painted in bright colors, they help to load muscles as well as the equipment installed in the gymnasiums. You will achieve maximum effect if will do on the street regularly and properly.

The simulators are adapted to independent work, since in their design, body weight training is used as the main load. This ensures the safety and effectiveness of the training. The base of the equipment encased in concrete, and permissible loads for a minimum of 150 kg.

In a standard set of outdoor fitness equipment includes some of the most popular: "Rowing", "Upper link", "Circular", "Circular motion", "Step" etc. In the simulator "Rowing" you will be able to strengthen almost all muscle groups in the arms and legs, and abdominals, back and hips. For the abdominal muscles and the press is "Pendulum" and "Circular motion". A very popular elliptical trainer that allows you to get aerobic exercise.

The training regime should be the same as in the hall: don't eat before, during and after exercise, the maximum that you can afford – it's a glass or two of water after class. And do not overload all muscle groups – exercises on each group do 1-2 times a week. Maybe you should even consult with a trainer at the gym before you start to seriously pursue fitness.
Advice 2 : What is outdoor fitness equipment
Adherents of sports becoming every year more and more. To train in special halls in the summer is not particularly desirable. There are those who with joy would be doing in the gym, but he did not have enough money to buy a subscription to a fitness club. So for all those who want to play sports and even with minimal financial losses figured out and invented the outdoor fitness equipment.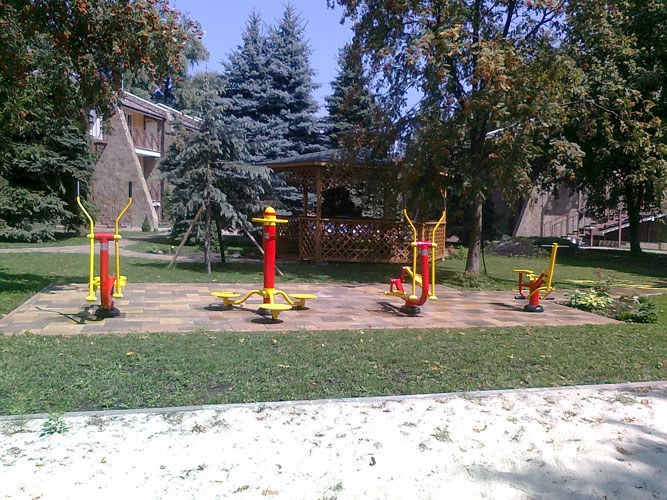 About 10 years ago, simple domestic equipment was considered parallel bars and horizontal bars, which he loved to swing both adults and teenagers. Today, the range of outdoor fitness equipment much more, and it includes a units, similar to those that are in the modern fitness clubs. So, walking in a normal yard, you can easily adjust the shape, gain strength and health, etc.

The difference with the original machines on the street that instead of scales they have used special blocks-the weights. Therefore, this fact must be considered in order not to overstrain trying to lift too much weight.

Twister, bench for abdominal, "skier", bicycles and many others - all simulators, which can be seen in the ordinary courts. Each person can choose the one he likes: someone requires strength training, some aerobic.

Their main advantage is that all devices made in the same style and would blend well with any yard and landscape. Parents who let their children on the yard of fitness, you should remember that all designs are made of metal. This means that children need to undertake the necessary training on security or need to be near them to control their classes.

Set in the courtyards outdoor fitness equipment can as residents and representatives of the city parks or councils. However, to rely on the state to widespread installation is not necessary, because the cost of a simulator starts from 15 000 rubles A sports complex cost the city authorities is very expensive. So long as exercise areas where little can be seen. However, the manufacturers offer the tenants to buy their products. Can these units to buy for house or private courtyard. Sometimes the inhabitants of small houses together and decide similar sports centers at home and for yourself.
Advice 3 : How to lose weight at the gym
There are two types of simulators: cardio and weight. And those and others are great for weight loss. The only difference is that the cardio is used for General weight loss, weight – for fat loss on certain areas of the body. Combining classes on both types of devices, you are much likely to be effective.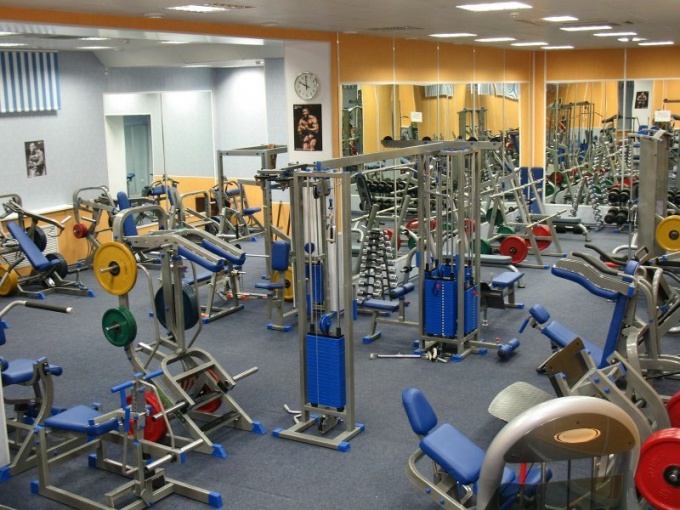 Instruction
For training on the cardio machines choose treadmill, elliptical trainer, stationary bike and/or Stairmaster. Start a workout of at least 30 minutes, gradually increasing the time to 45 minutes. During exercise, monitor your heart rate. It is displayed on the computer display that is equipped with all modern facilities. The heart rate should be 60-70% of the maximum. High calculate by the formula: from 220 subtract your age.
If possible, do not use the same simulator. Combine them not only from session to session but within the same class. Every 10-15 minutes to change the simulator. So for one workout you will visit 3-4 different simulator. For more effective fat burning change exercise intensity: 2-3 minutes practice at a rapid pace, 2-3 minutes on average. To really lose weight on the cardio equipment, go to classes 3-5 times a week.
For training with weights, use a wide range of stations available in the fitness center. Close attention to the trainers, work out muscles in the most problematic areas. Weight stations install minimum, but such that you were able to perform 20-30 repetitions in the approach. The interval between sets is the minimum, from 60 to 15 seconds, depending on the overall fitness of the body. A number of approaches – from 4 to 6. A week, spend no more than 3 workouts to between sessions to give the muscles a day of rest. If you want to lose weight stay on the cardio machines.
Don't forget that when on a strength training your body and muscles will become mujaadalah. The proposed training scheme is designed for effective fat loss with minimal muscle growth. To increase their volume of use much larger weights and fewer repetitions in the approach. Among professional athletes, a similar scheme is used for burning subcutaneous fat, which gives the working a great relief of muscle. And for women – and even the opportunity to remove cellulite.
Making a training program for strength training, it must be changed every month. Otherwise, the muscles will become accustomed to the load and the rate of fall of body weight will decline.
Useful advice
To lose weight at the gym much more effective than to lose weight on diets. After the diet again to gain weight quickly. After months of training, the fat comes back very long even if you drop the class.