Instruction
When you sign up on a Dating website and fill your page, look for suitable people to communicate. Don't wait when you are interested in, try to tie a written "conversation".
Carefully read the profile of a man who appeared to you to be attractive. Check his passions, Hobbies and interests. Look for something in common with you, points of contact and similarity of tastes. It is proven that people with absolutely different habits, it is difficult coexist in the same area.
To start a conversation, you can discuss Hobbies. For example, if you like the same music, say Hello to the guy and ask whether he went to a concert of your favorite band. Such beginning of conversation is quite harmless and will not cause a negative reaction from a stranger.
In the future, subject to the ease of communication you will be able to negotiate to attend performances together. You better to study all the information about the subject of conversation, so as not to seem an ignorant person.
The same applies to the interests of type of fishing, philately, any craft. If you like a hobby and you wanted to do the same, find out how you could to do it. Passionate people are happy to answer questions on the subject.
The banal phrase "Girl, you are adorable! Let's go to the movies" or emoticons with meaning already tired and will not cause the desire to respond. But if you show your interest in the person as a person with a particular fascination, you will be interested in the interlocutor. Do not insist on an emergency meeting, it may be cause for concern.
But not all write in your profile information about yourself. Sometimes it is so little that it's hard to start communication based on minimal information. In this case, you have come to the aid of humor. "Young man, your turnout failed! I need to give you a message from the chef! Meet at the fountain I have in my hand a bouquet of daisies out of 133 pieces." It is unlikely that the youngster will miss the message.
A girl can be interested in the following phrases: "today I invite You to test the different cakes and coffee. The school you choose, Found a bouquet of red roses and adorable blue plush kitten. By all indications, you are their mistress. When you give you a loss?". Get creative and start a dialogue, because in the virtual world you will be able to fix a bad phrase, not yet sent the message. In real life there is no such chance.
Note
How to start communication on a Dating site? Of course, you can leave a comment to the photo and wait until you something I will answer. But it is better to send a message. The first message as a first impression of you must be unique and only one. Don't need the banal phrases like: "hi, how are you?" or "Let's talk!". Write something original, for example, "You're irresistible in your blue dress in the photo.
Useful advice
Do not replace virtual communication and Dating real life. Even if you have the person you love to communicate, do not refuse to go to a club with friends, or skating, or even anywhere. Do not adjust your life is communication.
Advice 2 : How to meet a girl
Men also feel insecure in their abilities. Therefore, the question of how to date a girl, does not lose its relevance. After all, no guy, making the first step to acquaintance, does not want to be rude refusal.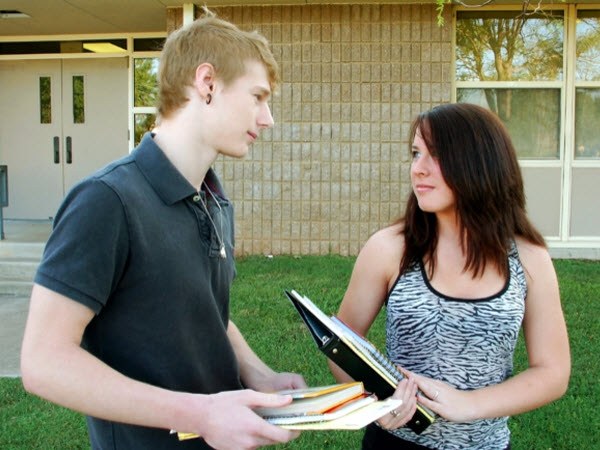 The main factor in a successful acquaintance with a girl is confidence. Correctly to get acquainted with a girl is not taught in school or College. Typically, the skills come with experience and the right words are chosen intuitively. However, experience and intuition can not boast of all men.
Familiarity with girlfriend can be divided into three stages: the inner spirit, direct contact with the object, the result of consolidation.
Inner spirit before I meet a girl
If a man is not confident, it is possible that his girlfriend is at least alerted and will scare away. You need to get started. All the fears of boys before are mainly three points – to the fear of rejection, not to find the right words to attract the attention of strangers.
Fear of failure is not necessary at all. After all, what is failure? This is evidence that the man had the wrong girl. Every lady draws in his mind the image of the perfect man, there is no guarantee that you like him. For this reason you should not get upset.
Look for one that at first glance, will see in you something familiar and close.
Fear to attract the attention of strangers talking about low self esteem. But if you think that the worst thing is that some strangers will see your act? They are going to tell everyone? Unlikely. Most likely, people will just shrug and in a minute you will forget your thoughts. It makes no sense to focus on extraneous consideration.
The fear that the right words are not there, disappears, when there is confidence. There's no list to discover the right words. Say what comes from the heart.
Sincerity had never disappointed.
Direct contact with the girl
The first movement towards women should not be harsh, it might scare her. Be flexible, graceful. Keep in mind that the chances of successful introduction increases to the maximum, if the girl will like your appearance. Dirty shoes, untidy clothes and terrible breath scare off a girl before you have time to say something. So before get yourself a full order.
If a visual barrier is completed perfectly, you should start talking. The first sentence needs to be unexpected, unconventional. For example: "all You men looking at?", "Your smile is so beautiful that I forgot where I was headed", "how can you resist not to meet you!". With this approach, the girl can't refuse you, she will have to say something. And it already half of victory!
The result of consolidation experience
That acquaintance grew into a pleasant conversation, you need to fix the result. To ask a girl's phone number is not necessary. Better to give her his card and say that you will be happy again to hear the voice of a girl. You need to talk a confident tone, not begging or pleading.
Show the girl that your intentions are quite serious, but the right choice you leave her as I respect her opinion. Such actions will evaluate any lady and no doubt will call the number indicated.