Instruction
When you sign up on a Dating website and fill your page, look for suitable people to communicate. Don't wait when you are interested in, try to tie a written "conversation".
Carefully read the profile of a man who appeared to you to be attractive. Check his passions, Hobbies and interests. Look for something in common with you, points of contact and similarity of tastes. It is proven that people with absolutely different habits, it is difficult coexist in the same area.
To start a conversation, you can discuss Hobbies. For example, if you like the same music, say Hello to the guy and ask whether he went to a concert of your favorite band. Such beginning of conversation is quite harmless and will not cause a negative reaction from a stranger.
In the future, subject to the ease of communication you will be able to negotiate to attend performances together. You better to study all the information about the subject of conversation, so as not to seem an ignorant person.
The same applies to the interests of type of fishing, philately, any craft. If you like a hobby and you wanted to do the same, find out how you could to do it. Passionate people are happy to answer questions on the subject.
The banal phrase "Girl, you are adorable! Let's go to the movies" or emoticons with meaning already tired and will not cause the desire to respond. But if you show your interest in the person as a person with a particular fascination, you will be interested in the interlocutor. Do not insist on an emergency meeting, it may be cause for concern.
But not all write in your profile information about yourself. Sometimes it is so little that it's hard to start communication based on minimal information. In this case, you have come to the aid of humor. "Young man, your turnout failed! I need to give you a message from the chef! Meet at the fountain I have in my hand a bouquet of daisies out of 133 pieces." It is unlikely that the youngster will miss the message.
A girl can be interested in the following phrases: "today I invite You to test the different cakes and coffee. The school you choose, Found a bouquet of red roses and adorable blue plush kitten. By all indications, you are their mistress. When you give you a loss?". Get creative and start a dialogue, because in the virtual world you will be able to fix a bad phrase, not yet sent the message. In real life there is no such chance.
Note
How to start communication on a Dating site? Of course, you can leave a comment to the photo and wait until you something I will answer. But it is better to send a message. The first message as a first impression of you must be unique and only one. Don't need the banal phrases like: "hi, how are you?" or "Let's talk!". Write something original, for example, "You're irresistible in your blue dress in the photo.
Useful advice
Do not replace virtual communication and Dating real life. Even if you have the person you love to communicate, do not refuse to go to a club with friends, or skating, or even anywhere. Do not adjust your life is communication.
Advice 2: With what phrases to start Dating
Acquaintance with a girl often starts with the right kind of phrase. If the words are wrong, the communication will last for a few seconds, then, most likely, will never continue.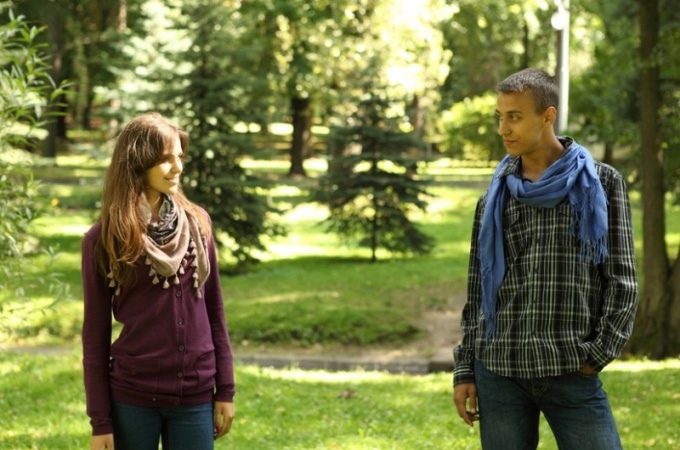 How to meet a girl on the street
Give up all the banal and vulgar phrases, even if they are popular and sound cool. Sentences starting with "Girl, can I come with you to meet?" and ending with "Your dress will look good on the floor beside my bed" cause at least indifference and at most anger.
It is better to use a simple phrase, than to shock the girl with obscenity or outright give her a strange offer.
If you are interested in an intelligent girl, try this: grab a pen and pad or a thick folder with sheets of paper, walk up to any lady and say, "Good afternoon. Do you have a minute to help me? I'm writing a book about women and collect statistics and opinions of the girls so as not to distort information." You can refer to the fact that conducting research, preparing statistics, etc. the Main thing – to interest a woman and get her talking. Another option is to ask the girl at the market or store and ask them to help choose the product, citing her impeccable taste.
You can try to use funny phrases, including "Hello, I'm Prince. Here's my white horse is not ran?" or "Good afternoon. You can invite you...to the Registrar?" You can also make a compliment. But don't use platitudes like "You are so beautiful." Note an interesting manicure, lovely hairstyle, the original decoration. If you see clothing or accessories made by hand (for example, beaded bracelet), I can say that it looks great and ask, did the girl of his own.
The option of made by hand things are easier to continue the conversation: you can either mark the skill of a girl, or ask what she enjoys, if she knits and weaves of the product.
Phrases for online Dating
If you liked a girl on a Dating site, social network, etc., you can try to talk to her. This option is convenient because you will have time to think about the answers, and in extreme cases you can consult with friends. Use the information that is known to you. Getting acquainted through the Internet, you can find out the name of the woman, her preferences, to learn a little bit about your lifestyle, favorite music, and much more. Use this when selecting phrases.
For fun you can use the phrase: "And you from what fairy tale?", "I was amazed by the beauty of your photos and even forgot what I wanted to say, People with common interests meet so rarely! I also like this band (film). What song (scene) you like the most?"
Advice 3: How to start a conversation with a girl on the Internet
In an age of advanced technology and virtual opportunities, it would seem, is not difficult to meet and communicate with the opposite sex. Everything is simplified. But before some young people still face the question how to establish a relationship with
a girl
on the Internet?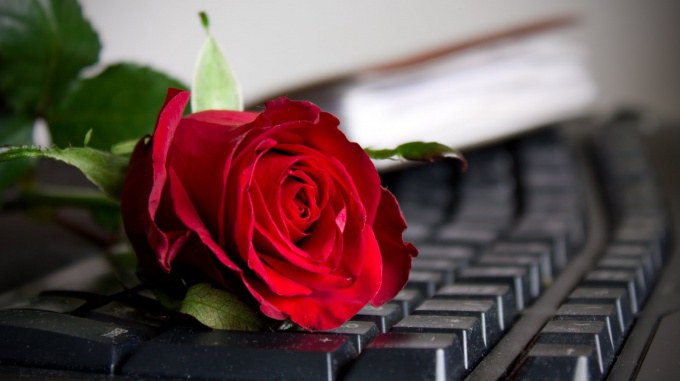 Instruction
You decide. The first thing you need to start is to find a suitable site. Better that he expected the questionnaire and photo albums, so it will be easier to evaluate the candidate and to draw her attention to himself.
Next step: the questionnaire. A small presentation myself. Here, the main thing is to be careful and in any case not to unleash a ton of information about your problems, not to attribute someone else's quotes (stupid annoying girls), to postpone the offer of sex (vulgarity can to push her away), and poems and other romantic gadgets Express for a first date.
Your profile needs to be original, but this, too, will not overdo it. Than more it is, the better. If possible, try to convey confidence, determination, calmness.
Now about the photo. The should be of high quality. It girl will you appreciate. Homemade photos in pajamas, from a friend's birthday and made at arm's length for the phone definitely will not pass. The girl will pay attention to the photo that will reveal you as a person, is interesting and unusual.
The first sentence. "Hi, how are you doing?" soon disappears. Believe me, it writes every second. It is better to use information from her questionnaire. Don't let it be a haunting question concerning it. Girls appreciate the attention, and the interrogative form of the message suggests an answer. A little sense of humor, preferably no more than ten words in the message and the complete lack of grammatical errors! Almost 90% of cases she will not miss it.
The message was hooked, started a correspondence. Try to adapt to it. You can talk about her dog, that she watches or listens to. Do not ship a girl your work, stories about past relationships at all smaller about yourself. When she finally speak, it will be ready to hear from you anything.

It is at this point necessary to go on personal communication and to take her phone number. Boldly and simply: "Maybe I'll call you, tell you how yesterday went to the club?" The result will not keep itself waiting long.

And then... Then it all depends on you.