Instruction
Instant gelatin pour in the amount of water indicated on the package. Normally it is diluted in the proportion of one part of gelatin to five parts water. The water should be cold and boiled.

Leave the gelatine for 10 minutes for dissolution. Then pour it into the hot strained broth for the aspic. Stir well. Again strain the broth is not required.
Pour into a bowl of cold water. Pour the packet of gelatin. The proportions on the packaging look. Leave gelatin to swell. After 30 minutes, place the bowl with gelatin in a water bath and completely dissolve. Remove the meat from the broth. Pour the dissolved gelatin into the broth for aspic, bring to boil with constant stirring to the gelatin does not stick to the bottom and not burnt. Strain the broth.
Dissolve the gelatin in Cup of cold water, let it swell. Pour the mass in a ladle, add the hot broth and bring to a boil. Constantly stir the liquid in the pot so the gelatin is completely dissolved. Pour in broth for aspic 10 minutes until tender. Leave the pan on low heat. Strain the broth.
Note
If you are distracted, and the broth for aspic with gelatine boil, it's okay, gelling properties is not lost, and the jelly does not need to be redone. Just don't boil too long, otherwise the taste of the gelatin may increase.
Useful advice
To the broth for aspic was transparent, it is clarified, along with introduced him gelatin.

Swollen gelatin to dissolve in the microwave.
Advice 2 : How to make gelatin for aspic
Gelatin is a natural product of processing of collagen of animal tissues. The product is quite useful and improves the condition of skin and human joints. Used in the manufacture of jelly, marmalade, marsh-mallow, jellies, aspic and other dishes. Food gelatin can be purchased in the form of a powder composed of grains, either in the form of sheets. One sheet of gelatin is equivalent to one teaspoon powder.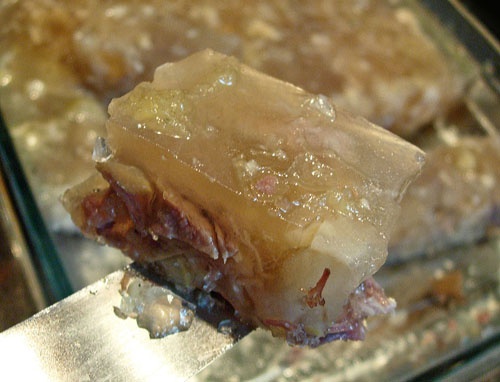 You will need
1 Cup water
3 quarts of broth
Instruction
Dissolve the gelatin in a glass of cold water.
Leave to swell for 1-1.5 hours.
Then stir and stirring on small fire, stir until it dissolves.
Remove the gelatin from the heat and strain the solution through cheesecloth.
Ready mix gelatin with broth for the aspic.
Note
When heated, do not boil.