You will need
2 tablespoons granulated sugar
2 tablespoons cocoa powder
2 tablespoons of sour cream
For the sugar glaze:
250 g of powdered sugar
1 egg white
1 teaspoon vegetable oil
lemon juice
For a crispy glaze:
2/3 Cup granulated sugar
120 g butter
50 ml of milk
For lime or lemon glaze:
120 g icing sugar
5 teaspoons lime juice/lemon
For the fruit glaze:
fruit juice (2 portions of 300 ml)
granulated sugar or powder 500 g
gelatin 20 g
glucose syrup 5 tablespoons
citric acid 10 g
food coloring
Instruction
To prepare chocolate glaze, mix the sugar and cocoa powder. A container with mixture, place on low heat and add the sour cream. Stirring constantly, heat until then, until the sugar is completely dissolved. Then bring the mixture to a boil. If you want to obtain a smooth surface
of the cake
, apply an
icing
hot. If applied chilled, the surface will be rough.
To prepare the sugar glaze you will need powdered sugar. You can buy ready-made or grind granulated sugar in a coffee grinder or mill. Separate the egg white from the yolk and refrigerate it. Start whisking protein with a whisk or with a mixer. Gradually, one tablespoon sprinkle the powdered sugar and continue whisking. Add a few drops of lemon juice and vegetable oil, it will give a glossy Shine to the glaze. If you want thinner frosting, add a little water. If more dense and plastic, for example - for drawing patterns on the cake, add a little more powdered sugar. To obtain a coloured glaze, add food coloring.
To decorate the cake crunchy icing mix the butter, milk and sugar. First, heat the mixture over medium heat, stirring constantly. Then turn up the heat and boil it for two minutes. After cooling break up the mass with a mixer into small crispy crumbs and decorate their cake.
Lime or lemon icing is used to decorate muffins and cakes. For its preparation mix the icing sugar with the lime or lemon juice until smooth and pour over the finished product.
Fruit glaze is prepared from various fruit juices. Pour juice, sugar or powder, place the container on a slow fire and stir continuously until dissolved. Add glucose syrup, gelatin, citric acid and optional - food coloring. After dissolution of the ingredients, add the next batch of juice and boil for three minutes. The resulting mixture was put on cake while hot.
Advice 2 : How to prepare a delicious frosting for cake, biscuit
Delicious frosting for the cake – one of the final touches in creating festive meals. Dessert for a special occasion should be extraordinary, so each family has its own recipe of sweet coating. If you are a novice Baker, try to make it by following these simple recommendations, of egg whites, chocolate, cocoa powder, butter and other ingredients.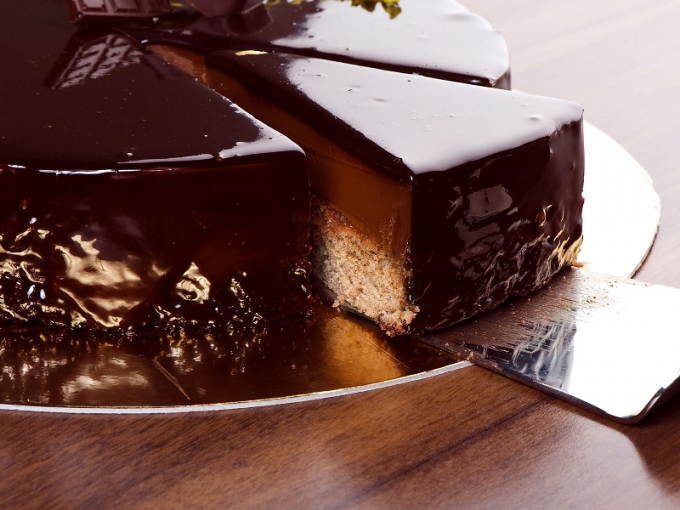 Protein frosting for the cake
Ingredients:
- 2 egg whites;
- 4 tbsp of powdered sugar.
Whip the chilled whites with a whisk or electric mixer on medium speed until airy foam. Add it in small portions powdered sugar and continue whisking sweet egg mixture until thick, rich white and soft (falling) peaks. Make the design
icing
of the cake or biscuit immediately after cooking, otherwise it will wither.
If proteins bad whipped, put in a bowl for 20 minutes in the fridge or overlaid with ice. In addition, you can add to egg mixture, a pinch of salt or a few drops of fresh lemon juice.
Based on glaze protein easily done color coat of any shade, it is enough to mix it with a dye, preferably natural. Teaspoon raspberry or beet juice will give a red or Burgundy color, carrot or orange juice – orange, hot coffee – brown broth with spinach green, infusion of saffron yellow and others.
Ingredients:
- 100 g white or black chocolate;
- 100 g of butter;
- 3 tbsp milk;
- a pinch of salt;
- 1.5 tbsp of sugar;
- 1/3 tsp. vanilla.
Break chocolate bar into pieces, cut the butter, put all in a saucepan or small pot and set in a water bath. Continuously stir the melting mass with a wooden spatula to prevent burning. As soon as it becomes homogeneous, add the vanilla, sugar and salt, and after they dissolve, carefully stir in the milk.
Prepare the chocolate glaze until thick, then remove the dish from the stove. Immediately put it in a large container of ice water for 30-40 seconds, then 5-10 minutes beat with a mixer until it will start to lag behind the nozzles.
Simple dark glaze for cake
Ingredients:
- 3 tablespoons of cocoa powder;
- 4 tbsp of milk;
- 60 g of butter;
- 3 tbsp of sugar.
Too loose or uneven surface of the cake can be smooth, finely fluff her thick jam. Wait until it dries, and apply the glaze.
Combine in saucepan milk, cocoa powder and sugar, heat on a slow fire. Cook the chocolate syrup, stirring constantly, until it reaches a smooth consistency. Throw the butter, let it melt completely to intervene in a brown mass, and leave the dishes. Take a flat spatula and immediately cover it with a biscuit or cake, quickly spreading the frosting across its surface. If you are still hesitated, and delicious frosting is frozen, just heat it up.
Advice 3 : How to make glaze from sour cream
The frosting is very simple to do, since it does not require any special skill to prepare. This process is even more simplified if we take for the icing as the base ingredient to all available sour cream.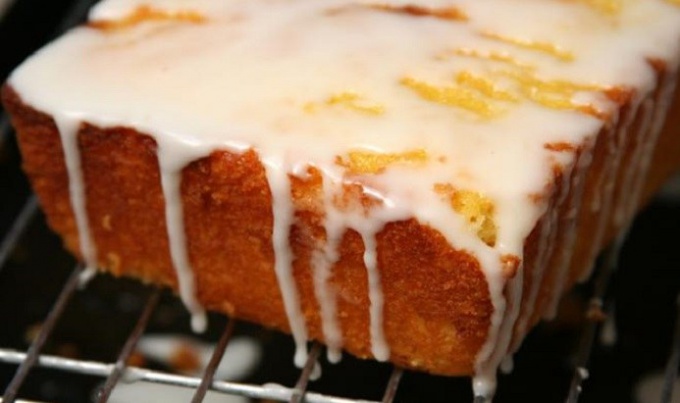 Quick smetana glaze


The easiest way to prepare a glaze for the finished cake. For this you need the following ingredients:
- 1 tbsp. powdered sugar;
- 2 tbsp. spoon fat sour cream and milk.

Sugar need to pre-sieve, further mix it with sour cream. Gently pour in the milk. Ready glaze turns out watery - it is not only to cover cakes but also to slightly impregnate. A good option for dry cupcakes.


The frosting of sour cream


This glaze can be called universal, it is suitable for any sweet pastries. The simplicity of her cooking is simply amazing: there's no need to cook, heat, cutting or rubbing.

Ingredients:
- 4 tablespoons of sour cream (better to take bold);
- 1/2 Cup of powdered sugar;
- 1 tablespoon of lemon juice.

The powdered sugar first, you need to sift to avoid lumps. Then mix it with sour cream until smooth. Then to the mixture is added a small amount of fresh lemon juice. If you want you can add to the finished frosting a little lemon peel, previously rubbing it on a fine grater. Remains ready to cover with icing and cream cupcake or cake.


Chocolate frosting with sour cream


Chocolate frosting always looks on the cakes are beautiful and delicious. Vanilla extract will add a pleasant aroma.

Ingredients:
- Cup of powdered sugar;
- 125 g of sour cream;
- 120 g dark chocolate;
- 1 teaspoon of vanilla extract, butter;
- 1 1/2 tbsp of corn syrup.

To prepare chocolate glaze, too, is no big deal. First, dark chocolate should crumble into the pan, put in a water bath and melt it together with a piece of butter. The chocolate and butter should be stirred to obtain a homogeneous dark mass. Next in chocolate is added corn syrup and vanilla extract. Glaze then cool slightly.

Sour cream is whipped until smooth with a Cup of powdered sugar. Then smetana weight portions mixed with melted chocolate. Further business for small: to cover with chocolate-sour cream frosting ready-made cupcakes or cake.


Glaze with cocoa and sour cream


This version of the glaze on sour cream is cooked. It turns out not less tasty coating for home baking.

Ingredients:
3 full tablespoons of powdered sugar;
- 3 tablespoons fat sour cream;
- 1 tbsp. spoon of butter, cocoa powder.

First, in a small bowl together need to mix the sour cream with the cocoa powder, sugar. Then put the container on a low heat, cook the glaze until the sugar dissolves, stirring constantly (takes 3 minutes). Then added a knob of butter, thoroughly mixed.

Before coating the finished sour cream frosting confection, you want to give it a little cool, and it will be absorbed into the dough, and will not cover it. To achieve a more chocolate flavor frosting, you can increase the amount of added cocoa powder to one teaspoon.