You will need
detergent;
- rubber gloves;
- kitchen sponge;
- old toothbrush;
water;
- vinegar (9%);
- cotton towel (napkin).
Instruction
If the kitchen has an electric stove, unplug it from the power supply. This is an important requirement before cleaning any household item.
Before cleaning the burners put on special rubber gloves. They protect the skin of your hands from the harmful effects of the chemical composition of any modern means. You can buy them in a specialty store or in the Department of household chemicals.
Burners pre-clear with gas or electric stoves. For cleaning you can use a modern detergent, pre-purchased in the store, and a solution prepared on the basis of proven popular recipes.
When cleaning modern detergent dissolve this component in hot water, in a ratio of 1:10. The solution was to lower the burner for 15-20 minutes. Then using a kitchen sponge with an abrasive coating thoroughly to remove all contamination. Note: the use of metal sponges are not recommended as they may damage the surface. The gas channels of the burners clean with a special brush or an old toothbrush. Then rinse them with warm water, removing the detergent residues and wipe dry with cotton napkin or towel.
To clean burners as and proven traditional recipes. In a small saucepan or ladle, pour 2 tablespoons of vinegar (9%). Add 1 Cup of cold water. The resulting solution bring to a boil. Then lower the burner to the money received for 25-30 minutes. With a soft kitchen sponge to clean the product from dirt. Rinse the rings in warm clean water and wipe dry with a cotton towel or napkin. In this recipe vinegar can replace the regular tea soda. It also effectively removes dirt and scale.
Advice 2 : How to clean a electric stove
Plate not washed for several days (or even weeks) is a nightmare for the hostess. Burnt remnants of food, congealed fat – all should be removed, and if it is wrong to approach the process, it can be a long and time-consuming.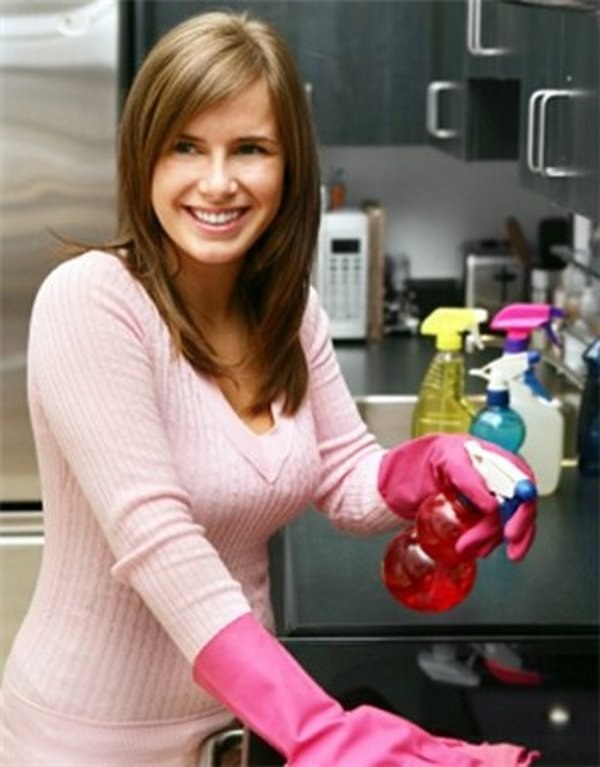 You will need
- rubber gloves;
soap or dishwashing detergent;
- warm water;
- means for cleaning plates or napkins for the kitchen;
- a sponge or a rag;
- wooden spatula.
Instruction
Set the switches to the zero position and unplug the appliance from the mains. In most models, the switches are removable, remove them and put them in a container of warm solution of soap or dishwashing detergent, let them "soak" and clean with a sponge or brush for washing dishes.
Moisten the surface of the plate and plates with a sponge abundantly moistened with warm water or a soap solution and leave to stand for 5-10 minutes, then remove the sodden food residues with a sponge or wooden spatula. To clean burners, you can also use a wire sponge.
Wear rubber gloves and apply to wet the surface of the plate, nonabrasive detergent. It can be liquid or gel for cleaning the plates (they are produced by a variety of manufacturers) or another tool marked "kitchen" – they usually do well with fat deposits. If you do not advocate the use of "strong" chemistry can be used for cleaning surfaces with diluted liquid dishwashing or liquid Laundry soap. Similarly, handle front panel plate.
Wait for 10 to 15 minutes to fat deposits are softened. Ensure that the surface remained wet, otherwise the cleaning will have to start again.
How should wipe the hob with a damp cloth or sponge, removing the dirt, rinse with clean water. If the plates were spot – apply it to the soiled detergent again and repeat the procedure.
If the reference ring with which the ring is attached to the plate, yellow – do not attempt to return it to its original color. This is the reaction metal at a high temperature, and it is irreversible.
Note
For cleaning of stoves, you cannot use a metal sponge or abrasive paper, and abrasive cleaners – they may damage the surface of the plate.
Useful advice
Electric stove is better to clean daily or at least twice a day – in this case, leftover food will not have time to burn. Enough to wipe the surface with a damp sponge with a drop of dishwashing detergent or sprinkle it with glass cleaner, then rinse the material and dry.