You will need
- complete the form of proxy;
to certify the document.
Instruction
Please note that
a power of attorney to receive
wages can assure not only a notary but also head your enterprise or chief doctor of the medical institution in which you are treated (article 185 of the civil code).
Download from the Internet, the power of attorney. For example, here: http://dogovor-online.ru/dogovor/obrazets-doverennost-na-poluchenie-zarplati.html. Complete it on the computer in a text editor. Or write by hand on a plain piece of paper on the model.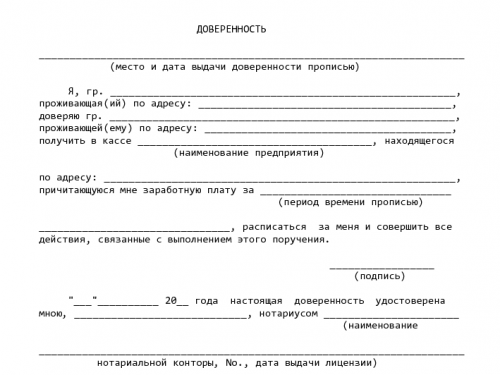 Please include the place and date of issuance power of attorney. For example, "Saratov, June 5, 2012". Your name email in full. Enter the details of your passport: series, number, date and place of issue. Write the address where you are registered (registered). For example, "I, Petrov Sergey Ivanovich, passport number ... issued by ..., residing at...".
Specify fully in the dative case of the name of the person you trust receiving his salary. Also write his passport number and address of registration (residence permit). For example, "trust Ivanov, Pyotr Vasilievich, ... passport number ... issued by..., residing at..."
Specify the name and address of the company in cash which will be given salary. Ie write the line below like this: "to the cashier, OOO "Impuls" located at Saratov, street Engineering, d. 5". Next, specify which kind of payments you trust to receive (salary, advance, etc.) and over what period of time. For example, "I am entitled to salary for July 2012 to sign for me to obtain and perform all the actions related to the assignment."
Below put a mark on the validity of a power of attorney if desired. Without specifying the period the document will still be valid for one year.
Print the document if you made it on your computer. Sign a power of attorney in the presence of a person who is authorized to certify your signature.
Useful advice
If your salary transfer to the Bank account to issue a power of attorney to receive money you can in the jar.