The founders of hockey by chance became the victors of the last two Olympics in Vancouver and Sochi. Team Canada hockey is traditionally strong, especially on those tournaments where you can participate in all-star NHL.
The world Cup of hockey in 2016, Canadians have chosen a great composition, which can be called the team captains in the NHL. More than half of the field players are captains in their clubs, some other members of the team with assistant captains.
Goalkeepers
The goalkeepers of team Canada at the 2016 world Cup presented by clubs from Chicago, Washington and Montreal. It is difficult to talk about who will occupy the number one position in goal against maple leaf. It remains only to enumerate the names of star goalies: Corey Crawford, Carey Price and Braden Holtby.
Defenders
In the preliminary team Canada are four defender from Los Angeles, Chicago, San Jose and Nashville: drew Doughty, Duncan Keith, Marc-Edouard Vlasic and Shea Weber. All of these players made up the first two pairs of defense national team triumphed at the Olympic games in Sochi.
Forwards
With the attack of the canadian national team does not have problems. More questions may arise from the coaching staff of the team, which is to form the final application of many outstanding forwards of our time (what to do is very problematic, because great shlovsky forwards from Canada to gain at least two teams). While the names of the nine super-forwards in the NHL.
The largest representation is Dallas. The club provides two forwards: Jamie Benn and Tyler SEGUIN. The rest of the forwards are of different clubs. Part of Canada Chicago captain Jonathan toews, the captain of Pittsburgh's Sidney Crosby, captain of new York islanders John Tavares, Anaheim captain Ryan Getzlaf, the captain of the Tampa's Steven Stamkos, and forwards Patrice Bergeron (Boston) Jeff Carter (Los Angeles).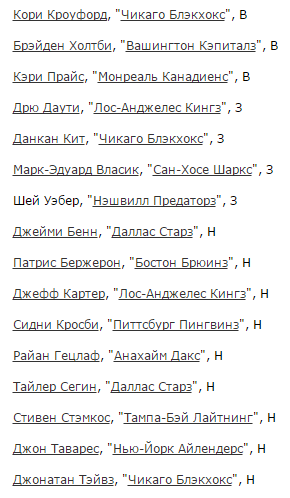 Until 1 June 2016 this part will grow seven stars of the NHL. At the moment the number 16 did not get many leaders of their overseas clubs. Can be called only a few names, speaking about the strengthening of the final composition: Philadelphia captain Claude Giroux, scorer from Anaheim Corey Perry, forwards Joe Thornton, Chris Kunitz, Tyler Hall and others.