The coral color looks great with a beige shade. To create a light image, coral pants can complement a beige shirt, sandals, and very important to consider and choose those products that do not have "weight" finishes. As for accessories, the preference should be given to instances in brown tones.
In General, the coral color looks very interesting with the brown and all its shades, so don't be afraid to combine coral pants from "riding" chocolate color, "coffee with milk", etc. the Image will look dark, if you combine it with accessories designed for the upper body, in the coral colours. Great options for coral beads, earrings or scarf.
You can't go wrong making a set of white blouse and trousers coral color. In this case, however, it is worth remembering that the makeup must be neutral, should be preferred lipstick and blush in peach tones, beige shades and a brown pencil and mascara.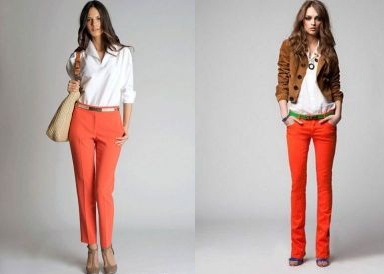 To those who like to look bright, we can advise data bright pant to be worn in combination with a pale green top and accessories in emerald. This way in the style of "casual" is a wonderful option for every day.
It is worth remembering that coral color looks great with many shades, especially blue, blue, yellow and olive, unsuccessfully, he looks complete with lilac and purple.