Basic combinations
The combination of crimson and black – youth fashionable combination. The usual black jacket comes to life if its "paint" with a neckerchief with red accents and points in the crimson frame. If you do not have such points, use the crimson lipstick. She will respond to ornament neckerchief and collect the whole image together.
The combination of white, black and crimson popular among designers. So, fashionable this season scarves from Alexander McQueen are exactly the same colour.
For the casual look well suited to a classic pullover crimson. Wear it with dark blue pants and a light blazer made of thick knit, and the neck adorn a massive slice of agate on a gold chain. If the color of the stone is a few shades darker and thicker than the shade of the pullover, then the combination will turn out most successful.
Elegant ladies can choose a silk set of black skirt and fitted jacket with peplum, which scattered large crimson, pale blue and yellow flowers. This set is perfect for dinner during summer restaurant.
A combination of bright
A fashionable trend is to use a Magenta color for accents in clothing. For going to the movies, wear narrow dark blue jeans with a large number of fragmentary elements, add their free blouse pale yellow color with a small discreet pattern. Bright blue fitted blazer and open sandals of the same shade will give the outfit a festive look, and crimson clutch bag medium size will serve as a bright accent and put in a stylish outfit with a heavy point.
Girls with high contrast appearance, especially brunettes, suitable simply pantsuit rich crimson color. Closed jacket with long sleeves and long narrow trousers create a false impression of rigor, and a plunging neckline and a combination of crimson crisp dark blue suede shoes born really sensual image. Most beneficial raspberry look costume jewelry Golden hues.
One of the most striking combinations with raspberry give green and yellow shades. So straight crimson coat from MaxMara you can make it even brighter, if put to him the wool cap-stocking trendy lime hue. The same effect will give hats grass green, emerald green and mustard colors.
Try not to use more than 2-3 bright colors for the image, otherwise you risk to look ridiculous.
Beautiful bright combinations obtained by combining different brightness and saturation of shades of crimson. So, pale pink cotton blouse, worn under a crimson jacket, blends in well with the Burgundy pants from cords or suede.
Advice 2: What color matches the color of mustard
Modern ladies are increasingly paying attention to the natural
color
owou palette. Greatly increased the popularity of the clothing earthy, leafy, terracotta, bright heavenly colors. Among the variety stands out, another an unusual color – mustard.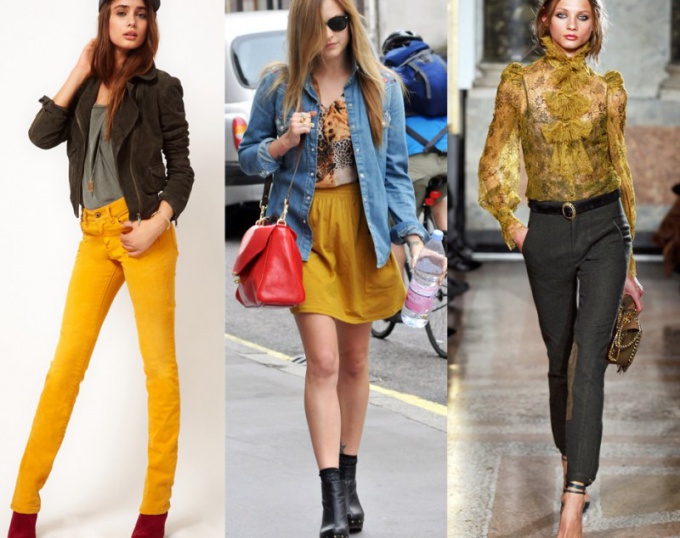 Mustard is a spectacular color for stylish girls
Mustard color is both muted and bright. This Sunny hue evokes a sense of joy, a feeling of warmth and peace. However, unlike yellow, not glaring and not get bored. Psychologists assure that mustard color is universal. It can safely enter into the image of both girls and boys.
The color of mustard can be called a new classic. For several years Shoe brands release a many serious of shoes in the style of "unisex", which enjoy high popularity among consumers of both sexes.
Stylists call the traditional combination of mustard and blue. And the second can have a very different undertone: from sky blue to dark sapphire. A mustard color is fine to dilute the blue set will make a bold and memorable.
Among the bright colors, mustard is recommended to combine with red, purple, emerald, pistachio. Any combination will look elegant and beautiful will allow you to showcase your style. Most importantly, batch color, one must lead, the other to Supplement.
Mustard color is neutral and just look at the background of black or white. Such combination is suitable for office style or an evening out. Do not add a set of bright accessories: they break the balance.
Gourmet combinations
The mustard color will help you to create a pleasant, eye-catching and elegant look. This color is both bright and neutral, allowing you to feel comfortable in it. Clothing mustard color you will notice and appreciate.
Stylists recommend girls to pay attention to dress nice shade. You can Supplement it with a coat or jacket blue. Shoes fit as neutral (e.g., nude), and is identical in tone to any apparel item. The main thing – do not introduce new colors.
If you are hesitant to use a mustard color, add it to the image with the help of accessories or shoes. You can't go wrong if you introduce it into a set of jeans.
To create a beautiful image, buy skirt mustard color. Combine it as a model Miranda Kerr. The girl added fashionable skirt top in black and white stripes, and on top threw a white cardigan. Kerr was not afraid to enter additional bright accents: brick patent leather shoes and purse Navy blue chain. The kit was very romantic.
Blouse mustard color is a perfect office skirt. If the clothing color is not specified, feel free to choose the bottom Burgundy, dark emerald green or red-brown shade. Otherwise, combine mustard blouse with a black skirt, and introduce accents with accessories. For example, gold bracelets, white thread, pearl the scarlet flower-brooches.
Outerwear mustard color – the perfect base to create a casual image. Pay attention to Rihanna, who preferred coat medium-long shade. It it connected just worn with skinny jeans and brown suede boots. Under the coat, the singer wore a white t-shirt without prints, and their eyes concealed under dark glasses in the bright frame.
Advice 3: What color goes gold
The Golden color in the interior, many associated with wealth and luxury, the clothes with elegance and sophistication. In reality, only carefully chosen elements in the desired color is able to create this impression.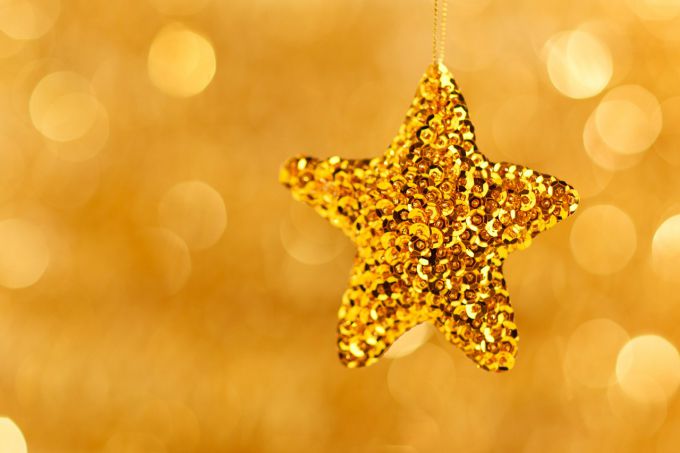 What colors goes well with the Golden color in the interior
Gold is a rich color, find him a worthy companion - not an easy task. If the room is decorated in light warm tones (beige, peach, gray), making it of gold notes is acceptable, but one should not overdo with their quantity: a few figurines or textile supplies will be enough.
Gold looks incredibly beautiful in combination with chocolate color scheme. If the room has dark brown furniture, Golden Wallpaper, tablecloth and curtains will give the room a special sparkle, accentuate the saturation.
In General, if you decide to freshen up a room with gold Wallpaper, then consider the fact that gold walls, built exclusively with furniture black, beige, gray and brown. If the walls have a neutral living room color, furniture decorated in brown tones, in this case to freshen up the interior by using bring in gold decoration. Arrange them asymmetrically: on the one wall put up picture in a Golden frame, opposite leave "naked".
The most refined looks gold in combination with black, and with a predominance of the second. Matte black walls, beige ceilings and floors, the furniture contrasting with the walls - a great base for art - making in the interior of the gold objects. In this case, the room will perfectly fit the mirror in a Golden frame, Golden curtains with lurex and matching color cushions, pictures and other small decorative items. If you want to give the room freshness, combine gold and turquoise or blue, to emphasize the elegance with purple or cherry.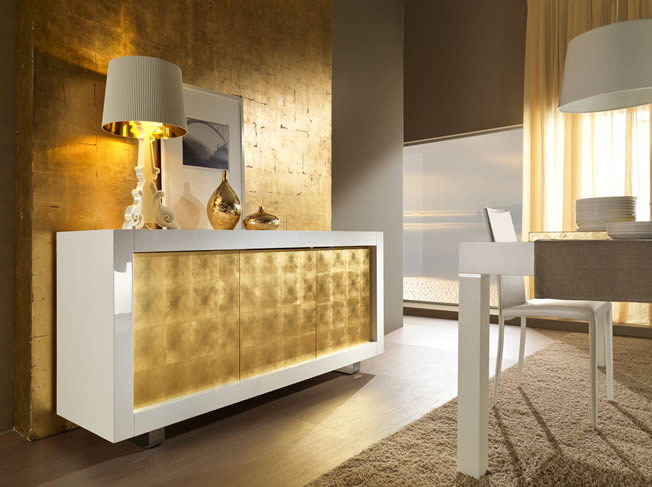 What color matches the gold color in clothes
The Golden color goes well with many colors, but in the daily way of gold should be minimum: appropriate jewellery, accessories like footwear and bags, scarf, or hat. As for the combinations, one of the winning option is a combination of gold and black. A set composed of a black dress, gold shoes, purse to match the shoes and Burgundy capes are a great option for evening events.
Blue-and-gold ensemble, which is dominated by blue, quite appropriate in a casual manner, and in the evening and the business, and if as a basis to take the blouse or trousers (skirt), classic cut and deep blue color you get feminine official kit.
Nice gold color looks great with purple and all its shades. If you decide to create an image in similar colors, remember that it will only be appropriate at any formal event.
Golden green is an awesome combination. The colors of autumn and summer in one set will always win, and they suit girls of any type, most importantly, choose "your" colors.
If you're daring personality, always loving to be the center of attention, you can combine gold with red outfits. Just remember that the red itself is a bright color, regardless of shade, so the gold image has to be quite a bit. For example, jewelry and shoes, but other accessories is better to choose a neutral color, a great option - beige.