Copper products have a unique charm, which allows their use not only directly, but also to please the eye. For example, trays are often used not so much as a kitchen utensil, much as decoration. One drawback is that copper cookware may become dark or covered with a greenish tinge.


Why dark copper cookware


Remarkable beauty copper tray may faithfully serve you for many years, but when the content in the air its surface acquires a green tint. Looks like this RAID is very ugly, and a little toxic. It happens so because of the influence of the air material.

Air is a mixture of gases besides nitrogen and oxygen, it has and carbon dioxide and little water vapor, and hydrogen sulfide. Such content promotes the formation on the surface of products from copper black or green patina. Green patina – hydroxide-carbonate of copper is a substance, which composition similar to the mineral malachite.


Than to clean the tray out of copper


Antique copper trays can be cleaned the same old way: cut a lemon in half, RUB the surface of the tray, a little walk is not very hard brush and rinse it with water. Brightening product make a mixture of vinegar, flour, salt. This mixture is often called "vinegar test"; to prepare it immediately before use. Apply the "dough" on a tray, allow to dry and wipe with a soft cloth or brush.

If the tray is old and very dirty, may help the following composition in hot water to dissolve a bit of detergent applied to the surface and briefly leave alone. Then scrub, rinse and dry. Another option is to boil the vinegar, place the product, add a couple tablespoons of salt. You then need to leave it to cool down, after which the tray brush, rinse with water and wipe dry.

Shine brushed copper tray you can Polish it with the crumpled ball of newspaper in the old days was so clean window. Be careful using this tray to place food on it for status goods made of copper, which comes into contact with food, it is necessary to watch especially carefully. The action formed on the surface of copper products plaque similar to rust. If the copper has acquired a gray-green shade, to his ochisheniya product use is not worth it. The risk of falling into food, toxic substances of plaque, which is then transferred to the body.
Advice 2 : How to clean copper products
Products from copper, whether antique knickknacks decorative items or coins, or utensils that are often found in our lives. They are able to give the interior a simple luxurious aristocratic appearance, but also completely spoil the impression, if they look dull or greenish. There are many folk methods of cleaning of products made of copper, and methods used by professional restorers.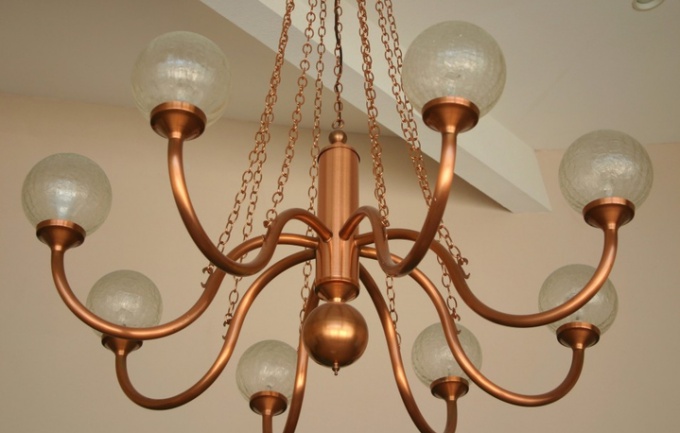 Instruction
If we are talking about items or a large part of the decor, and there is no way to remove them from the wall or placed in a container, it is sufficient to RUB the surface of the object with half a lemon, brush and then rinse with water. To bring products Shine RUB them with mixture of salt, flour and vinegar and then Polish with a soft cloth.
If you have a house utensils of copper, closely monitor her condition became gray and green with copper becomes toxic, its use for cooking is not recommended, it can cause substantial harm to the health. If it's already happened, better to just leave them as decor items. The easiest method of cleaning of copper - just to put it in very hot water with a detergent, a little RUB and rinse with clean water.
A very old and highly contaminated copper products can be put into the vinegar solution with the addition of a small amount of salt and bring to a boil. When the product has cooled, it should be rinsed in warm water and wipe dry with a soft cloth.
If you are going to clean coins, or Antiques, with, perhaps, a considerable value, is to listen to the professionals. First of all look at the character spots.Bright green deposits can be removed by placing a subject in a ten percent solution of citric acid, it will dissolve the plaque and not damage the product.Plaque is a yellowish color is formed due to contact with lead, but it easily removes regular deleteproperty vinegar.Plaque reddish color is removed, omitting the subject in a five percent solution of ammonia or less aggressive carbon dioxide ammonia.To bring the products more marketable and presentable appearance, professionals advise to apply a faux patina. Per liter of distilled water, add fifty grams of copper sulfate (it is sold in garden centres) and five grams of potassium permanganate. Heat the solution a little bit but not boiling, place the subject and sometimes upside down. Having achieved the desired color, stop the process and dry. The effect can be to preserve a protective coating from a mixture of alcohol with benzene in equal proportions.
I hope these tips will help you to achieve natural beauty products from copper.
Note
Gift copper products always look luxurious and ornate, many of them present a beautiful decor. Copper products - the perfect gift for a copper wedding (7 years of marriage). On the inner surface of products from copper covered with the protective layer in order to avoid food poisoning. Copper products successfully fit into the interior apartments, homes and offices.
Useful advice
It has long been a weather vane copper is an indispensable accessory for roofs of all types of buildings, ancient castles and modern mansions, richly decorated with items made of copper, to the most ordinary suburban houses. In the old days the roofs of most homes was headed by the decorative spires that in the form of fine jewelry attached weathervanes of many different types and designs.
Advice 3 : How to clean copper samovar
Despite the fact that kettles and dispensers long been replaced from everyday life samovars, they still had many open spaces of our homeland. The hosts to which these rare items came by inheritance from grandparents, struggling to maintain copper friends in good condition, saving them from the consequences of the interaction of the air and copper.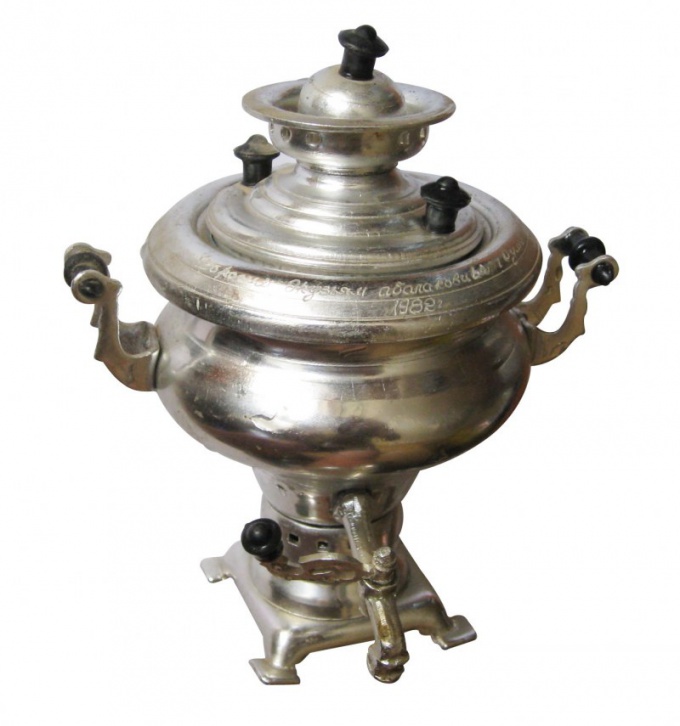 You will need
- acetic acid;
- drinking soda;
red brick;
- tooth powder;
paste the Goyim;
- citric acid.
Instruction
A thin, dark film covering over time,
copper
samovars
, is a product of oxidation of copper. To get rid of her is not easy, but it is possible.Pour into the samovar boiling water or, if the samovar acting, heat the water in it. Prepare a solution of acetic acid (5-10%) and clean them with hot pot. This method is the safest for the samovar, so as not to damage it, scratch.
Use baking soda. Wet a soft cloth rag in warm water, apply a small amount of baking soda on it. Wipe the stained surface of the samovar slowly, lightly. Do not press on the cloth, apply heavy stress, otherwise you'll damage the samovar, leaving it stains and minor scratches.
Follow the example of ancestors to clean the samovar, use finely crushed brick. The smaller, the better. Note that this method is very traumatic for the old copper appliance water heating. On the same principle, you can use normal sand.
To clean the samovar will help and tooth powder. Use the example of baking soda on a soft cloth, apply a little powder and lightly RUB the surface.
Use special tools to clean the copper paste GOI on the basis of chromium oxide, which is suitable for grinding and polishing metals and other things.
If cleaning is required for the inner surface of the samovar, then apply the following method: boil the samovar with water by adding citric acid (for simple dirt 5 g per 10 liters for strong scale - 40 grams for the same volume of liquid). After this procedure, do not forget to wash the samovar to exclude poisoning.
The last cleaning method for the lazy or for those who value antique samovar. Just take it to the experts that have different chemical substances to work with rare things. They certainly will not damage the surface of the samovar and return it to you updated.
Advice 4 : How to clean old copper coins
The ancient copper coins have a unique beauty, but only until, until they darken. About
to clean
a coin, you can use various means which will not harm the metal. If
the copper
has darkened (often it acquires a green shade) or was covered with stains, don't despair, just clean it.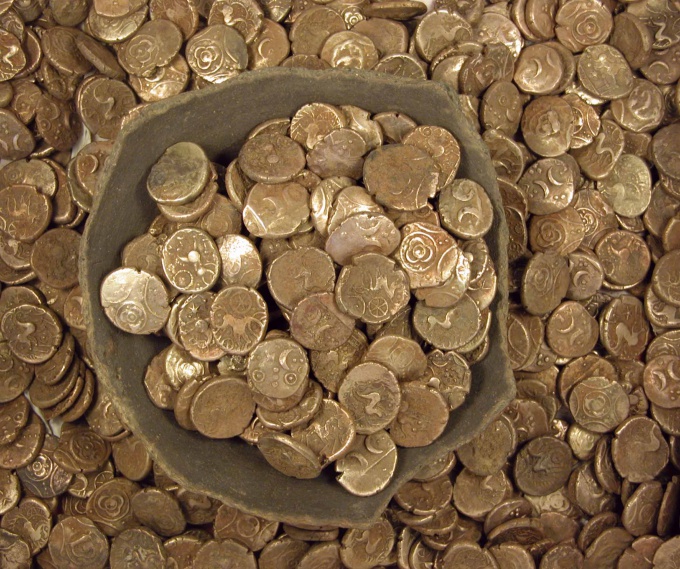 You will need
- lemon;
- flour, salt, and vinegar;
- vinegar and hot water;
- tooth powder or paste;
liquid for cleaning jewelry;
- cloth;
- toothbrush;
- old newspaper.
Instruction
Take half a lemon, the flesh insert a coin and let it a little "soak". After about 15 minutes, remove it and clean with a brush. Rinse in cold water and dry with a soft cloth.
Mix a little flour, coarse salt and add a splash of vinegar. Well RUB the coin in the mixture and wait a while and rinse in clean running water. Be sure to wipe the copper dry, otherwise dark spots are formed almost immediately.
Dilute the vinegar in boiling water. The approximate concentration of acetic acid should not exceed 20-25 %. Add 2-3 tablespoons of table or sea salt and dip the coin into the solution. When the water with the vinegar has cooled, carefully remove the coin and clean with an old toothbrush. Rinse in clean water and wipe with a cloth. Be careful when working with a concentrated solution of vinegar, you can get poisoned by fumes.
If you have tooth powder, use it, and if not, you can use a regular whitening toothpaste. Wet the coin and RUB it with the paste or powder, the active movements of the brush. Rinse and look at the result if you are not satisfied, repeat all over again.
Liquid to clean jewelry is also able to bring back the original look of copper. Buy the tool at a jewelry store or in the workshop, drop a coin for a few minutes and wipe thoroughly with a clean cloth. If you fear for the integrity of the coin and I'm afraid to clean it yourself, please contact the jewelry shop. You will produce professional cleaning and polishing metal, is also cause and a special clear coating that will protect the copper from darkening.
Useful advice
To maintain the Shine of ancient coins, RUB them with old newspaper, crumpled into a small ball. But this method is suitable only for the prevention of darkening of the metal, to clean the dark spots it will not help.
Advice 5 : How to clean old copper coins
Vintage coins adorn the collections of professional antiquarians and Amateurs of antiquity. Like any subject that experienced the influence of time, the copper coins need special attention and care. There are several ways to clean old copper coins.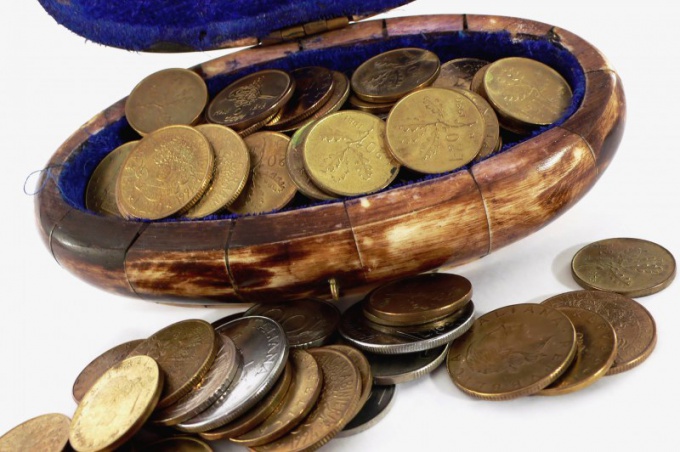 You will need
- Laundry soap;
- citric acid;
- acetic acid;
water;
brush;
- Terry towel.
Instruction
Before you clean a coin, you carefully inspect it. If it is covered with a uniform film with a brownish tint (patina), you might do not should be cleaned. Noble as this film not only gives the coin a special effect "retro", but also protects the metal from scratches and damage. Very often, after removal of the patina on the coin formed microscopic indentations, which spoil its appearance and significantly reduce the cost.
The other approach will require coin with dark patina and layers of oxide characteristic greenish color. If contamination is insignificant, you can remove it with warm, soapy water. Grate a piece of soap in a deep plastic bowl and fill it with hot water. Stir the solution thoroughly and let it infuse. Put your coins in the bowl and hold it there for a few minutes. After that gently clean the plaque with a soft brush. Rinse the coin under running water and wipe them dry with a towel.
Citric acid is one of the most effective and safe substances that can remove the dark patina on
copper
. To prepare the solution, mix one sachet of citric acid and 100 ml of warm water. The prepared mixture is put your coins and keep them there for 10-15 minutes. During this time, the acid will react with the primary layer of the plaque without damaging the metal. If the reaction is not strong enough, you can add a few teaspoons of acid directly to the solution. Then treat the coins with a brush with soft bristles under running water and dry them thoroughly.
A more radical method of cleaning – soaking copper coins in a solution of acetic acid. For its preparation you can use 70% acetic acid which should be diluted to a concentration of vinegar is not higher than 20-25%. Or soak copper coins in the table 9 % solution of vinegar. To sustain coins in it, based on the degree of contamination, the larger the plaque, the longer time will be required to remove it.
Useful advice
If the coin is of great value, clean it best left to a professional restorer or go to a reliable jewelry shop.
Advice 6 : How to make vintage paper
Conceived romantic photo album in the style of "vintage" or want to make younger brother and his friends an unforgettable surprise in the form of a fascinating quest with ancient maps, pirates and treasure chests full of treasures? Then you can not do without a sheet of aged
paper
. Ancient paper priceless artifacts of the past, mysterious and causing the desire to reveal stored their centuries-old secrets. Notes, sketches, letters, photographs and maps – through the test of time, they acquire the high status of the rarity of the piece and turn into expensive things. But still possible to cheat time and to "wear out"
paper
in a matter of hours.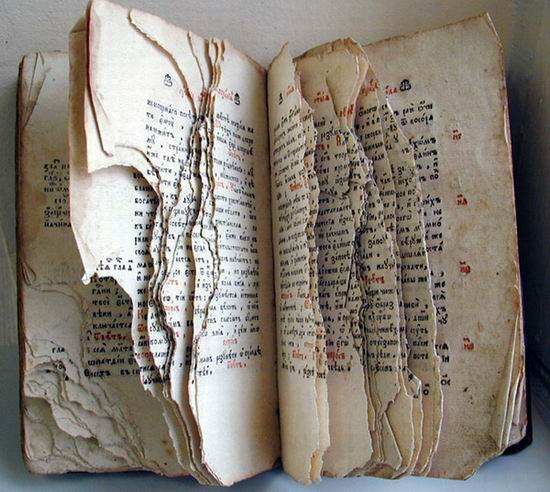 You will need
- paper of different sorts;
- tea/coffee/cocoa/milk/decoction of onion peel;
- brush, cotton swab, toothbrush;
- iron
- a candle or lighter;
- solid eraser, fine sandpaper.
Instruction
There are several ways to give paper a vintage look. For example, using strong tea or infusion of other herbs and plants. Brew strong tea and pour it in a container of the type tray or trays. A sheet of paper put it into a tea (with tea leaves) and hold there to fiber paper impregnated with the dye solution. Then remove the sheet and let it dry. To speed up the drying process you can use iron, radiator or hair dryer.
If you need dyed unevenly, as if in some places darkened the paper, then using a brush you can re-apply a tea infusion to its surface, covering random spots. Torn edges can be obtained, tearing the paper directly in the vessel with tea.
The second method is staining of soluble coffee. In a roomy bowl, pour a few teaspoons of coffee with boiling water. The paper put in the coffee and hold for 10-15 minutes. Then remove the paper and air dry naturally or iron. Evaluate the results, and if you are not satisfied, repeat painting again, adding more coffee in the dye solution. You can put in coffee, crumpled paper – it all depends on what effect you want to achieve. In the same way toned paper in cooked cocoa. Only shade turns out a little different.
Toning decoction of onion peel. To do this, soak the onion peels in water at room temperature for three hours. The husk should fill ¾ of the volume. Then bring the water with the shuck to a boil. Reduce heat and simmer for about an hour. In the cooled cooked broth put the paper and wait for it to saturated liquid. If you need a smooth tone, then place the paper in the strained broth. After staining dry aged sheet. Experiment, because the result is impossible to predict accurately. Achieve the desired effect empirically.
Gives good results wetting the surface of the paper with milk. Cotton swab apply milk on the sheet. A little dry, and then hold the paper over a hot burner until it begins to darken. So you can get "old" unevenly darkened paper.
Additional effects of the old and "damaged" by time and circumstances, achieved with the use of fire, candles or lighters. Carefully sear the edges of "rarity" fire or hold the entire sheet over the flame to soot it in some places. Do not forget about safety precautions.
Will look intriguing on aged paper traces from a Cup of tea, coffee or a glass of wine. Put on the sheet a Cup of wet tea or coffee in the bottom, below footprint imprinted. You can simulate accidentally spilled droplets or "puddles" of drinks.
An additional effect may give the spray on the paper using a toothbrush all used in the tinting dye solutions or dye of a suitable tint.
You can also simulate and fading, wrinkling and other defects in the antique market. RUB the surface with an eraser or fine sandpaper, fold in half and draw the curved corners. Put under pressure for some time. In General, imitate all the things that could survive a paper, book, letter, photograph for their long years of existence.
Note
By charring the edges of the paper and working with the iron with extreme caution.
Useful advice
Particularly impressive will look aged paper loose varieties, because in the old days was produced just such a paper. Fine texture and has aged vellum.

To obtain a sheet of aged paper with smooth surface (paint, for example) pull a white sheet of paper on the tablet, and then toniruja. Leave the tablet to dry, and then remove and trim the curved edges of the sheet (or anneal, tear, etc.).