Copper products have a unique charm, which allows their use not only directly, but also to please the eye. For example, trays are often used not so much as a kitchen utensil, much as decoration. One drawback is that copper cookware may become dark or covered with a greenish tinge.


Why dark copper cookware


Remarkable beauty copper tray may faithfully serve you for many years, but when the content in the air its surface acquires a green tint. Looks like this RAID is very ugly, and a little toxic. It happens so because of the influence of the air material.

Air is a mixture of gases besides nitrogen and oxygen, it has and carbon dioxide and little water vapor, and hydrogen sulfide. Such content promotes the formation on the surface of products from copper black or green patina. Green patina – hydroxide-carbonate of copper is a substance, which composition similar to the mineral malachite.


Than to clean the tray out of copper


Antique copper trays can be cleaned the same old way: cut a lemon in half, RUB the surface of the tray, a little walk is not very hard brush and rinse it with water. Brightening product make a mixture of vinegar, flour, salt. This mixture is often called "vinegar test"; to prepare it immediately before use. Apply the "dough" on a tray, allow to dry and wipe with a soft cloth or brush.

If the tray is old and very dirty, may help the following composition in hot water to dissolve a bit of detergent applied to the surface and briefly leave alone. Then scrub, rinse and dry. Another option is to boil the vinegar, place the product, add a couple tablespoons of salt. You then need to leave it to cool down, after which the tray brush, rinse with water and wipe dry.

Shine brushed copper tray you can Polish it with the crumpled ball of newspaper in the old days was so clean window. Be careful using this tray to place food on it for status goods made of copper, which comes into contact with food, it is necessary to watch especially carefully. The action formed on the surface of copper products plaque similar to rust. If the copper has acquired a gray-green shade, to his ochisheniya product use is not worth it. The risk of falling into food, toxic substances of plaque, which is then transferred to the body.
Advice 2: How to make vintage paper
Conceived romantic photo album in the style of "vintage" or want to make younger brother and his friends an unforgettable surprise in the form of a fascinating quest with ancient maps, pirates and treasure chests full of treasures? Then you can not do without a sheet of aged
paper
. Ancient paper priceless artifacts of the past, mysterious and causing the desire to reveal stored their centuries-old secrets. Notes, sketches, letters, photographs and maps – through the test of time, they acquire the high status of the rarity of the piece and turn into expensive things. But still possible to cheat time and to "wear out"
paper
in a matter of hours.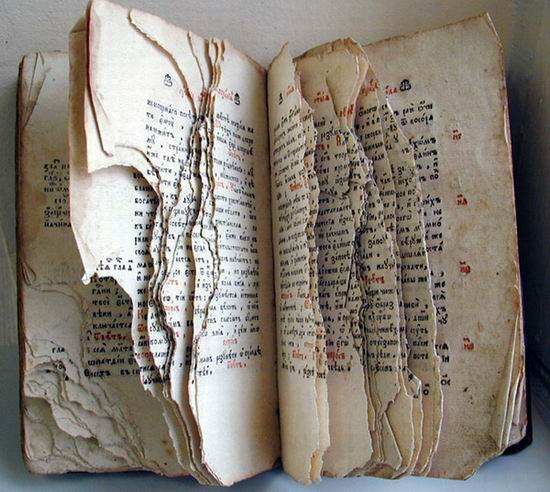 You will need
- paper of different sorts;
- tea/coffee/cocoa/milk/decoction of onion peel;
- brush, cotton swab, toothbrush;
- iron
- a candle or lighter;
- solid eraser, fine sandpaper.
Instruction
There are several ways to give paper a vintage look. For example, using strong tea or infusion of other herbs and plants. Brew strong tea and pour it in a container of the type tray or trays. A sheet of paper put it into a tea (with tea leaves) and hold there to fiber paper impregnated with the dye solution. Then remove the sheet and let it dry. To speed up the drying process you can use iron, radiator or hair dryer.
If you need dyed unevenly, as if in some places darkened the paper, then using a brush you can re-apply a tea infusion to its surface, covering random spots. Torn edges can be obtained, tearing the paper directly in the vessel with tea.
The second method is staining of soluble coffee. In a roomy bowl, pour a few teaspoons of coffee with boiling water. The paper put in the coffee and hold for 10-15 minutes. Then remove the paper and air dry naturally or iron. Evaluate the results, and if you are not satisfied, repeat painting again, adding more coffee in the dye solution. You can put in coffee, crumpled paper – it all depends on what effect you want to achieve. In the same way toned paper in cooked cocoa. Only shade turns out a little different.
Toning decoction of onion peel. To do this, soak the onion peels in water at room temperature for three hours. The husk should fill ¾ of the volume. Then bring the water with the shuck to a boil. Reduce heat and simmer for about an hour. In the cooled cooked broth put the paper and wait for it to saturated liquid. If you need a smooth tone, then place the paper in the strained broth. After staining dry aged sheet. Experiment, because the result is impossible to predict accurately. Achieve the desired effect empirically.
Gives good results wetting the surface of the paper with milk. Cotton swab apply milk on the sheet. A little dry, and then hold the paper over a hot burner until it begins to darken. So you can get "old" unevenly darkened paper.
Additional effects of the old and "damaged" by time and circumstances, achieved with the use of fire, candles or lighters. Carefully sear the edges of "rarity" fire or hold the entire sheet over the flame to soot it in some places. Do not forget about safety precautions.
Will look intriguing on aged paper traces from a Cup of tea, coffee or a glass of wine. Put on the sheet a Cup of wet tea or coffee in the bottom, below footprint imprinted. You can simulate accidentally spilled droplets or "puddles" of drinks.
An additional effect may give the spray on the paper using a toothbrush all used in the tinting dye solutions or dye of a suitable tint.
You can also simulate and fading, wrinkling and other defects in the antique market. RUB the surface with an eraser or fine sandpaper, fold in half and draw the curved corners. Put under pressure for some time. In General, imitate all the things that could survive a paper, book, letter, photograph for their long years of existence.
Note
By charring the edges of the paper and working with the iron with extreme caution.
Useful advice
Particularly impressive will look aged paper loose varieties, because in the old days was produced just such a paper. Fine texture and has aged vellum.

To obtain a sheet of aged paper with smooth surface (paint, for example) pull a white sheet of paper on the tablet, and then toniruja. Leave the tablet to dry, and then remove and trim the curved edges of the sheet (or anneal, tear, etc.).