The properties of tincture of wormwood


Wormwood - an herb that has long been known for its miraculous properties. The ability to heal people from various diseases she got, thanks to its rich chemical composition.

The bitter taste of wormwood is due to the presence of lactones. In addition, it has organic acids, vitamins, calcium, potassium, magnesium, zinc, cobalt, molybdenum, aluminum, Nickel, bromine, boron, vitamin C, carotene, essential oil. Curative properties of its apex, leaves and roots.

Mugwort helps to stimulate the gastrointestinal tract. It finds application in the treatment of diseases of the stomach, gall bladder. Its tincture regulates the pancreas, has anti-inflammatory, antimicrobial, antispasmodic, healing effect on the body. It helps to get rid of worms, nervousness, excitability, insomnia.

Wormwood is notable for the fact that it affects a person selectively. Thus, elevated anxiety it helps to relieve stress, and loss of strength invigorates, tones.


How to take a tincture of wormwood


Wormwood can prepare yourself. The grass can be dry or produce on the basis of its infusion. But it is much easier to buy ready-made alcohol tincture in the pharmacy. It is not very expensive, but very effective. Before application it is better to consult a doctor, as the drug has certain contraindications.

For the treatment of diseases of the gastrointestinal tract, disorders of the gall bladder should take 10-15 drops of alcohol tincture of wormwood for 15-20 minutes before each meal. Duration of treatment should be exactly 10 days.

For getting rid of worms it is necessary to apply an infusion of wormwood with the addition of extract of pumpkin seeds. The drug must be applied 15 to 30 drops several times a day. To consume it 20 minutes before eating.

In order to address the increased nervous excitability, eliminate insomnia, you need to take a tincture just before bedtime, or in the case of urgent need. For this you need to drip 5 drops on a small lump of sugar and put under the tongue.

Eczema is applied on the affected area the poultice of alcohol tincture of wormwood. Before applying the compress you should test for possible allergic reactions. To do this, put a drop on the inner side of the elbow, and to evaluate the result in 10-15 minutes.

Anemia and during the asthenic state should also use tincture of wormwood, but in minimum doses. It is recommended to add in a tablespoon of boiled water, 1 drop of the drug and drink on an empty stomach 1 time a day. The duration of treatment should be 14 days.
Advice 2 : How to make wormwood
Wormwood, native to Russia, is of two types: wormwood (Artemisia absinthium and Artemisia vulgaris. Both of these species have medicinal value. In folk medicine, infusion of wormwood is used for gastritis, gastric ulcer and duodenal ulcer, enterocolitis, diseases of liver and kidneys, anemia, ascariasis, insomnia, rheumatism, anemia and many other diseases. In the form of compresses and lotions wormwood used in diseases of the joints, eyes, bruises, and as an ointment to treat wounds, ulcers, frostbite, burns, fistulas. How to get and take an infusion of wormwood?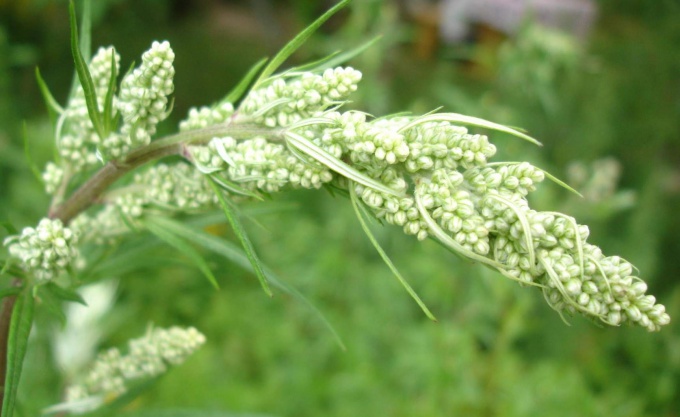 Instruction
Take 10 grams of dried sage (2 tablespoons) pour 200 ml of boiled water. Then heat the mixture in an enamel pot on a boiling water bath with the lid closed течение15 minutes. Then let the decoction to brew for half an hour, then strain. The remaining raw materials press, amount received infusions bring boiled water to 200 ml. to Drink it you need one tablespoon 3-4 times a day for 20-30 minutes before meals.
You can quickly and easily get the "sagebrush mouthwatering collection" for digestion. To do this, mix 4 parts by weight of the herb wormwood and 1 weight part yarrow herb. Two teaspoons of this mixture, collecting pour 0.5 liters of boiling water. Then let it brew and drink 1/4 Cup 3 times a day half an hour before meals.
Wormwood helps in the fight against the well-known and, unfortunately, common disease - alcoholism. To do this, mix 1 weight part herb wormwood and 4 weight parts grass creeping thyme. 15 g of this mixture pour 200 ml of boiled water, boil for 10 minutes. After that, let it brew and strain. The remaining raw materials press, amount of broth bring boiled water to 200 ml. Let's sick on 1/5—1/4 Cup 3 times a day for a month, then after 1-1,5 month break, the course repeat.
You can also do a tincture of wormwood. It is known that it helps with gastritis flowing with reduced acidity. To do this, dry grass, finely chop and add to 70% alcohol in a ratio to the extractor 1:5. After that, let stand for 21 days in a dark and cool place. Then carefully strain. To make this tincture you need 20 grams once a day.
Note
Remember that prolonged use of wormwood can cause poisoning, in severe cases may be accompanied by hallucinations and convulsions. So between courses of reception of wormwood should take breaks up to 2 months. Especially not to abuse wormwood for anemia.
Useful advice
The juice of wormwood is effective to excite the appetite and increase activity of the digestive tract. It regulates the work of the pancreas and stomach, normalizes acidity, increases bile secretion, relieves bloating and catarrhal phenomena in the stomach, inflammation in the region of the caecum, eliminates spasm of the colon. Artemisia vulgaris also useful, though to a lesser degree. Water infusions and decoctions increase appetite, have a calming, anticonvulsant, protivosudorojnam, hemostatic, antipyretic and tonic effect.