The most famous French perfume

Some French perfumes are rightly considered classics, and their name is legend. Such, for example, include perfume Jicky from Guerlain, which was created in 1860 and was originally intended for men, but loved and emancipated women. One of the most famous fragrances Shalimar is considered to be the same brand, is the embodiment of Oriental luxury and sensuality. Still popular Joy perfume by French couturier Jean Patou, which he created back in 1929 – once the most expensive fragrance in perfume history. Of course, can not forget Chanel No. 5 – the first perfume, which consisted of synthetic fragrances, aldehydes, as well as Miss Dior and the successful experience of the famous fashion designer in the creation of perfume compositions.

But there are many other flavors that are considered classics, and whose production is periodically renewed by the persistent requests of new generations of admirers of French perfume. However, it should be noted that those cues which are now available, which differ from the originals created a few decades ago, because they have not used natural and artificial raw materials – is the demand of time.

To the most known aromas can be attributed to Climat by Lancome oldest company, established in 1967 and renewed in 2005 and Sikkim the same brand appeared on the shelves in 1971. This period is characterized by aromas with a pronounced warm, sensual orientation, slightly tart and sweet. In the composition of these spirits are always present musk, vanilla, amber, sandalwood, white cedar and floral aromas that literally circled the heads of the men. The best instances can be attributed to the perfume J'ai Ose ("I dared") from perfume company Guy Laroche, the flavor of luxury and elegance, as well as day and evening option from perfume Ellipse Jacques Fath.

How to choose French perfume

New items of French perfume appear every year, so you will always be able to make a choice among classic perfume combinations, and those that the famous perfume house to create today. It's safe to say that the products of such famous companies like Coty, Lancome, Chanel, Nina Ricci, Dior or Roche is a guarantee of the highest quality. Choosing a perfume from these brands, you should only listen to their feelings. Do not buy them under the influence of advertising appeals or just because you liked the smell on someone. Make the right choice, first, "defied" his trial perfume.
Advice 2: How to choose a perfume for summer
Perfumes for women are not just a nice addition to the image, but one of the ways of expression. This detail allows you to stand out from the crowd and lead the crowd of fans. Women summer perfume, however, the most capricious and requires especially careful consideration and selection.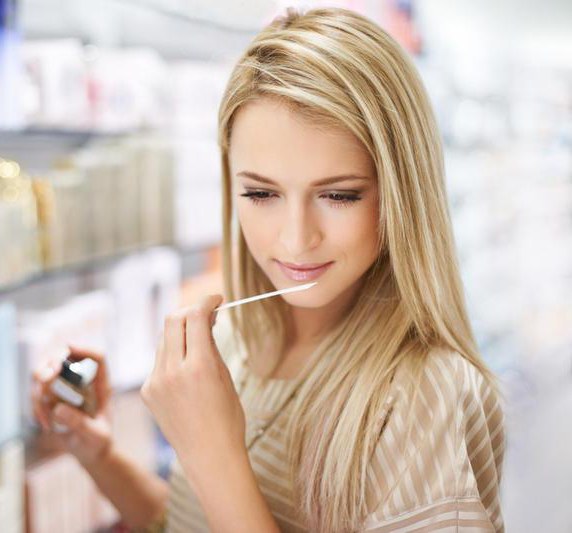 General rules


The choice of perfume, regardless of the time of year should be based on personal preferences, on the properties of the skin to absorb or, conversely, to reveal the aroma. In the summer, to pick up the fragrance composition is worth considering a number of factors: a situation in which the spirits must be "sound", people that will surround, and time of day when you plan to wear the scent.

It is worth remembering that in the heat of summer skin heats up the perfume faster, it evaporates faster than alcohol and some oil components, and therefore, the composition may be distorted. In addition, the sun, the alcohol reacts with ultraviolet light, causes active secretion of pigment, which can cause burns and dark spots. So the best way in the warm time of the year will be to use toilet water (not perfume!) with low alcohol content or a body lotion with a favorite scent.

If the preference for a more intense perfume, it is better to choose a treasured bottle light shades: they often contain a refreshing, subtly sounding notes of ozone, sea breeze. Will be successful in the composition of mint, tangerine or rose.

Summer perfume does not have to be loopback. Also pay attention to the time of disclosure of fragrance on the skin. If the end touch is not felt even after 3 hours after application, then most likely, this stuff is better suited for spring. Because in the summer some of the flavor will have time to evaporate part of it to penetrate deeply into the skin to blend in with the surrounding smells and distorted beyond recognition.

In addition, it is important that the daily toilet water was bracing (e.g. with notes of freesia, citrus and lilies). But summer spirits for the evening can be with a light spiciness or bitterness of the southern night, a little more sweet but not cloying, not suffocating.


"Musical notation"


Win-win summer perfume will be the same in the composition of which includes vanilla, pepper or fruit. The smell will give extra warmth to the flavor and make it more interesting than a simple refreshing water. If the composition of the fragrance included lime, bergamot, lavender or Lily of the valley, it is more likely to be similar to something in the style of "unisex", but this does not become less charming and perfect for the first half of the summer day.

Summer evening in the company of friends, you can afford a combination of rose, Jasmine, Apple. On dark-haired girls can sound extravagant aroma with mango. These will be treated safely and seductive.

Only women whose skin quickly absorbs the aroma, it is permissible on a summer evening for a romantic meeting to choose an Oriental fragrance. Better if in addition to the traditional spices (cloves, cinnamon, cardamom) and rich patchouli (or iris) it will contain relieving, refreshing floral or citrus blotches.

It is important to remember that summer flavor is changeable and should be in harmony not only with its bearer, but not to annoy others.
Advice 3: How to choose French perfume
Choose a favorite scent among a large number of options can be very difficult. That is why the choice of spirits is a true art. If perfume gives you confidence, vitality, positive emotions, then he is correct.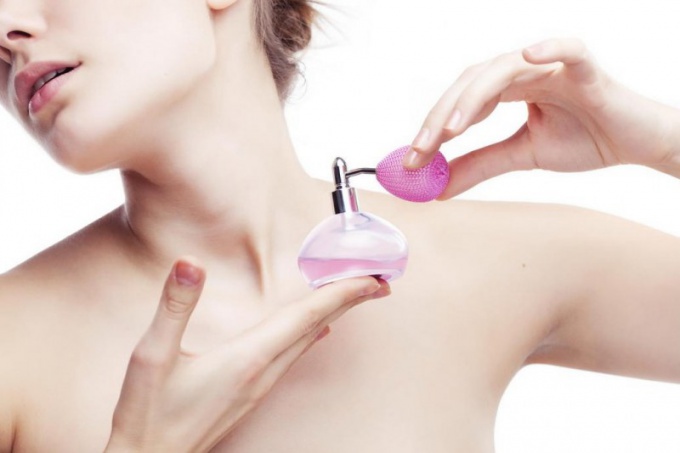 Instruction
The flavors are traditionally divided into several groups: floral, fruity, woody, leather, aromatic, Oriental, unisex. Therefore, before going to the store to decide one group of fragrances, with the spirits which you would like to meet you. If you are romantic nature, pay attention to floral and fruity perfumes. If your character is feisty and assertive, make a choice in favor of leather or woody scents. Eastern beauties can look out for itself, the spirits of the Eastern group. Of course, this is a conventional examples. Therefore, choosing a fragrance, you must first see themselves in it and their personality.
For this reason, some women on the dressing table is constantly the same bottle while others have the whole collection. Moreover, some specimens in the collection of the women may not even use. How to avoid it? Go to the perfume shop in the morning. At this time, the sense of smell works in an intensive mode. So you'll be able to catch the aroma notes that you do not like. Certain chords of fragrance can really badly affect the nervous system, causing joy and delight, and headache. In the evening, the buds are not too clearly distinguish smells.
Going for a perfume, do not spray on any perfume. Otherwise they will kill the smell of choosing flavors. After the first three sitesto ask the consultant to quickly return the nose sensitivity. Especially to do it in stores with a large assortment. If the air is always present a mixture of different flavors is a great possibility to choose something. Do not choose a perfume, when your hormonal balance is changing. This is manifested during menstruation and pregnancy.
Apply a perfume on a blotter or on your wrist and listen to them. If the smell you like, quit out of the store and walk. So, you'll learn how the flavor is revealed over time. In addition, you will personally check and strength of flavor. If you are satisfied, you can return to the store and make a purchase. To experience the initial note of flavor, you just have to open the bottle. Typically, this gives alcohol smell, nice. But it is followed by the main note. It is already possible to distinguish between shades of the odors and on their basis to determine the attitude of the fragrance: like it or not. On stage, residual perfume can change beyond recognition, and gain a special charm. It is because of the base notes of a perfume on a friend may smell quite differently than in the store.
It is important to know how to distinguish from fake French perfume. For this you need to carefully consider the bottle and its packaging. If in some places distinctly visible glue, perfume cap is not closed tightly, there are irregularities and other defects, this suggests that the scent is a fake. In the name of the original should not be too much of letters and other graphic symbols. French spirits must be the inscription "Made in France".
If you buy a perfume not for the first time and know their true aroma, it's a much easier choice. Any deviation from this odor, or present unfamiliar notes indicate that you are holding a fake. Buy spirits only in specialty stores and networks that you trust. Do not buy perfume with it. So the risk to purchase a fake perfume is much reduced.
When choosing a perfume there is such a rule: the younger the girl, the easier and lighter, must be her perfume. And older women are encouraged to pick up a powdery, spicy fragrance with Oriental notes. This perfume can be very persistent and heavy. Scents can be associated with some events, travelling and so on. Inhaling this odor, you will remember pleasant times in the past.
Note
Daytime fragrance should be light and unobtrusive. And for evening use and persistent bright spirits.
Useful advice
Never focus on the packaging or good publicity. Seek only that which will please only you.
Advice 4: How to distinguish the spirits of the original from a fake
To choose the perfume is no easy task. It is necessary to choose a smell which you liked and you'd not annoy others. And be aware that spirits are very often counterfeited. Not to spoil your mood, it is necessary not to regret time and to find the original. There are a few simple rules, observing that everyone can do it.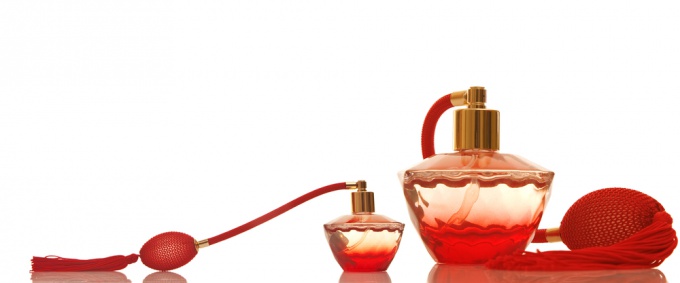 Instruction
Spirits are not necessities, but if you reject them – life will lose some color. A good perfume is expensive. It is necessary to proceed from this, going for a new bottle, whether for yourself or as a gift. It is well known that perfume at all, and expensive perfume in particular is a favourite field of activity of counterfeiters. Our task is to distinguish the spirits-the original from the forgery.First, consider what are counterfeit. Real willful falsification, as they say, made with the left foot in the basement on the sea is a very dangerous option because manufacturers do not hesitate to add components that can cause damage to health: allergies, burns, etc. mostly Found on the trays or in the perfume departments of non-core stores. To buy perfume in such places should not be. Especially if you price just seemed too low.
Counterfeit "look-like" is the imitation of the originals, the name of which varies slightly. It is a well known trick. Carefully read labels, and if the seller claims the spirits under the name of "Genzo" is original, fresh in from Paris – keep on moving.
Spirits, manufactured under license. In connection with globalization the majority of the French perfume is made in other countries under license. With the new smell and proekspluatirovat it a year or two, the fashion House starts to sell licenses to other companies. These companies may be located in Poland, Holland, Egypt, Syria, etc. Firm, sold the patent, even supervises the licensees, but this place is further from France, the supervision is weaker. However, to consider such spirits forgery impossible. It is thus made in our time, the majority of home appliances, clothing and shoes. Another thing is that the price should be different than product perfumes produced in France.
If there is no label with the translation of all the information about spirits on the Russian language, it simply smuggling. This option is of interest mainly not the user and the state that has less taxes. If you think that this is not your question – just ask for a discount – the seller these spirits are also cheaper.
And now, briefly, the specific signs that distinguish the spirits of the original from the forgery of the first type:Packing - box must be carefully sealed in thin cellophane, without creases and adhesive residue. If the inscription on the box "parfume" - pass. These spirits are made very far away from Europe. French properly "parfum," and in English "perfume". There should be an inscription "Made in..." country of the manufacturer. If the box is simply "France" and "London-Paris-New-York" is definitely a fake.
Shake the box, if the bottle is loose is not a good sign. If you're buying the perfume in an expensive store, they should have a sample vial. A bottle of expensive perfume have to be perfect – transparent glass, no defects or air bubbles.
If the bottom is pasted a label is not exactly original. The name of the perfume and its serial number must be applied directly to the glass on the side. If the color spirits bright chemical hues – is also a bad sign. Consistency can be a bit oily, and the smell should not give alcohol.
Note
Black list of aromas are often exposed to fraud, "Chanel"(especially No. 5), "Climat", "Tresor", "Poison", "Opium", "Marina de Bourbon", "Anais Anais", "Magie Noire", "Fidji".