Success in catching crayfish depends on many factors: design rakolovki, seasonal factors, time of day, but the most important element will be the attractiveness of the bait. Despite the fact that cancers are considered sanitation water and is able to clear them from the fall, bait of stale products work is quite weak, contrary to popular belief that cancers in the diet prefer rotten meat and fish.


Bait fish


In order for cancer to attract to the trap needed bait, have a strong odor. However, stale meat and fish can attract only very hungry crayfish live in ponds, not very rich flora and fauna. In addition, the seasonal factor has on the success of catching a significant impact in autumn and early winter, when the crustaceans accumulate reserves for the winter and begin to hatch the eggs, the best bait is fresh fish, frogs, shellfish, meat products.

Best bait for crayfish is considered to be roach, bream, carp, gobies, bream. Perch, catfish and pike cancer eats reluctantly and only when absolutely necessary. The best bait is fresh fish, incised along the back and turned inside out so the bait has a strong smell, well privatively cancers. With the same purpose – to give the bait the most strong smell, you can properly clean the fish from scales or drip in the incision in the carcass a little fish oil. The least effective bait can be purchased frozen fish: capelin, hake, Pollock, etc.


Garlic bait


In summer the best and very easy to manufacture a lure is considered to be rye bread with garlic. For the manufacture of such lures, you can skip the loaf of bread together with garlic through a meat grinder and the resulting mass roll into small balls that are placed in the trap. If there is no time and desire to Tinker with the grinder, just a good stretch your garlic in the fixture to grind and mix with breadcrumbs. To sodden in the water, the bread was not blurred and did not take away crayfish, bread balls placed in small gauze bags.

You can also use dried garlic, which is full of pieces of bread and RUB the crust of bread slices to increase the intensity of the smell. Sometimes the bread with the garlic add a few sprigs of dill. A few hundred years ago, crayfish were caught, even on the bricks, which are pre-heated and rubbed with garlic cloves.
Advice 2: How to marinate fish for the barbecue
Good barbecue does not have to be from meat. Skewers of poultry, fish and vegetables is as delicious as it is unusual. If you like to experiment and surprise the loved ones unusual approach to classic dishes, fry fish on skewers, or wooden skewers. Special taste and aroma, she will give the marinade.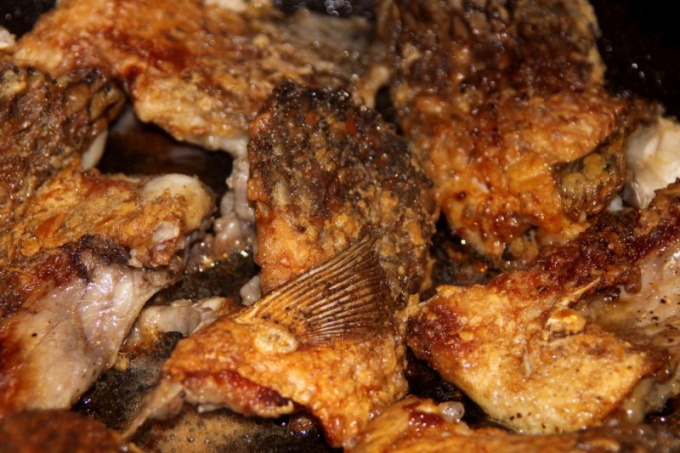 You will need
1 lemon
0.5 cups of vegetable oil
1 Cup dry white wine
2-3 onions
1 Cup pomegranate juice
salt
spices
greens.
Instruction
Sometimes you can find the statement that you marinate the fish for
barbecue
optional – just RUB it with salt and spices. However, if you want to make the fish flesh is more tender and flavorful, more oily or, conversely, slightly dry – without the marinade you can not do.
First select the fish you will cook the barbecue. That it is fatty, dense or loose it meat, will depend on the composition of your marinade. Great kebabs obtained from trout, sturgeon, tuna, salmon. Suitable as mackerel, salmon, lingcod. If the fish is fat enough, the oil in the marinade you can add. For dry fish (e.g., salmon) is better not to use highly acidic marinades as they will further dry the pulp.
The easiest marinade – juice of one lemon, chopped onion, salt, ground black pepper and any herbs. If you want to fish was more juicy, add to this marinade-vegetable oil – olive or sunflower. Based on this mix you can experiment to no end, adding the taste of mustard, garlic or sugar.
A more sophisticated option is to mix dry white wine, butter, lemon juice (from half of a lemon), spices, herbs and salt.
Very pleasant taste of the skewers of fish marinated in pomegranate juice. For him, you need natural pomegranate juice, vegetable oil, salt and spices (coriander, ground white and black pepper). Particularly well suited for such a marinade for skewers of white fish (sturgeon, pike, catfish).
Unusual rather gourmet, marinade for salmon (trout, salmon) – a mixture of soy sauce, lemon juice, fresh ginger and a small amount of honey.
And remember that the most important fish kebab – save the flavor and aroma of fried "smoky" fish.
Useful advice
Fish kebab marinated short – no more than an hour. Don't do a marinade based on vinegar, as it makes the fish loose. A large quantity of acid spoils the very taste of the fish, so the wine or lemon juice it is better to pour in too little than to add too much.
Advice 3: How to bake fish in foil
Baked fish
in foil - perhaps the most appropriate dish for a romantic dinner. The fish will be not only flavorful, tender and unforgettably delicious, but also is a natural aphrodisiac. Enjoy your favorite delicious dish of fresh fish.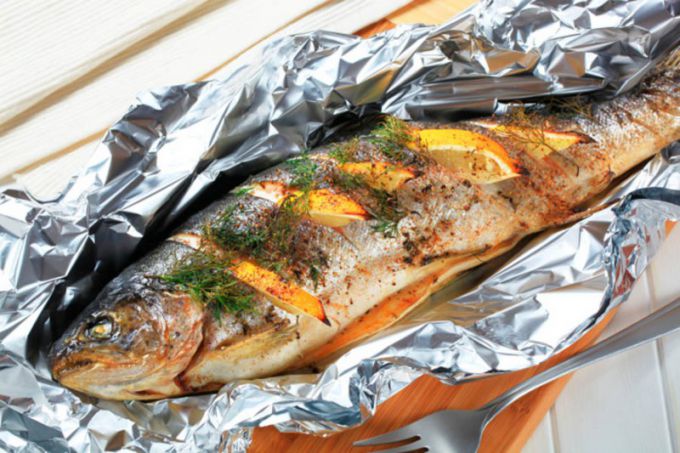 You will need
salt
pepper
seasoning for fish
1 onion
1 lemon
2 tomatoes
vegetable and olive oil.
Instruction
To take a fish, remove fins, viscera, remove from the scales and rinse well. Dry with a towel, RUB with salt, pepper and spices for fish.
Onion to peel and slice with a sharp knife rings. Lemon cut into thin half-rings.
Take two bowls. One to pour the boiling water, in another - cold water. On the tomatoes to make an incision in the form of a cross. And omit the tomatoes first in a bowl of hot water, then in a bowl of cold. The skin is immediately easily cleared. Clean the tomatoes cut into circles.
Take the foil, place on a baking sheet and grease with vegetable oil. On the bottom lay a piece of onion and lemon. On top place the fish. Next, spread a layer of chopped greens, tomatoes, onions and lemon. On top drizzle with olive oil. Foil tightly wrap a few times to wrap fish.
Put in the oven, preheated to 180 degrees. Bake for 20-30 minutes. For 5-10 minutes before cooking, foil can be cut from above, so that the vegetables are browned.
Serve the fish whole on a platter right in the foil. To garnish submit boiled rice. BON APPETIT!
Note
All fish dishes need to cook on low heat, otherwise it will quickly fall apart. The fish turned out juicy, it is necessary to pre-soak in milk.
Useful advice
To properly clean the fish you want moving from tail to head. And to make it better and cleaned, can be a few seconds to drop the fish in boiling water. Below the wooden Board was a smell of fish, it is necessary to grease with a slice of lemon and a good wash.