Instruction
Some used to pay tribute to the traditions. Such people have in the Arsenal there is only the classic black bow tie. They don't go wrong if you choose this accessory for formal or ceremonial event.
On the shelves you will find a variety of bow ties. They can be any color or pattern. So, you can find butterfly checkered, polka dot or pattern. The image will be less formal, but still stylish. These colorful butterflies require to have a more diverse closet.
A color tie can be worn not at all ceremonial events involving a strict dress code. For example, you cannot wear it for a private concert or the Oscars. However, some situations still allow you to wear a colored tie, but you need to know how to combine accessories, shirt and all other clothing.
To jeans and a plain white shirt suit tie any bright hue. No matter the color of the accessory — pink, red or green — it will always come to fresh shirt. But do not forget that it must be white.
A great option is the combination of white shirt, light jeans and blue butterfly. The accessory will blend in with jeans, which is very important in his selection. Blue butterfly to a white shirt will also be very helpful.
If the closet has a light-colored
shirt
, you must purchase a bright or motley bow tie. The image will look very stylish and harmonious, if to apply to more and a dark suit.
Brightly colored butterflies can be very useful to fit a light shirt. The red or Burgundy accessory will look good with a plain shirt, with optional white color. This image will also be appropriate in a dark suit.
If the Arsenal man has a checkered or striped suit, he must be plain or with a small figure of a butterfly. Of course that shirt to this motley along should be exclusively white.
Striped shirt requires a solid bow tie. The same applies to the shirt. The image can be supplemented by colorful costume. It will look very stylish.
Tie the cage will fit solid shirt. Naturally, this motley outfit you should not wear to a formal event.
The main rule of selection of shirts under the butterfly is that appearance men should not dazzle. Colorful shirts can be balanced solid tie, and Vice versa. Thus it is necessary to remember about the color combination. No need to assemble in your way more than three shades.
Advice 2: How to wear a tie
Tie-
butterfly
– elegant and festive accessory. It is necessary to properly combine
a butterfly
with clothes, skillfully select the size and color. Most men do not understand the designs and styles of this type of ties. Not to look fancy, often the garment is put on only with a tuxedo, although wearing it can be with conventional jacket, and even without it. There are some rules of wearing this item, who better to observe, especially for formal occasions.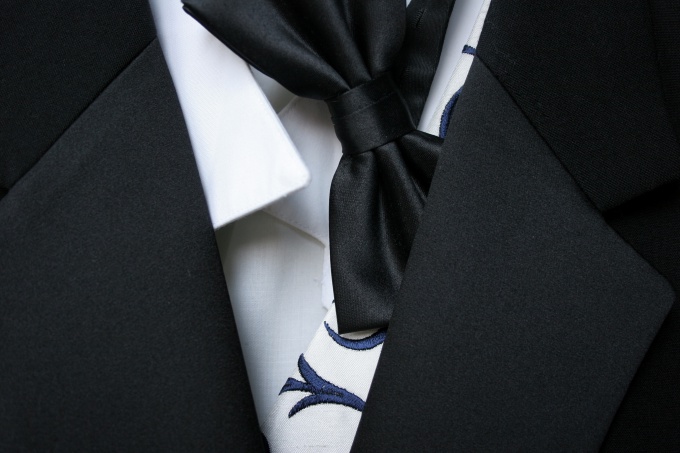 You will need
A tuxedo or jacket
Shirt
Mirror
Bow tie
Instruction
Your shirt must be properly prepared before you put on not a butterfly. Make sure that it is correctly ironed, must be particularly well-ironed collar and sleeves. Remember that the collar of your shirt must be rigid, straight and smooth.
As soon as the shirt will be chosen and ironed, put it on and fasten all the buttons. Tuck in pants. From top to wear a tuxedo or a jacket.
Now pull up the collar of his shirt and wear a tie. Make sure the tie is tied correctly. If you don't know how to do this, simply purchase a pre-tied tie in the store. Make sure that the butterfly has symmetrical ends and does not protrude above the collar.
Align the butterfly, making sure it is tied exactly in the center of your shirt. The tie should not be hanging too low, it needs to fit snugly to the collar.
Choose a tie is not too big or small and fit your face. Also, the butterfly should approach the shape of a shirt collar. The width of the butterfly is about the same as the width of the collar or slightly less. Too little butterfly will visually enlarge the features of your face and neck, and too much butterfly will give you a comical appearance. It's OK if you are really a clown, but it's not okay if you are, for example, the groom or the Professor.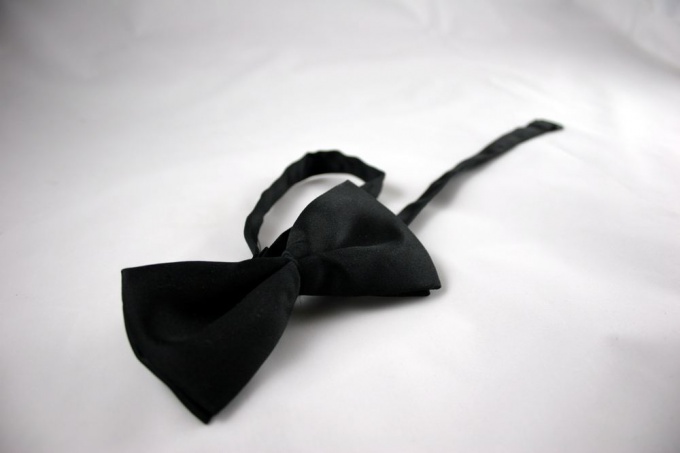 White butterflies are very well suited to black and gray shirt. And black tie is ideal in combination with white, beige, lilac or blue shirt. On the contrast look beautiful light green tie with dark green or Burgundy tie with a pink shirt.
Delicate butterflies look more elegant with a standard classical shape of the collar, wide butterfly shape, suitable for winged collar. Although you can wear a bowtie any suitable for you way, if you think you found the most comfortable for yourself. Moreover, you do not have to obey strict rules, if the event to which you invited, is not official and does not imply a strict dress code.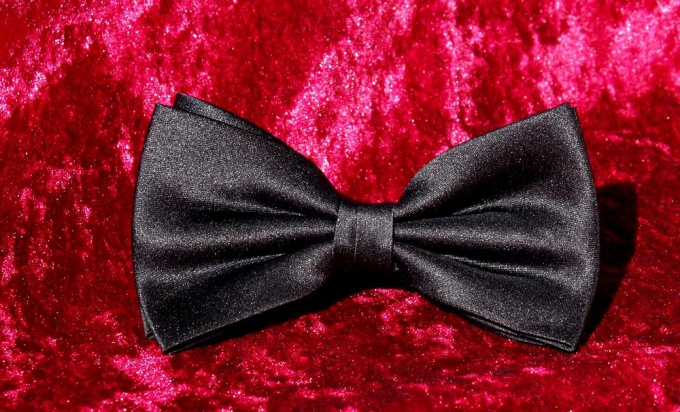 Useful advice
The butterfly is very appropriate for a wedding, prom, official reception and other formal event.
Advice 3: What shirts fit black suit
Strict black
suit
– clothes of a true aesthete. Wearing the dress the man will look elegant and at the meeting and at the reception. It is important to choose the right shirt, shoes, tie and accessories.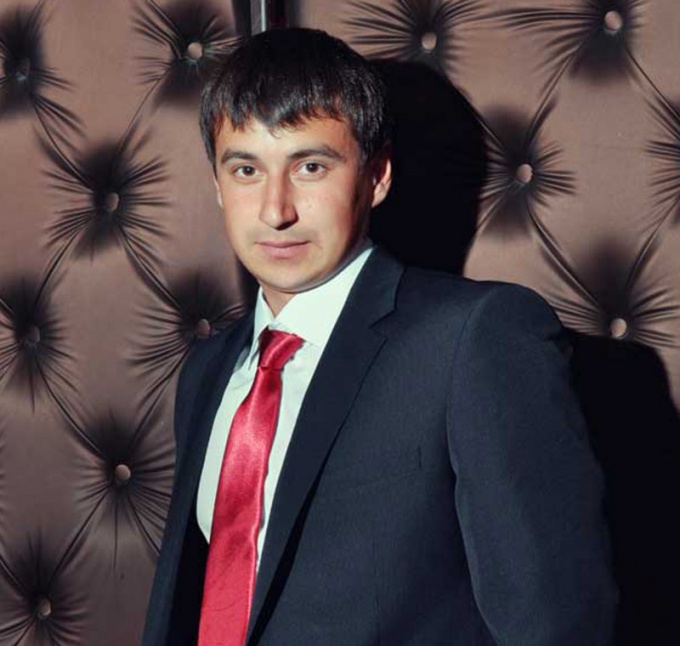 A classic combination

In the men's closet should have a few white shirts. The combination of black and white is classic. This is perfect for a special occasion, but a black suit with a white shirt looks good in the office. A tie is better to wear color, but keep in mind that in a man's suit should not be more than three colors. If you prefer a black tie, it is better if it will be with a picture.


Shirts of pastel tones

Universal black suit, with him well shirts of different colors. Preferably pastel colors – beige, yellow, pink, pale green. In this case, the tie could be black, and to match the shirt, but slightly darker. Choose dark shirts should be very careful. Black with black tie looks too dark and suitable mainly for mourning. But white or bright tie in this case is fine. Will look good and bright tie with a pattern. As for the other dark colors, no dark brown or dark gray shirt to black jacket will not fit. Acceptable Navy blue, Burgundy and dark green.


Strip, cell, peas

Shirt with a bright big picture leave for the summer. They may well be combined with light summer trousers or shorts. The pattern is also undesirable, but the strip is quite suitable. In Grand fashion and shirts from a fabric with very fine embossed pattern in the tone of the background. Picking up the shirt, and buy a few handkerchiefs of the same color. In some situations, you just need to corner of handkerchief protruded from the breast pocket of his jacket.


A few words about the tie

With a plain shirt and the black suit you can wear a tie with polka dots. Note that a pea must be in the tone of the shirt. If you striped shirt, the tie can be plain, striped, polka-dot, but not in the box. Strips on both items must be a different scale, but strictly match in color.


Buttons or cufflinks?

Business etiquette demands that the shirt sleeve was slightly longer than the jacket sleeve. The jacket sleeve should end strictly at the wrist line. With a business suit cuff links look better than buttons. They look much more elegant. So for special occasions is preferable to a shirt with double cuffs. Finish your costume will attach the tie-pin. Better if it will be in harmony with cufflinks. And, of course, pay attention to the shoes. No sneakers – only dress shoes elegant.
Advice 4: What to wear with plaid shirt
Plaid shirt, which was originally a staple of the cowboys gained a lot of fans around the world. It is equally loved by both men and women. The secret of popularity lies in its convenience and versatility.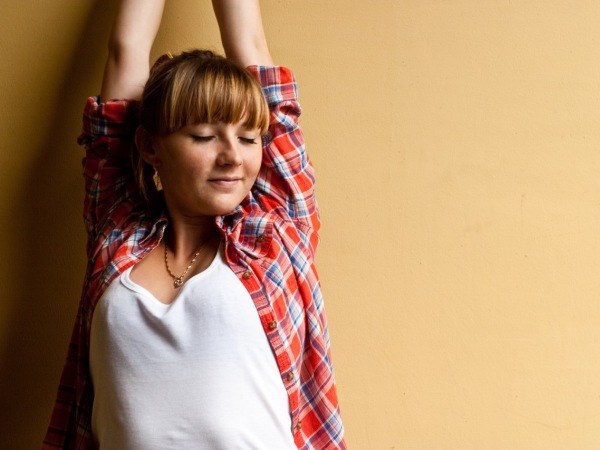 By choosing the right plaid print and style shirts, you can go to work in the office. Even in this shirt will be comfortable on a walk with friends or a movie or shopping.
Choose a shirt made of natural materials: flax, cotton, etc. Synthetics will make her look cheap, and the service life is short.
Properly chosen size the shirt should puff up and go in the chest area closed.
Shirt length must be sufficient so that she did not open the back when bending and not to come out, if it is to fill inside.
Women with curvaceous should buy this shirt in a large square, as smaller ones will add more volume. Slim women can select any.
What to wear with plaid shirt
Most often, a plaid shirt can be found in complete with jeans. It's a win-win option, provided that the jeans classic style without unnecessary decoration in the form of Ruche, rhinestone and sequins. Allowed contrast-stitch or embroidery on jeans.
If you want to hide problem areas in the waist, the shirt should be worn untucked. Owner of a slender figure can afford to tuck my shirt inside of the jeans and add a wide belt. Adding a set of chunky boots, you get the image of a country style.
Jeans can easily replace the skirt is made of dark thick fabric. This kit should be worn ankle boots or high boots.
A long shirt you can wear with leggings. The main condition – the shirt should cover the buttocks. Choosing a plaid print bright colors, will work great for trips with friends or parties outside the city.
The fitted shirt looks great combined with a skirt-Maxi. The color of the skirt should repeat colors in a plaid print. The shirt needs to be refilled, and the belt to emphasize the slim strap.
Beige check, as in the famous print of the brand Burberry is perfect for office set or for a hike in the institution. This shirt can be combined with classic light trousers and heels.
In cool weather, over the shirt, you can wear a cardigan, releasing the collar to the outside, or a leather jacket. Complete with jeans or shorts is acceptable to use the shirt as outerwear, wearing under her white t-shirt.
Buttoned up shirt visually adds volume to the upper body. When an "inverted triangle" it is better to open a couple of buttons on top.
Advice 5: How to pick up a shirt to jeans
Shirt combined with jeans is option for every day. There are certain rules, how to pick up a shirt to jeans. By following them you will look stylish and modern.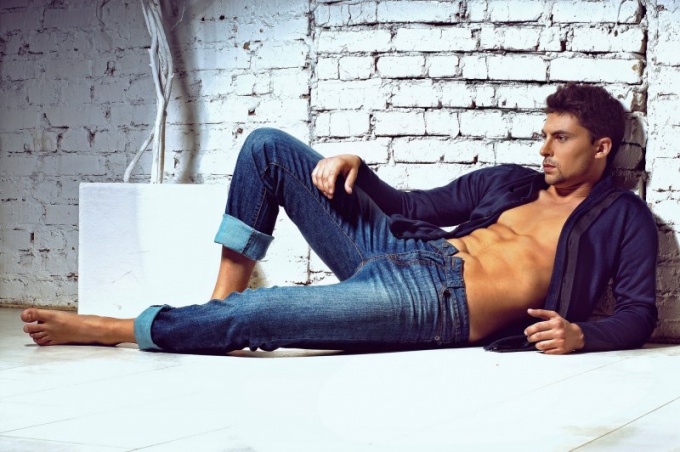 Advice for men
Well pick the color scheme
of the shirt
. Dark jeans are good in almost all colors. But with the light jeans look good white shirt. And if a business suit is matched only plain shirt, with jeans you can wear a shirt any prints and colors: stripe, polka dot and so on. As for styles, with jeans also look good different options: trousers, tucked in shirt, Polo-shirt and so on.
When selecting a shirt pay attention to its length. If you are going to tuck it inside the pants, choose a longer model with a straight hem. If your attention to attract shirt with rounded lower edges, it should be worn untucked. As a rule, shirt, trousers should be to the level of the pelvis. Too long lines may seem ridiculous to others.
Low boys and men it is best to tuck in your shirt in jeans: it makes the figure are proportional. While tall shirt untucked looks very sexy. If overweight you should not choose a shirt that fits very tightly. Better to buy a shirt of soft fabric, but she doesn't have to be lengthy. Also, remember that when a protruding stomach you'll look like a bell. So use a belt with jeans.
Recommendations for women
Women and girls should know that classic office shirts look much better with pants. Therefore, the selection of shirts to jeans you can show a maximum of fantasy. Shirt with colorful prints to wear trousers - it makes the image casual and natural. To skinny jeans pick a shirt in a checkered or flowered.
As men, dark jeans need to choose a dark shirt, and light jeans light. With wide jeans look good fitted shirt. In order not to violate the proportions of the figure, also note the length of the shirt. Full girls should give preference to shirts untucked. A common misconception that using a shirt and jeans it is impossible to create a festive look. Enough to choose jeans with a high waist, and for them to wear romantic shirts with ruffles or frill.
So, it is enough to know a few simple rules and you'll always be dressed beautifully and tastefully.
Advice 6: How to choose a shirt and tie under a suit
Women, in the wardrobe where many things falsely represented that the daily flour for the preparation of a suitable set of clothes is not peculiar to men, the choice of which is limited only
costume
ω, shirt and tie. Actually, the perfect to pick up these three elements casual business clothes is also difficult. But to alleviate the problem will help some basic rules.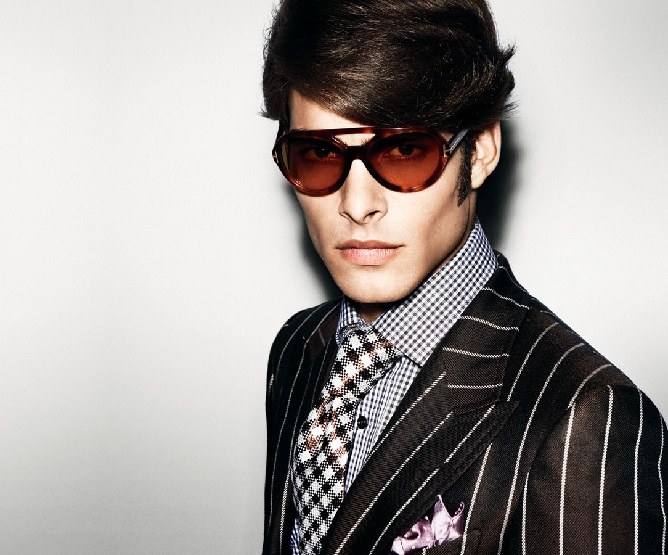 General rules for the combination of shirt, tie and suit

Usually in the wardrobe of business men should be three or four good suit. Definitely dense and dark and light fabrics, and light weight summer option. Daily to diversify your appearance you will succeed at the expense of 7-10 shirts and the same number of ties. As you can see, has already recruited more than a dozen variations.

The basic rule of proper selection of shirt and tie under a suit – all these elements of the wardrobe should match in color and pattern. The number of colors used in your outfit, it is better to limit to three, but the tones can be more, especially the tie. Shirt is best to choose so that it was lighter than the darkest threads in the material of the suit. Avoid solid fabrics without a pattern, it's too boring and plain dark shirt and dark tie – the funeral too.

Suit grey suit shirt and tie blue, purple, red, Burgundy colors. To the dark blue suit, pick up the rest of the elements in the blue, violet, gray, pinkish, red tones. Dark green suit would look good in combination with brown, beige, mustard, dark yellow and khaki. For brown suit fabric suit beige, sand, yellow-grey and grey tones.

How to choose a tie to the shirt

Since suiting fabric, usually plain or has a clearly distinct pattern, the main attention is drawn to the combination of a shirt and tie. The tie should be darker tones of the shirt and match or be darker than the color of the costume. In the summer the option is allowed to tie in tone was lighter than the shirt and suit.

Pattern shirt and tie should match and if it is, for example, a cell or strip, their size must be different. If the shirt and suit are plain, their colors must be present in the colors of the tie. When you choose a tie with polka dots or stripes, the color of the shirt should exactly repeat the color of the polka dots and stripes.

You will always look stylish and modern even in traditional business suit, if properly will create contrasting combinations between the fabric suit, shirt and tie. Through such contrasts, you can change your look and appearance and will look bright, even wearing the same suit in dark colors. Use the opportunities offered such a thing a man can wear as a tie.