Instruction
Find
a tie
that you really like. It is not easy – in most salons and Department stores don't sell butterflies. You have to find them, turning in boutiques of famous brands, beauty accessories and vintage shops. Sooner or later you will find the tie you want to wear.
There are butterflies that need to tie independently and with fixed node. Experts in style believe that if you have decided on such an unusual accessory, it is your responsibility to learn how to tie a tie myself. However, you can start with any models. Most importantly – how are you going to wear them.
To get started, try a simple, but effective combinations. Try a butterfly with a cotton shirt and a knit cardigan. Looks very elegant butterfly in the colors of shirts or different from it on a couple of shades. It is not necessary to choose a tie color cardigan or jacket – it will look deliberate and not negligent to remind the costume of a gentleman and a waiter.
Another win – win situation- cashmere turtleneck with a tweed jacket. They fit butterfly satin dark subdued tones. Printed fabric look much more interesting solid. Experiment with shades and textures, choosing original combinations.
Remember that a butterfly is always some outrageous claim for stylishness and uniqueness. Therefore, maintain the same style your entire wardrobe. Unusual color combinations and styles – small accessory is able to significantly expand the boundaries of fashion both for you and for others.
Selecting outerwear, prefer a long coat of good wool or a short-fur. No less interesting, the opposite option – short leather, denim or fur jackets. Your choice is accented by classic or Bohemian carelessness.
Useful advice
Learn how to tie a bow tie. If you doubt that you can do it yourself, ask for help from consultants of the shop where it was purchased. Will help you, and if need be, give a few useful lessons.
Advice 2: What to wear with bow tie
The bow tie is an interesting accessory that can add variety to any wardrobe. Black
tie
-tie looks formal and serious, and bright options — unusual and creative.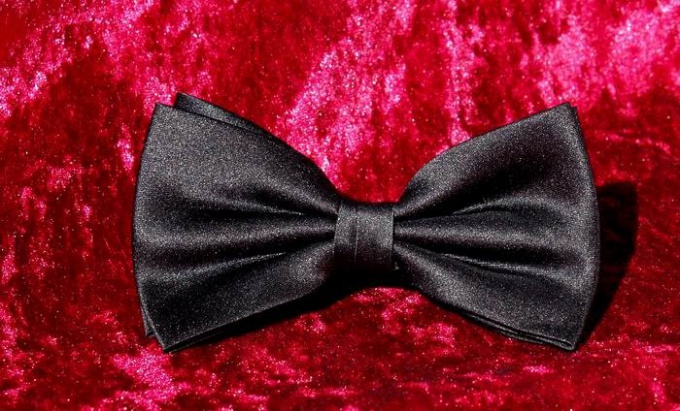 The colors of the tie


Traditional option is a black bow tie. This accessory will look best with a tuxedo. This combination is optimal for a variety of formal events. Now increasingly found in buying black bow ties with different patterns — stripes, checkered, polka dots. This tie is best used in less formal setting, combining it with other items of clothing.

Colored butterflies can be worn to less formal events. You can wear bright colored accessories to work, unless, of course, allows casual dress code. However, for an important meeting, it is better to wear regular ties, so as not to cause confusion among partners.

If your work is not connected with officialdom or office, you can afford very bright bow ties. But do not forget about proper color combinations, color illiterate unions can bring you unwanted attention.

Try to combine these ties with the usual jeans and a white shirt. Butterfly included with this outfit will make you stand out, will give the whole image of lightness.


A combination with clothes of different styles


Bow ties rich, dark colors look good with dark suit and light-colored shirt. Suits, plaid or striped fabrics require solid bow ties, if you wish, you can use products with a very small figure. Since the suit made of cloth with a pattern by itself is quite bold, choose ties in cool muted shades. Solid wool bow ties look good with shirts in the box, and Vice versa.

When choosing this accessory is very important not to overdo it. A plain suit can be decorated with bright butterfly with a noticeable pattern or a large pattern, colorful costume, it is desirable to balance the strict monochrome tie.

If you don't like suits, you can wear a bow tie with cardigans or blazers sports. Always ensure that the texture of things blend together.

Always pay attention to the material from which made the butterfly. Please note that ties made from linen, cotton, cashmere, or fine wool require very careful handling, quickly lose their shape and fade. Butterfly PU fabrics will last longer.

Buying a bow tie as a bright, stylish accessory, you can opt for a ready tied versions. In this case, choose a model with regulators of length and clasps.