You will need
For sour jelly:
- ½ Cup of milk;
- 4 egg yolks;
- 1 Cup of sugar;
- 250 g of sour cream;
vanillin;
- 2 tbsp of gelatin;
- strawberries.
For curd jelly:
- 400 g of cottage cheese;
- 450 g of cream (15%);
350 g icing sugar;
- 4 tsp. of gelatin;
vanillin;
- 2-3 tbsp of cocoa powder.
For fruit jelly:
600 g plums, pitted;
- 18 g gelatin;
- 150 g of sugar;
- 25 g ground ginger;
- 250 ml red wine;
- 650 ml double cream;
- 1 packet of jelly cake;
- 170 ml of orange juice.
Instruction
Graviola jelly

Soak the gelatine in half Cup milk and leave to swell for 1-2 hours. Mash the egg yolks with ½ Cup of sugar in white. Swollen gelatin put on very small fire for better dispersion, continuously stirring. When gelatin is completely dissolved, remove from the heat, cool and small portions pour in the egg yolks, while stirring well until all gelatin is poured and not a homogeneous mass. Cover, refrigerate. Whisk the sour cream with half Cup of sugar, put vanilla and in small portions, whisking continuously, enter gelatin, coupled with egg yolks. Place on a dish, cake, decorate it with a layer of strawberries, which apply graviola jelly. Then place the finished cake for several hours in the refrigerator.
Curd jelly

Wipe the curd through a sieve and mix with powdered sugar and sour cream. Dissolve gelatin in ¾ Cup of cold boiled water and leave for 30-40 minutes for swelling. Then dissolve it in a water bath. Then add the prepared gelatin in cottage cheese, mix thoroughly and divide the mixture into 2 equal parts. In one put vanilla, in another cocoa powder. Ready sponge cake alternately pour 2 tablespoons of different types of jelly: with the vanilla, then cocoa powder. Then place the cake in 5 hours in the refrigerator.
Fruit jelly

Plum (600 grams of the finished halves) add wine (about 200 ml), add the ground ginger, 100 grams of sugar and simmer all together on low heat for 10 minutes. Then wipe the resulting mass through a sieve before the formation of plum puree and cool. Soak in cold water the gelatin for an hour and a half. After this time squeeze the gelatin, dissolve over low heat and combine with mashed potatoes. Then put for 20 minutes in refrigerator, then add the cream and beat with a whisk. Cooked cakes put plum jelly and put the cake for 2 hours in the refrigerator. At this time, mix the jelly cake, orange juice, remaining wine and sugar. Stir well and cook, stirring, for 5 minutes. Then cool, apply the orange jelly on top of a frozen plum and put the cake in the fridge for another half hour.
Note
To dissolve gelatin in a water bath, place the bowl of gelatin in a water bath and heat it, stirring constantly, until dissolved. It is very important not to bring gelatin to a boil, otherwise it will not thicken.
Useful advice
If desired, plum fruit jelly can be replaced with peaches or apricots.
Advice 2: How to pour cake jelly
Cakes decorated with jelly, looks very dressy. This homemade treat is a pleasure to put on the table during the feast, or Packed in a beautiful box, to go with him to visit. The cake can be covered with a thick layer of jelly, within which will be berries and pieces of fruit, or the jelly layer is thin, add Shine to the fruits that lined the top of the cake.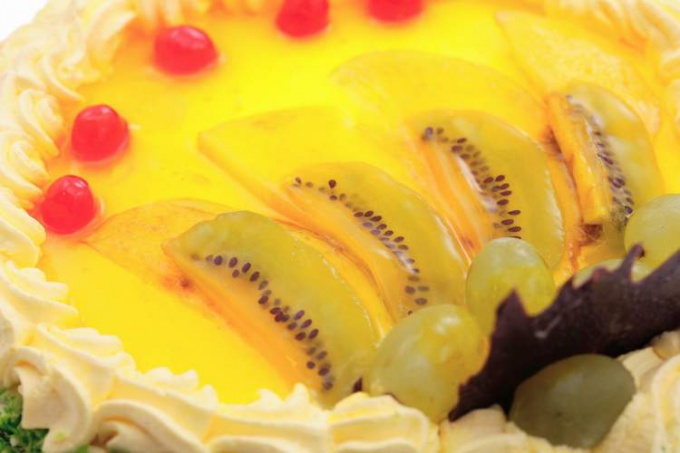 You will need
Selfmade jelly, with fruits.

gelatin (sachet of 20 g)
water (1 Cup)
granulated sugar (1/2 Cup)
berry or fruit juice (1 Cup)
pieces of fruits and berries
jam ( 4 tablespoons)
split form or parchment paper
Jelly sachet
bag fruit jelly (1 piece)
wine (100 ml)
granulated sugar (1/2 Cup)
split form or parchment paper
Jelly to fill the cake
a bag of jelly to fill the cake
juice or water (250 ml)
granulated sugar (2 tbsp.)
culinary brush
Instruction
Selfmade jelly, with fruit
Gelatin
powder soak in a glass of cold boiled water. Allow gelatin to swell for 30 minutes. In a saucepan pour berries or fruit juice, add the sugar. Boil. Cool slightly and pour the swollen gelatine. With constant stirring to fully dissolve the gelatin. Strain into a deep bowl. Add the liquid fruit pieces and berries. Cool to slightly viscous state.
Ready cake cover with a thin layer of jam or marmalade. The product must be in the form of detachable, the sides of which above the level of the cake. If you do not have this form, then wrap the cake tightly with parchment paper. Jelly should not drip off the edges. Chilled jelly with fruit, pour on a layer of jam and put the cake in the fridge.
Jelly from a bag.

Soak the jelly from the sachet, as described in the instructions. In a bowl mix the wine with sugar, pour the dissolved jelly and bring to a boil. Constantly stir to grains jelly is fully dissolved. Cool.
The top of the cake, which is in the form of detachable or wrapped with parchment paper, put nicely sliced fruit. Tablespoon, slowly pour the fruit in a thin layer and let the jelly cool down. It is best to just put the cake in the fridge for 10 minutes. Then remove and pour the remaining jelly. Put to freeze.
Jelly to fill the cake.

The dry mix from a bag mix with sugar, cover with water or juice, put on fire. Boil for one minute. Cake decorated with fruit or berries, well cool in the fridge. This jelly dries fast, so put on the cake it must be hot.
Options applied to the cake may be two. Or you just pour all the jelly on the cake. Spread it evenly over the surface, starting from the middle to the edges. Or take a cooking brush. Dip it in jello and paint fruit or berry layer to your decoration top was brilliant and fresh.
Useful advice
If you use a thin layer of jelly try to keep the jelly color matches the color of the fruit decorating. Red berries and fruits fill with red jelly and yellow. If you use multi-colored top, then fill the transparent jelly.
Advice 3: How to make jelly from sour cream
On the basis of sour cream to make a delicious and low-calorie desserts: cremes, mousses, and, of course, jelly. It can be cooked or prepared in great shape - it resembles a cake and served to the end of the festive lunch. Jelly is to add dried or fresh fruit, berry juices, nuts, and even cookie crumbs. All these ingredients will make the dish even more tasty and interesting.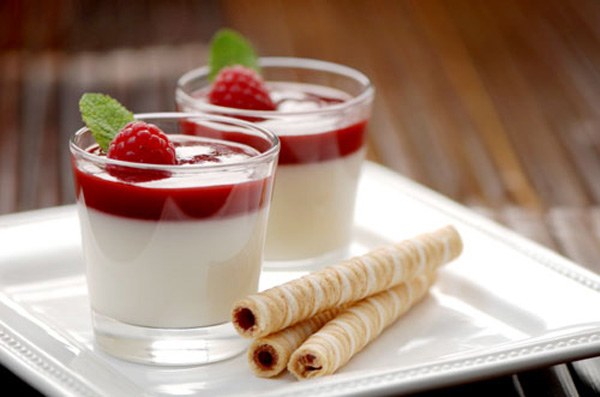 Jelly and cream with prunes


Dessert can be made from sour cream any fat. Prunes should soak, and then drain the water. Instead of plums you can use dried apricots, raisins, dried figs or cherries. Tasty and jelly assorted fruit.

150 g prunes cut into small pieces. 20 g of food gelatin soak in a few spoons of cold water, and then, while stirring, dissolved in the fire. Cool slightly dissolved gelatin. 500 g of sour cream with whisk 2 tablespoons sugar and 1 teaspoon of vanilla sugar. It is best to use a mixer - the mixture to become fluffy and airy.

Pour in the cream gelatin, add chopped prunes and mix well. Put the mixture into the mold and place it in the cold. To remove the jelly, dip the form in hot water and invert on a platter. Serve with sponge biscuits.


Chocolate jelly


Delicate Jell-o chocolate flavor is especially good for children. For more spice you can add grated nuts and also pieces of natural chocolate, white or dark.

4 tablespoons powdered gelatin soak in 4 tbsp. spoons of cold boiled water for 5 minutes. Put the mixture on fire and heat until dissolved. 600 ml sour cream mix with 2 tablespoons of cocoa powder and 3 tablespoons of powdered sugar. Whisk all with a mixer until smooth. Optional to the mixture, you can add chocolate chips or nuts.

Pour in the sour cream mass is slightly cooled gelatin and whisk again. Pour the mixture into silicone molds and place in fridge. When the jelly hardens completely, invert it onto a plate and serve.


Graviola jelly with raspberry puree


Sour cream goes well with sweet berries such as raspberries. This dessert is better to prepare in wide glasses or transparent cups, in which the layers of Goodies are clearly visible. The specified number of products is enough for 3 servings.

2 tbsp. gelatin pour a couple of spoons of water. Put the mixture on the stove and, stirring, dissolve the gelatin. Let it cool down. 200 g fresh raspberries RUB through a sieve, several large beautiful berries for garnishing.

300 ml low-fat sour cream whisk with 2 tablespoons of sugar and a pinch of vanilla. Pour the gelatin and mix again. Lay the weight of the glasses or kremanki and place in the fridge to solidify. After 3 hours, place on top of jelly raspberry puree and put dessert in the cold. Serve and garnish each portion with berries raspberries and fresh mint leaves.