Instruction
First dissolve gelatin in cold water, and then a little warm. In principle, to dissolve the gelatin indicated on the package. And be sure to pay attention to the shelf life of gelatin, because expired products can spoil your culinary work.
To dissolve food gelatin for cooking chicken jelly, take 1 tablespoon of gelatin, pour in a deep bowl and pour 1 Cup of cold chicken broth. Leave for 30-40 minutes for swelling. Then pour in the gelatin 2.5 cups of broth and put on fire. Constantly stir so gelatin granules are completely dissolved. To the boil do not bring it.
To dissolve the gelatin to make jelly soak 15 grams of gelatin in half a Cup of cold water and leave for 1 hour. Then add to it 1.5 cups of any juice, it must be heated to 60 degrees. Put on a slow fire and stirring constantly, heat for 15-20 minutes. Pour into jelly moulds and refrigerate for 4 hours.

Fruit jelly is one of the favorite delicacies of children. Gelatin can increase blood clotting, but is contraindicated in cardiovascular diseases. In addition, it can cause allergic reactions, therefore, to introduce it in a child's diet should be very careful.
To dissolve food gelatin for the preparation of cream for the cake soak 15 grams of gelatin in 1 Cup of cream and leave to swell for 2 hours. Then heat the mass in a water bath, stirring constantly for 10-15 minutes until complete dissolution of grains of gelatin. Allow it to cool. Separately, whip 2 cups of cream into a rich lather. Add 3 tablespoons of powdered sugar, a little vanilla and cooled gelatin. Again whisk thoroughly. Gelatin cream ready.
Note
Before food to dissolve gelatin, please note that it was not instant, as for such a gelatin soaking time will be considerably less.
Advice 2 : How to dissolve gelatin
Gelatin is widely used in cooking and for making different kinds of jellies, blancmange, aspic dishes. It is sometimes added to the jelly, if there is no certainty that it will harden. It is made from natural protein substances that are of animal origin, is an extract from sticky substances, which are formed during cooking of meat, especially bone. Store the gelatin you can buy in the form of coarse powder or small transparent plates. How to dissolve the gelatin, we will tell you.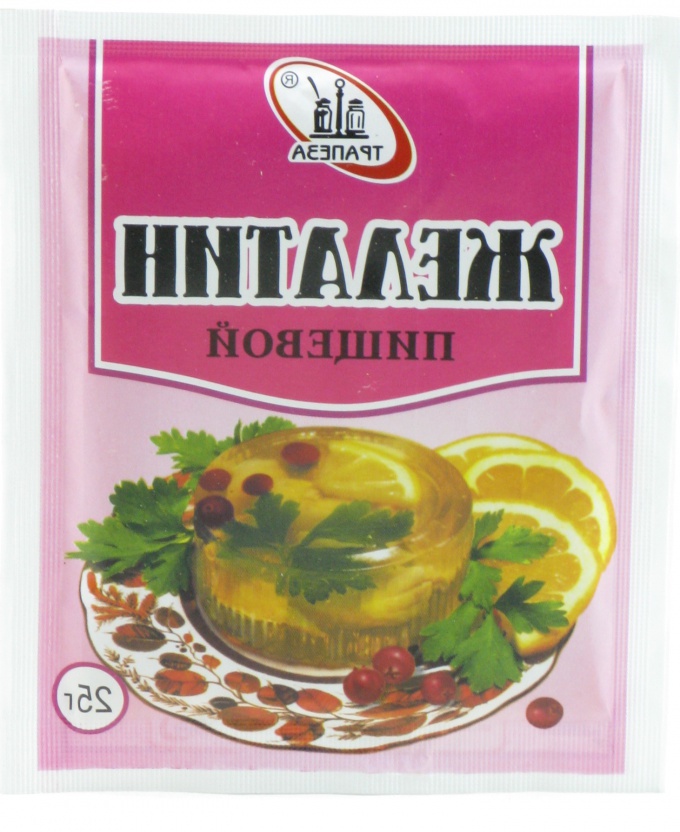 You will need
Gelatin powder or plates
The water is boiled.
Instruction
If gelatin powder, put it in a bowl, pour in 4-5 tablespoons of boiling water or the fluid which should be in the recipe – milk, fruit juice, etc. Mix gelatin with liquid and let stand, its granules have to swell and increase in size. If the gelatin in plates, then it must also soak in water for 5-7 minutes, then drain the water and lightly wrung out of a plate of gelatin, put in bowl.
It is best to cook the gelatine in a water bath. To do this, boil in a pot of water and cover it with a bowl of gelatin. Stirring constantly, slowly heat it. Temperature gelatinous weight should not exceed 80oC. The more you stir the gelatin when cooked, the better it then will harden.
When gelatin is almost all melted, remove the bowl and strain the liquid gelatin through a fine sieve, and undissolved granules and films should stay on it.
Now you can add gelatin to hot liquid, which should be in accordance with
recipe
– fish or beef broth, juice, or fruit juice. Mix well, pour into forms, cool to room temperature and refrigerate.
Useful advice
If Tagliavini content should be laid out on a plate, then put the form for 3-5 seconds in hot water. When the wall warms up, the contents can be spread without any problems.
Advice 3 : How to dilute gelatin
Gelatin – a transparent, viscous mass, which is a by-product of processing the connective tissues of animals. Gelatin acts as a thickening agent, gelling agent, nutrients, clarifier, adjustable and foam stabilizer. Used in the preparation of aspic dishes, jellies, cakes, yogurts, and other recipes. Gelatin contains 18 amino acids, including glycine, Proline, glutaminovuyu and aspartic acid. The product is useful for recovery of joints after trauma, fractures, sports nutrition, improves metabolism, strengthens the heart muscle.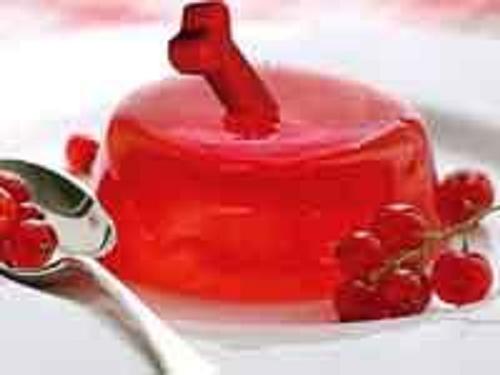 Instruction
Preparation of gelatin and its cultivation depends on the desired result and a choice of dishes to which it is applied. Usually for cooking cakes the gelatin is diluted in cream, to obtain a jelly in the fruit juice or syrup for
the jelly
, the main component is chicken or beef broth. To dissolve dry gelatin mix a tablespoon to a glass of cold boiled water, juice or broth and leave for 40 – 60 minutes for the swelling. The resulting mixture warm over low heat, stirring constantly, until 60 – 80 degrees. Then strain through cheesecloth to eliminate the smallest lumps. Add the remaining ground or that a main component and cool in the refrigerator. The quantitative ratio of gelatin to liquid depends on the desired result. To obtain a "trembling jelly" keep proportion: 20 gr. of gelatin in 1 liter of liquid. If you want to make jelly that can be cut with a knife, use a ratio of 40 – 60 Gy. for 1 liter.
In addition to granulated, there is gelatin in the form of thin, transparent plates. When cooking the required number of plates alternately soak in cold water. Then wring them out and heat on a water bath until dissolved.To determine the correct amount of liquid note that after swelling the mass of gelatin is increased 6 times. One record corresponds to 2 grams. dry gelatin, and from six to approximately one tablespoon.
Note
Do not boil and do not boil the gelatin. Do not add salt, it can prevent the gel formation.
Useful advice
To shift the hardened gelatin on the plate, the capacity in which he is for a while put in hot water. When the sides of the cookware will warm up, turn it over. Remember that 1 tsp. of dry gelatin is equal to 6 gr., 1 tablespoon – 15 gr. a faceted glass – 200 gr. powdered gelatin.