Polymer with special effects
Focusing on the growing demand, manufacturers produce increasingly diverse varieties of polymer clay. There is clay with pearl effect to create beads and decor-plastic, which after baking is a little different from iron or silver, and fully transparent weight to simulate glass.
Termoklina - another name for this material, now occupies a leading position on the market handmade jewelry. Stunning realistic flowers you can
to make
from polymer clay and use them to create jewelry. Hair clips, headbands, necklaces and earrings, fashioned out of termocline, very light and durable.
The use of polymer clay in crafts
In addition to jewelry from polymer clay you can make magnets, key rings, figurines, and even dolls. The principle of operation is very similar to modeling clay, clay you need to knead in hands to make it pliable. The difference is, that the clay always remains soft, and the clay after the heat treatment becomes as solid as stone, and acquires a glossy sheen.
Thermoplastic is very convenient to lay the foundations for decoupage, no longer need to depend on producers of blanks, blind a heart for a pendant or picture frame you can with your hands. After baking, the plastic surface will be perfectly smooth, as required for decopierre.
Can be used for polymer clay and scrapbooking: the original album covers, and volume elements for compositions and unique stamps will bring a variety of this type of craft.
Fine polymer clay and to decorate dishes, vases, boxes. But in any case can not use cookware made of polymer clay for cooking or serving food. Thermoplastic quite toxic and it can be dangerous to your health.
A valuable assistant for designers and artists
Skills of working with polymer clay will be useful to those who sew, knit or play clothes. Original accessories, buckles, buttons whatever shape and color adorn and complement the design of things. In addition the buttons can be painted with acrylic paints and varnish, the picture will not fade and will not be erased, clothes can be washed not uparima decor.
Doll from polymer clay as beautiful as porcelain, but much stronger. Translucent termoklina very authentically simulates the human skin, this plastic is convenient to tint and paint. To remove any excess gloss, the pupae are coated with a special matte varnish.
A ring with a huge stone may weigh only a few grams, but no one would guess that in fact the stone is not real. Every thing is made of polymer clay, unique and inimitable, resourceful craftsmen are increasingly replacing plastic with natural materials.
Advice 2: How to make jewelry from polymer clay?
Polymer clay - a very convenient material for the manufacture of jewelry with his own hands. This plastic mass is well to molding. It is originally different colors, and is easily stained in the finished product. Depending on the type of material of the workpiece is baked in the oven or harden in the air.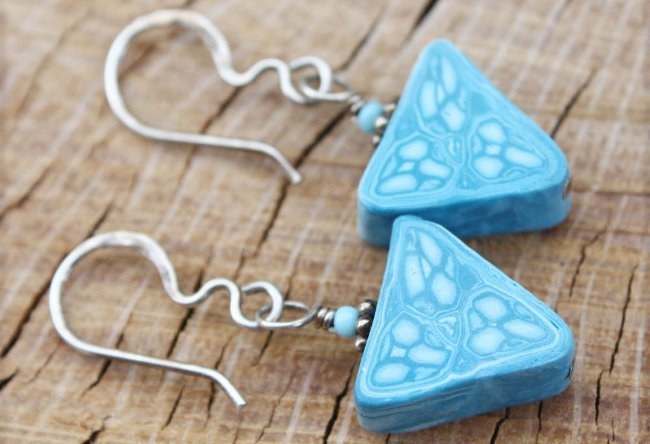 Beads from polymer clay with your hands
For this decoration you need to make beads, which in appearance resemble colored stones. Collect a few pieces of baked polymer clay that will be combined in one busine. Two of them mash in your hands so the clay became more malleable.
On glass or on a plain white sheet, flatten with a rolling pin mashed the two pieces, turning them into roughly equal-size rectangles. Put two layers on top of each other. With a sharp knife cut from the remaining pieces of colored chips and place it evenly on top of the layers.
Roll with a rolling pin, the resulting layers. Take your hands from the reservoir small and uneven pieces and make them balls. Then roll each into a smooth bead. If desired, a bead can't roll, and leave roughly decorated pieces of plastic.
Bake the obtained beads in the oven. Temperature set according to the instructions on the label of the polymer clay. The holes in the beads can be done before baking with an awl, and can already be prepared to drill a little drill.
Collect the resulting colored beads in a single product. String them one at a time on waxed cord of an appropriate color and tie knots on two sides of the beads so that they were fixed in one place. Connect the cord ends in a beautiful knot. Beads are ready.
Beads can be strung on thin grosgrain ribbon.
Earrings from polymer clay
Original earrings, reminiscent of bunches of Rowan, you can make out of polymer clay. Mash in the hands of a piece of clay is orange in color and roll out of it about forty small balls. The tip of a knife cut along the centre of each ball so that it looks like Rowan berries.
On the other side of the ball insert stud fitting. His hat should be shipped in clay in a sharp tip stuck out. Toothpick zarovnaya the clay around the cap. Do this with every orange ball.
Mash a piece of green clay and roll it into a thin layer. Molds or knife pattern cut out a few leaves. Take a knife or sharp end of a toothpick streaks on the leaves and pierce the holes for the rings.
For making leaves can be used special silicone molds for making flowers, which are sold in art supply stores.
A piece of red pastels mash on a sheet of paper. A soft brush toniruja the leaves edges and veins, as well as all the berries on one side. Bake the received workpiece in the oven if specified in the regulations temperature.
Taking baked items for earrings, stick to the berries out of clay sharp edge fittings in a piece of foam or crumpled foil. Drip liquid brown acrylic paint in the notches on each berry and let dry.
Bite pliers clove so that the remaining tail was about 1 cm Bend it with pliers into a loop. Connect swantham chain length of 5-7 cm, Divide the berries in half and secure them to the chains. Clamp the pliers to the loops. Attach metal rings to the leaves and secure them on top of each cluster.
Advice 3: How to make beads from polymer clay
Making jewelry from polymer clay can not only inspire you but also be a very rewarding hobby. Original necklaces, earrings, bracelets enrich the wardrobe and will be a nice gift for the holidays for your friends. The material for the craft is divided into two big types – it is bake plastic and solidifying in the air. If you want to make beads with simplified technology, work with self-hardening plastic.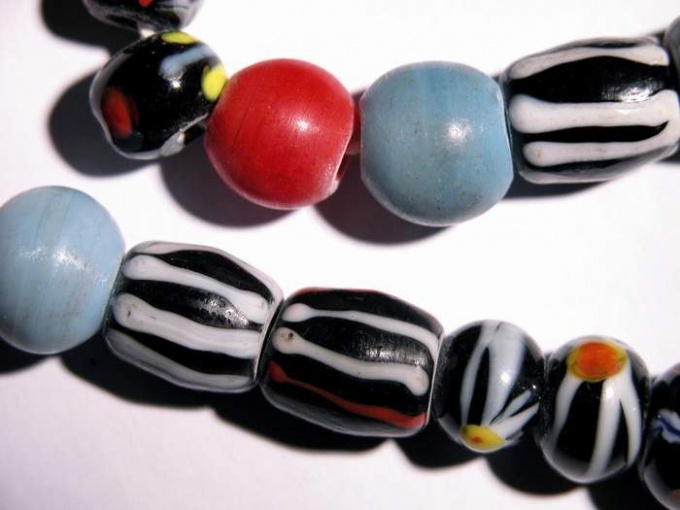 You will need
polymer clay;
- a rolling pin;
- rubber gloves;
Board for rolling out plastics;
- toothpicks;
- scalpel or razor blade;
- ribbon or lace.
Instruction
The first stage - the production of cylinder interesting colors of the plastic. It can be rolled several ways. Try different and find the one that is best for you.
The first method. Cut the plastic different colors of the same large cubes. Connect them together into one layer and remember little hands, polymer clay warmed up, otherwise it while rolling will crack. Put the plastic on a flat, preferably glass surface. Can be used for rolling silicone Mat. Take a smooth rolling pin or glass bottle. Several times press the clay. Fold it and walk again with a rolling pin. You should now have a thin polymeric layer with a smooth transition from one color to another. Take a white polymer clay and roll it into a thin layer. Put this layer on rainbow and turn dense roll. Wear rubber gloves and roll it with your hands to compact. Between the layers should not be air. Blank beads ready.
The second method. Put on your gloves and gather in the hands of polymer clay several long plaits of different colors. Put them together and rumple, twist, fold as you would think. Then you can just make a billet cylinder and can roll out into a thin layer and rolled into a roll. But the roll will need to be sealed.
Make the basis for round beads. Take a piece of plastic, tsepinite and roll his balls of desired size. It is possible to cut polymer clay into small pieces, and from them to form a round base.
Cut with a razor or scalpel from the prepared any way you colored sausage thin plates. To stick them on the base. One ball may take one or two laps. Shape flat smooth beads.
Make the bead hole with a toothpick or knitting needle. If the plastic is very soft, crushed when the piercing, then leave the beads to fully harden. Then drill the holes with a drill.
Allow the beads to harden in the air. Then thread the holes in the ribbon or lace. Your beads are ready.