You will need
- a blank sheet of paper;
- pens, paints or pencils;
- carbon paper or tracing paper.
Instruction
Plan with your child what a fire and he will be able to draw. This can be a natural element of fire in woods, fire in the house or in a public building. Select a size of sheet on which will do the job. If the picture is not for presentation or contest, take a simple landscape sheet. The picture is intended for participation in the competition must be made on a sheet of drawing paper.
Choose what you will draw. The markers are bright, but leave traces on the reverse side of the sheet. Paint type gouache to give you rich colors and mixing them to obtain new shades with the palette. Watercolor paints will not give the rigidity that is needed for this pattern.

Pencils do not leave any traces, they do not need to dry, but they are quite dim for the image of such a picture. Think about the color of different parts of the picture. It is impossible to reconcile the details colored pencils, for example, markers. If you have chosen paint the whole picture you need to paint only them.
Selecting tools for the job, proceed to the selection of the plot. Whether your drawing depicts any characters, you can only draw the scene of the fire. Pay attention to the details, whether the perpetrators of the fire (matches, a fire, not extinguished stub) to be present on the image, or flame will destroy all the evidence. Consider technique image of the fire. Will this feeble the fire that just caught fire, or will it be the raging flames. When you think of the picture itself, can bring their ideas to life.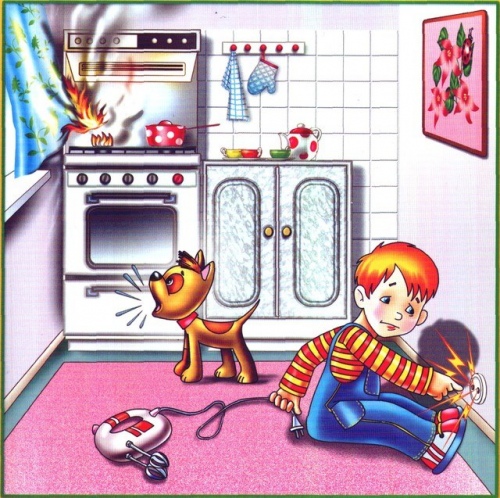 Mark the contour of objects with a pencil. Look at the pictures of the raging flames - choose the perfect shades of color on the palette. The element of fire leaves behind a gray-black ashes and burns out all other colors. To Express his picture of the horror of the fire, you can only use the colors of fire and ashes.

Help your child to cope with this task, so it was interesting, you can use cartoon characters as the characters in the picture. Show how colourful this world can be destroyed only one match.