I hasten to upset you, you will not be able to find a bag that would suit all your outfits and would be appropriate in any situation. The exception is valid only if all your images are stylistically identical. But to do a few successful models is possible.

Do not rush to pick up their favorite the color of the shoes. It is no longer fashionable. It is better to see how the bag blends with the overall ensemble. You can pick up a bag in the color of the nails or other accessories. As long as it does not distract from the entire image.


Business bag


If you work, you can not do without a business bag. Choose a concise model without an abundance of unnecessary details the basic colors. Bag black, white, grey, red color will perfectly fit with your business wardrobe. It is better if you will have two business bags – one for hot and one for cold time of the year. But first, it is possible to do the same. Note that in the business bag should easily fit A4 size. This will facilitate the wearing of ID with you. Make sure about the presence in the bags of several departments of different sizes. You'll be able to conveniently place and quickly find your things.


Casual bag


Make sure to buy a versatile everyday bag. If you want to come to all, do not select bags with studs, bright prints, sequins and bright colors too. Is perfect for this role bag beige or black. It can be less than your business bag, but it's better that it was roomy enough. Then it will fit wallet, glasses, purse, umbrella and other important stuff. Don't try to save money, buy quality leather handbags of famous brands, and your favorite will serve you for years to come.


Clutch


For formal or festive events, you can not do without a beautiful handbag – clutch. Enough, if it will only fit the need at hand things like your phone, lipstick, mirror, pocket napkins. Here you can go beyond the basic colors and textures, and choose something extravagant. But still carefully review their evening dresses before purchasing that your purse came to everything.


Bag on a chain


Sometimes, you just need to keep their hands free. In this case, you can use a small bag on a chain or long strap. In recent times, these bags are very popular. Fashionista and combine them with formal and sports outfits. With this handbag convenient to walk to the store, on dates, on a walk in the Park. Because it fits everything you need and nothing constrains movements.

Fashion guru Evelina khromtchenko once said: "When the woman picked up a new bag, she changed life." Treat yourself to buy an expensive-looking bags, and positive changes in your life you'll find.
Advice 2: What kind of shoes suitable to the yellow dress
Yellow dress – the choice for bold girls. Combined with brown ankle boots closed and direct mustard dress perfect for the office, and a narrow lime a mini dress paired with blue heels adorn you at the party.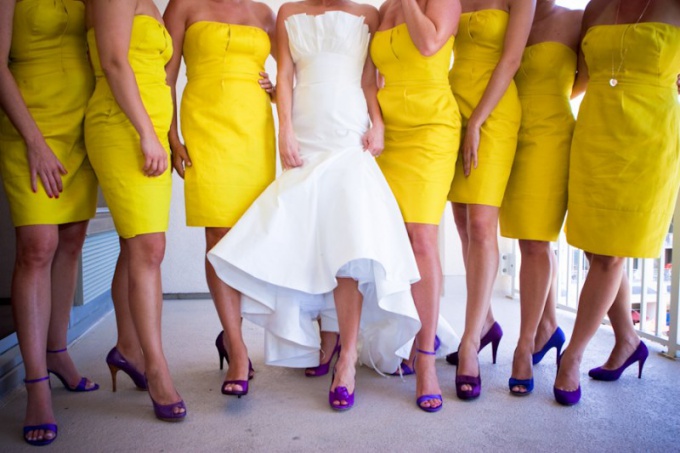 Casual look
For casual look it is better to choose eye-pleasing color combinations. Yellow and most shades are vivid and even "screaming", so the shoes and the accessories must not only to complement and highlight how much "calm". So, different shades of brown, beige and gray will make a bright dress in appropriate business attire.
Suppose you have a straight or a fitted mustard dress made of thick fabric (e.g., a mixture of cotton and linen). If such dresses short sleeves, it is a perfect casual option to wear to work in warm seasons. You can wear it with basic pumps dark grey or chocolate color, closed ankle boots on a stable heel, and beige loafers or oxfords. Complement the strict image can be a thin strap on the waist in a color bag or shoes, silk neck scarf, mens watches with leather bracelet and a small summer bag.
Try to buy minimal dresses simple cut, as they allow you to create a large number of combinations with shoes and accessories.
Lovers of free style you can wear cotton lemon dress shirt with bright ballet flats, sandals on the platform, Scandinavian clog or white sneakers. Well suited to such a fresh outfit or a roomy canvas duffel bag.
Festive look
Choosing formal yellow dress, try to consider your natural coloring. So, various warm shades of yellow and orange to face blue-eyed and blue-eyed blondes with peach skin. Brown-eyed brunette and blond with cool skin only a few shades of yellow, such as pale lemon or Canary bright.
Than brighter than your appearance, the brighter must be the colors we choose clothes.
Yellow silk cocktail dress knee length and narrow straps best to combine with shoes blue, blue or purple. These colors are opposite to yellow and, consequently, increase its natural brightness. Choosing a long evening dress, such as chiffon daffodil prom dress with sleeves "bat" and a belt under the chest, combine it with beige sandals with a hidden platform. These sandals are versatile and can be combined with clothes of any color. To enhance the beauty of yellow Maxi dresses can embellishment fuchsia: pendants, necklaces, large earrings or bracelets. Small bag contrast blue color will also be a good addition to this image.
Advice 3: How to choose women's belts
The opinion that want a belt to the pants will not fall, it seems irrelevant. The choice of straps relate to people as well as other necessary accessories such as bag, hat, umbrella. This is an important part of creating a fashion image. How to choose a belt which conceals flaws and emphasizes individuality, while remaining stylish and comfortable?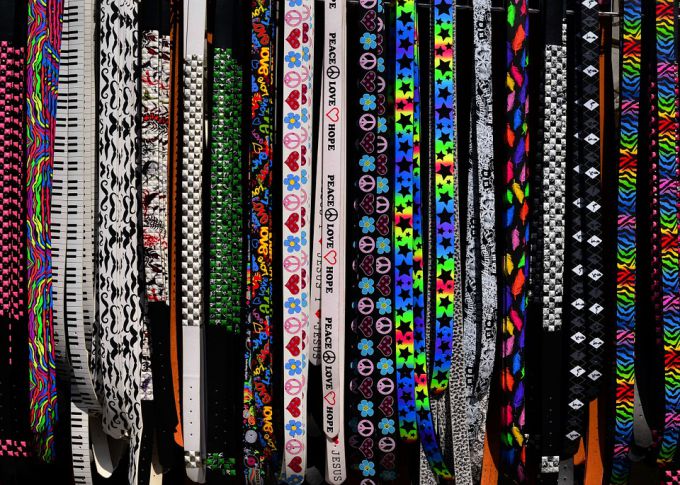 Basic rules
The first rule that you know people, even far from the world of fashion, is: "the color of the belt should be in one color with shoes, bag or even gloves.
Second, universal belt for all occasions do not happen. No matter how desirable, it is impossible to put one strap under the coat and blouse.
And third, it is recommended to take in the clothes store under which the chosen belt. Thus, it is possible to determine what is needed.
If the female figure is not as on the covers of fashion magazines, it may seem that wearing this accessory is not preferable. Actually it is not so. The observance of certain rules, will help to choose the right belt to accentuate the beauty.
1) Those who have a small tummy, you need to wear belts on the hips, this will help hide the flaws. If it is not called little, it is better to be broad with a beautiful buckle that will distract the attention of men.
2) the Owners of the lush Breasts perfect not heavy, massive, which creates the impression of a woman of Viking times, thin and elegant.
3) Those who have wide hips, the better the belt will not tighten, and wear free. At low growth it is desirable to visually pull the figure for this ideal thin strap at the waist.
What material to choose the belt? Out of the skin. The skin quality will determine its longevity. If you pull the belt at the ends, it needs a bit of stretch. Better if the skin is sewn than glued.
Leather with decorations. Massive buckle, pattern of rhinestones, embroidery or any other decoration must be mild, otherwise there is a risk to ruin more than one shirt. These belts often wear so that everyone around was well marked.
Thin. Thin strap solid and neutral colors - looks good over t-shirts, as well as in combination with the pullover. If you are unsure of which belt to wear under jeans or a light dress, slim - the perfect solution.
Wide. It is also desirable that he was a solid colour.