Instruction
There are a number of perennials that are ornamental all summer. Plant daisies. Then you will be able to admire the red, white, pink colored flowers for even longer – since the beginning of may until September.
In mid-June highlight in the garden place. Make furrows at a distance of 20 cm from each other and pour them and sow the seeds. Cover them with a layer of sand with a height of 3 mm. In late July, transplant the daisies to a permanent place, after a distance of 20x20 cm In may next year they bloom forming a colorful carpet. Daisy low plants, so look good along paths, Alpine slides. They effectively bordered by flowerbeds.
Rose certainly is the Queen of the garden. Put several types. Along the tracks look amazing roses floribunda. They are short, but give a variety of colors. In the middle of the pitch put a standard rose. It's a whole tree with luxuriant foliage. About arches, fences, plant climbing supports. Chinogerni, Park varieties will be great big buds. All these types of roses bloom all summer. 2 weeks climbing varieties can take time out to gain strength and to produce new buds.
With a small break blooms all summer and clematis. You can plant several types. Some will gain strength soon to bloom even more magnificent. And others will delight the eye.
Phlox also not disappoint lovers of natural beauty. Find, and place them on the site. Over time the plant will turn into a fluffy Bush, so plant the Phlox at a sufficient distance from each other. There are not only high, but border Phlox. These do not take up much space. These
perennial
plants are ornamental all summer.
Gypsophila paniculata blooms from July to August. It is often used in bouquets. Feel like a florists put in a bouquet of garden roses, a sprig of baby's breath.
Manarda dvojcata blooms almost all summer. Its purple, red, white colors whimsical-needle shape impossible not to admire.
You can admire the bright blue flowers, if you plant mountain cornflower. The flowers are collected in baskets, with a diameter of 5-7 cm. These plants show their beauty from late may to August, flowering continuously during this time.
Astilbe flowers metelkovidnymi inflorescences. The choice of colors is great: white, pink, red, purple.
The host looks amazing in the centre of the lawn. Its leaves are decorative all season. It blooms almost all summer. In June strength enough in July-August to show their funnel-shaped flowers are white, lilac color.
Advice 2: What flowers bloom all summer
Breaking at the cottage flower garden and picking him some flowers every gardener wants to enjoy the created beauty of the landscape as long as possible. To achieve this perfect perennial plant, blooming all summer.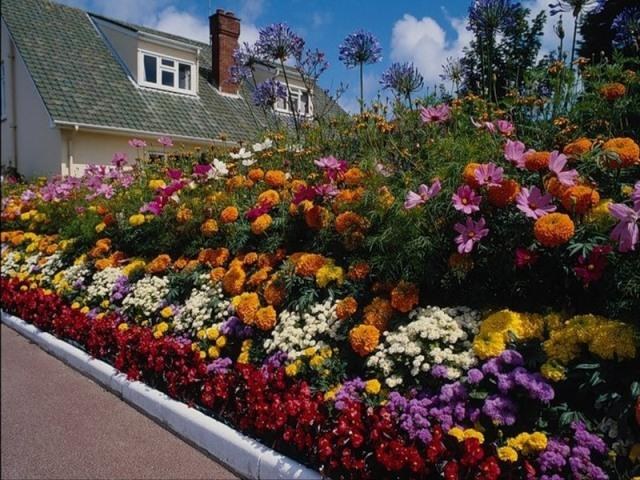 Low maintenance perennials


Plants of this group are well suited to inexperienced gardeners or people who can't give care bed for a long time. These plants are unpretentious and comfortable feel even with a minimum of attention.



Astrantsiya big


A very beautiful perennial to 70 cm in height. In order for the plant bloomed all summer long, you need to promptly remove faded flowers. Astrantsiya different variety of color – sometimes pink, white, cream and green, and sort of "Diva" combines several colors. Flowering of this variety can sometimes be resumed in the early fall and continue until October. This plant prefers partial shade soft or moderately Sunny places. Unpretentious astrantsiya big grows on all soil types and does not require frequent replanting.



Gypsophila paniculata


This very attractive air Bush belongs to the order of perennial and grows up to 60 cm Flowering small flowers, gathered in Metalock, begins in June and lasts until the end of the summer. The gardeners particularly love are low-growing perennials with double flowers – Rosenschleier and Rosy Veil. Despite the small buds, gypsophila paniculata is very popular and is extensively used in making various flowers and making bouquets.



Sage Asherah


A family of sages with good care will delight gardeners all summer to its wonderful flowering. These tall plants with lavender-blue flowers, gathered in a beautiful candle-inflorescences prefer partial shade areas with fertile soil of moderate moisture. Wonderful showed himself the sage of Blue Hill varieties, whose blossoms are large and strong.



Flax macranthon


Absolutely adorable and picky plant height up to 60 cm and a long flowering period from June to September. Varieties of flax "Blush", "Starfall", "Mars" and "Aurora" are different different colors of the inflorescences. These flowers are light pink, bright red, apricot and a dark shade of red look absolutely touching in group compositions, mixed borders and curbs.



Cuff soft


This perennial plant forms a cute spherical shrub up to 40 cm cuff Usually blooms the whole summer with small buds green-yellow color, which is especially good after a rain, when silver large pearl drops. And professionals, and hobbyists prefer growing class Robustica that looks like a wild plant. This type of cuff looks great with fancy borders.