You will need
At present demand is time-tested ornamental crops such as hosts, astilby, plant and geherally, buzilniki, klopogona, posconnika, Sedum, geranium, Phlox paniculata.
Instruction
Hosts are unpretentious, winter hardy perennials. They varied in height, color of leaves and flowers. Elegant throughout the summer season. Good compositions, in borders and on lawns near the water.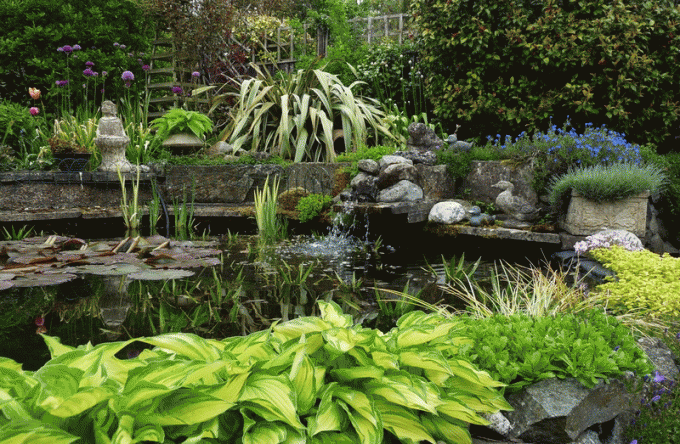 Geyhery long been loved by gardeners for beautiful and carved leaves, compact shrub flowering aerial and delicate raised flowers. The plant does not like hot Sunny places. Gaharu is best planted in partial shade, with plenty of light. To the soil it is not demanding, except for the damp and acidic. In dry weather requires irrigation. Without a transplant can grow up to 5 years in one place, for the winter should be mulched aging instances (over 3 years).
Modern varieties Geiger - these foliage are handsome, I bet for the right of superiority with the inimitable hosts. The color of leaves geyher has a palette from pale lemon yellow to almost black, from white and silver to a Golden caramel color. Some even include a few shades.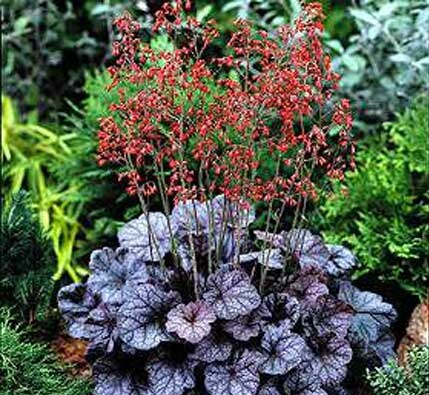 Geherally, plants obtained by crossing Geiger. They are more hydrophilic than the plant. But grow in full sun or shade.
Geherally usually have lobed leaves with a pattern, compact shape and bloom profusely. To grow them from seed is easy.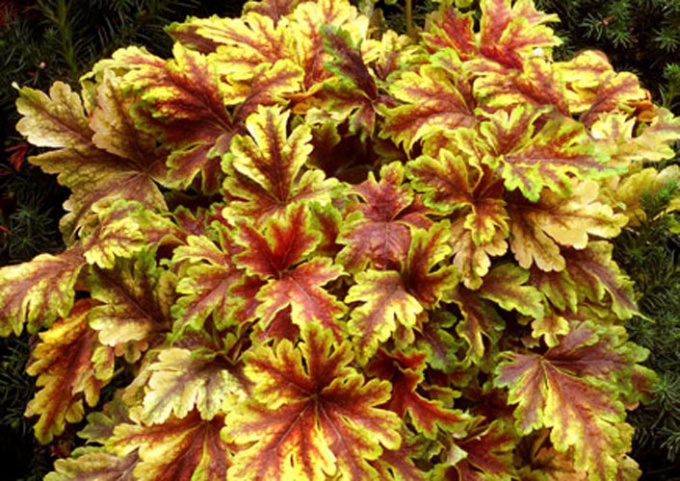 Astilbe will grace any garden. They will fit into any composition. Unpretentious, durable, resistant. Beautiful leaves decorate the plant all season. During flowering the plant is just amazing. Likes moist soil is damp, do not tolerate sun. Needs watering only during prolonged dry weather.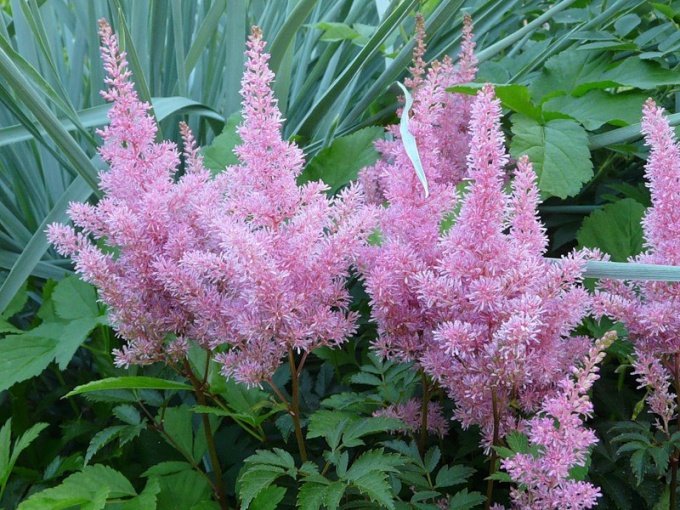 Buzilniki is a reliable perennials, like any moist, even clay soil. Will bloom in semi-shaded areas, frost resistant, have beautiful leaves and tall elegant buds. Without a transplant, growing up to 10 years. Look great ponds. Propagated by seeds and dividing the Bush.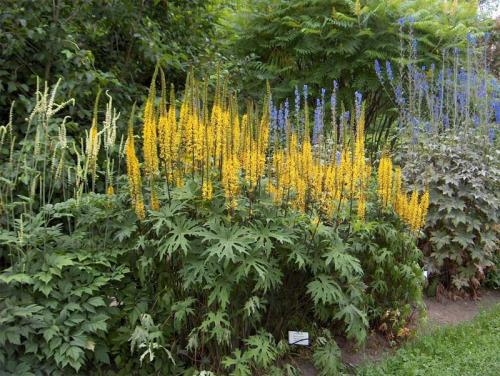 Black cohosh when planting in partial shade and in moist soil with added organic matter will increase up to 20 years in one place without a transplant. Does not require shelter for the winter, hardy. When planting in full sun requires irrigation, or place it near plants that shade the root zone and retain moisture. Very beautiful composition with the hosts badname, hakerami, astilbe.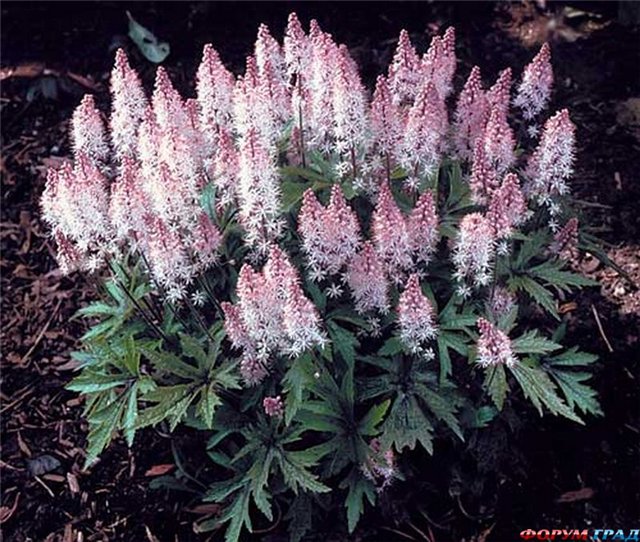 Stevia is a plant for a natural garden. Height up to 2 meters. Hardy, hardy, decorative, unpretentious, bee plant, blooms in full sun and in partial shade. A lover of moist soil with added humus. Almost no infestation by pests, with the exception of the miner.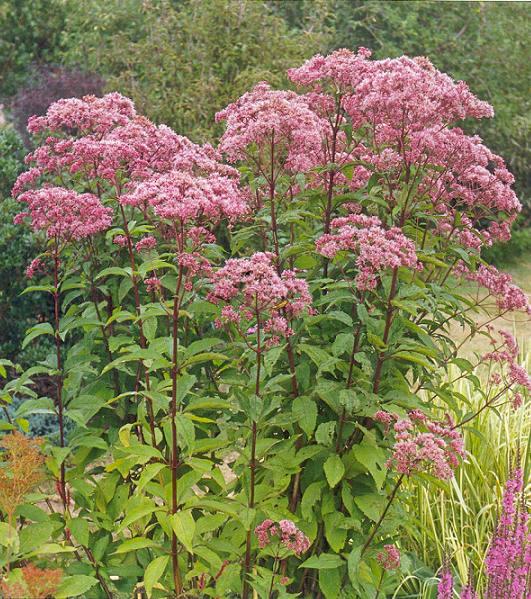 Sedum or stonecrops prefer loam or sandy soil. Although adaptable to any soil where there is moisture. Extremely tenacious. Imagine a large group of plants with erect or stalewski forms. Have decorative leaves that bloom only in the presence of light attract bees. Almost don't need dressing. In full shade lose its elegant appearance.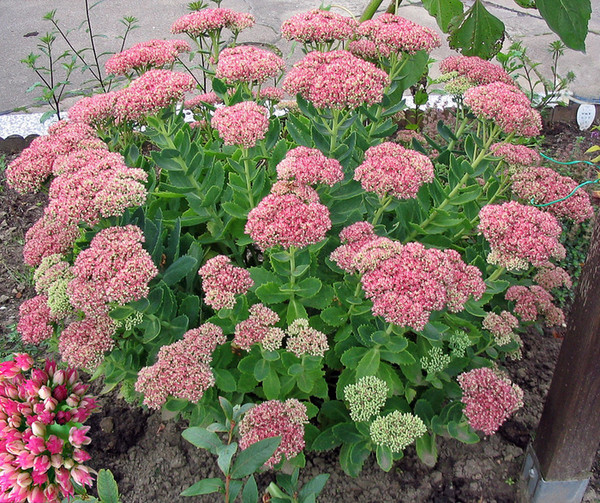 Geranium, perennial plant that prefers moist humus soil. Distinguished by hardiness, long flowering. Loves the sun, grows in partial shade. Suitable for planting in rockeries, stony hills. When planting roses or lilies will cover them in hot summer from drying out of the soil.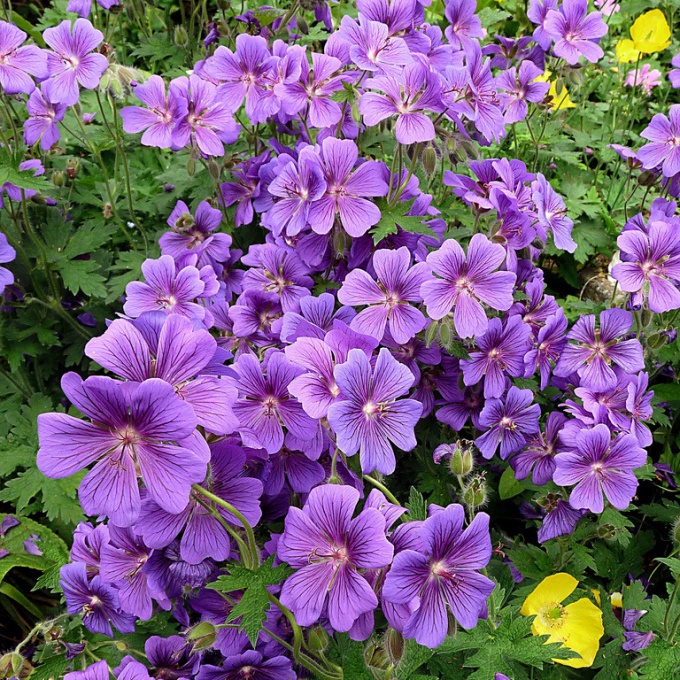 Phlox paniculata has somewhat lost its leadership position. But considering all the advantages of this low-maintenance plants, a variety of height, colour, fragrance and long flowering, the plant will again be favorites. Because in our country there are great varieties, superior to its decorative qualities and resistance foreign.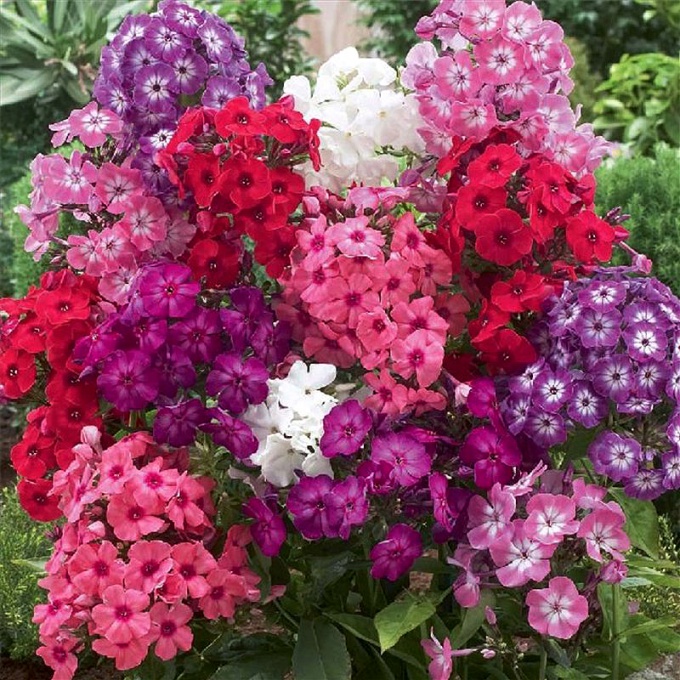 Advice 2: What perennial flowers to plant in the country
Buying garden inexperienced gardeners often don't know what perennial flowers to plant in the flowerbed. In this case it is important to choose low-maintenance plants, which would not require complex care, but each year delighted its owners with lush flowering.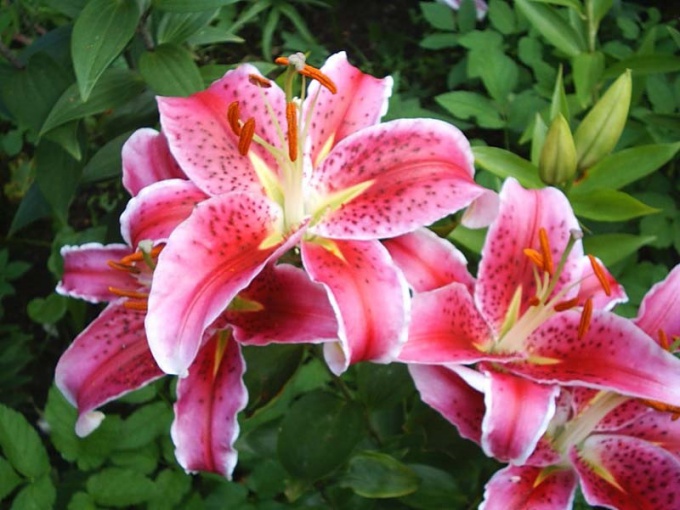 For novice gardeners will be the perfect undemanding perennials for gardens that do not require annual planting. Once planted, for many years they will continue to please their owners graceful blooms and pleasant aroma.
Herbaceous peonies: planting and care
The recognized leaders among this category of plants is evading the peonies (herbaceous). This name perennial flowers for the garden fully reflects their characteristics. Plants are able to bloom luxuriantly in one place for more than 20 years without requiring special attention. Even after flowering, the area will decorate their glossy, carved dark green leaves. Landed on your site a few varieties of herbaceous peonies, flowering at different times, it is possible to decorate the site for the whole holiday season.
Despite the fact that this is a sustainable and low-maintenance plants, some of the requirements to care for evading peonies still exist:
To ensure abundant flowering annual, twice per season to feed the plant complex fertilizer.
After flowering you need to remove the stems without touching the foliage.
For the winter should be cut off the entire aboveground part of the plant and cover with a thick layer of mulch or twigs to protect it from freezing. This condition is very important to observe in regions with severe winters. In a mild climate peonies perfectly winter without shelter.
Transplanted peonies need deviating only when necessary – if the Bush is too wide, and the flowers began to grow shallow. In General, the planting and care of herbaceous peonies don't require much time.
Lilies Asiatic Hybrids – for the inexperienced growers
Another kind of undemanding perennials – lilies types of Asian Hybrids. The name perennial flowers for the garden have given the selectors who brought flowers amazing beauty of wild species Daurian Lily. They are not afraid of frosts, which are not particular to nutrition and the composition of the soil. The only thing these flowers – the abundance of sunlight, moderate watering and occasional feeding. Planting some bulbs of these plants, you can create a gorgeous flower garden that will be envied by all the neighbors and guests. Modern breeding offers lilies Asiatic Hybrids with a variety of flower, height, flowering at different times, from spring to autumn.
Other hardy perennials for the garden
Rose - a real decoration of the garden. Choosing and planting garden seedlings canadian roses of different varieties, you can enjoy the fragrance and lush blooms for many years. All canadian roses are not afraid of cold, almost not damaged by pests and diseases, and lush, flowering rose bushes may continue with the first half of June until the first frost. The name perennial flowers for the garden are descended from species selection – this type of rose was launched over 100 years ago in the harsh canadian climate.
Popular with gardeners, Phlox perennial, too, can become a real decoration of the site and the pride of the hostess. These plants bloomed profusely, you need to replant them once in 3-4 years, giving Bush perennial Phlox needless to segestica.
Astilba – another undemanding perennial. Graceful panicles and the delicate foliage of this plant is decorative not only in summer, but beautify the garden until the first frosts. They are used in mass plantings in lawns, to create a decorative background for other flowering plants for decorating unsightly foundations and fences. The planting and care of astilbe does not require special knowledge, it can grow for even a beginner.
Using a combination of different species and varieties are undemanding perennial flowers in the garden, you can create a unique flower bed that will remain decorative all season and do not require special care.
Advice 3: What are long blooming perennial plants to plant in the country
Every year many gardeners interested in the question, what kind of flowers to plant on his land to make stunning flower beds, catching bloom more than one season.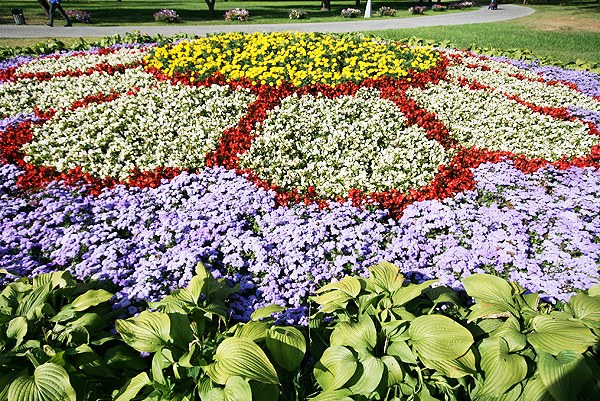 Flowers on the dacha are the natural decoration of the neighbouring vegetable patches or bushes of berries. For those who want to break up the flowers for a few seasons and provide your site a riot of colour from may to November, we need a long-term planting: it is best to choose perennial flowers, including bulbs and ornamental species of shrubs with colored leaves.
Popular and simple options
The perennial asters, which have about 100 varieties, are a popular flower. Large color palette allows you to select a color that will blend in or contrast with other plants; it may be white, pink, purple and crimson hue.
Asters bloom for a very long time with twice daily watering and well-drained soil. Dried flowers it is advisable to cut.
Asters in the country can grow everywhere, but they should not be placed in too wet sites. You need to drop them off at a distance of 20 centimeters from each other.
Another perennial flower is a lupine. It is unique in its appearance, an elongated shape. This long blooming perennial provides a huge and lush Bush, occasionally its length reaches one meter. Colors are also varied: yellow, red, white, purple and pink flowers. To plant lupins have at a distance from each other 50 centimeters.
Unpretentious flower rudbeckia, or as it is popularly called "fireball" behind the bright yellow flowers, is a favorite among gardeners. It does not require special care, its height is about two meters, because of this it is often planted along the fence as decoration.
Favorite perennial flowers are: lilies, peonies, tulips, irises, chrysanthemums, dahlias, and chamomile. These flowers are perfectly coexist with each other and very unpretentious. Tulips bloom first, they are replaced with peonies and irises, and the color riot will end only at the end of October flowering lilies.
Convenient easy
Long blooming perennial plants have many advantages for garden plots. First, their varieties are so many that even a small update of the flower garden becomes a joy. Secondly, if you choose the right place for planting your flowers, they will grow for many years without requiring special care. Thirdly, perennial flowers usually thrive, so it does not have to spend money on a large number of seedlings, they will not require a permanent transplant.
Remember about the basic aesthetics, the bed should be harmonious in terms of volume, size, and color.
Still, you have to remember is that as with any herb, perennial the flowers have their own characteristics. For each class it is important to choose a seat, and also to correctly determine the amount of free space, which will require a plant in the active growth phase.
It is not recommended to plant a groundcover mnogoletniki near shrubs. It is impossible to place in one area of water-loving kinds of flowers and those that require dry soil and good aeration.