You will need
Cotton, wool or wool blend yarn
Hook
Spokes
Pattern
Instruction
If you are a beginner seamstress, but you already tormented by the question "how to knit a dress", while it is possible to choose the most simple models and to associate the sample patterns. But for the dress to be taken even earlier. After all, to knit a dress, need the pattern. And not just a pattern! Patterns for knitted dresses is available in many knitting magazines, but at due skill it is possible to turn a plain pattern into a pattern for knitted dresses. For this purpose, the samples knit the pattern you need to calculate how many loops and rows have 1 cm of the pattern. It will be easier to determine when you need to knit armhole or neckline. Part of the pattern can also be greatly simplified, for example the neckline. Because the neck in the knitting process in any case will need to tie or decorate openwork pattern.
To knit, you need yarn containing elastane and polyester, because in the process of walking dress should be loose fitting shape and to recover its shape after each step. Another thing, if you are going to knit the tunic dress or Atletico. In this case the best choice would be cotton yarn.
For the first knit dress is convenient to take a simple pattern tunic dresses. It fit straight and the only difficulty may be vyvazhivanie neckline and arm openings. In the process knit dress, you should regularly try putting the knitted detail to the elements of the pattern.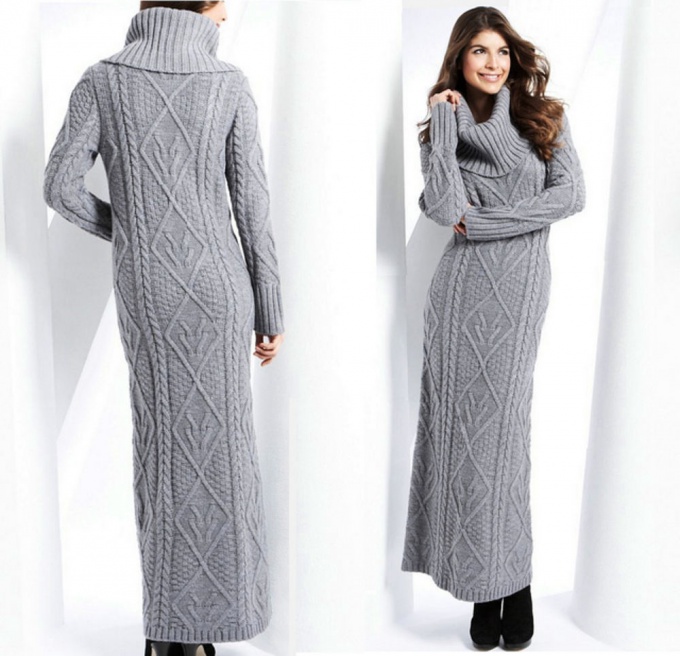 To link dress socks for winter or autumn, it is better to use wool or wool blend yarn and knitting – knitting knitting becomes more dense. Knit winter dress can be a hook, even making beautiful delicate patterns, but in this case, the yarn quality is to use a fluffy mohair.

To knit a dress in a slim silhouette the spokes, because the spokes waffle knit ensures good elasticity of the garment. Light summer style dress would look perfect if to knit it crochet, using the technique of Irish lace or openwork knitting. Whatever it was, winter or summer, crochet dress handmade will always be the height of fashion!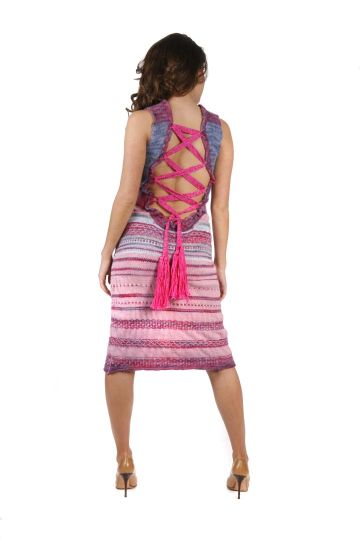 Note
Before knitting, the yarn needs to be washed in warm water, so that after knitting the finished product is not much village
Useful advice
When knitting dresses you need to closely follow the dimensions of the patterns, otherwise when after washing the dress will wear it will be impossible