You will need
-birch buds;
-alcohol;
fir oil;
-oatmeal;
-leaves cranberries.
Instruction
If you often sore and inflamed joints, it can be due to many reasons. To begin the right treatment, you should contact the experts, to take the necessary tests (blood, x-ray) and find out the exact diagnosis .
For treatment of joints, use medicines prescribed by physicians. If the inflammation is acute, you may be given injections directly into the center of the inflammatory process. In many inflammatory diseases of the joints apply a warming ointment, which provide the blood flow in the tissues surrounding the joints, relieve swelling and reduce pain. But keep in mind that if the inflammation of the joint due to the injury, warming ointment can not be applied
On doctor's pass optimal physiotherapy: magnetotherapy, ultrasound, acupuncture, laser, massage; using these methods, you will relieve tired joints and restore their function. For massage use extracts of eucalyptus, chamomile, rosemary, lavender, camphor.
In combination with medical devices you can use and those offered by traditional healers. Here are some of them:

RUB the tincture of birch buds. For its preparation take 100 ml of alcohol (70%) and 20 g kidney, insist three weeks. The filtered composition store in a cool dark place.
Clean RUB fir oil into the affected area, which should be pre-warmed with a compress of sea salt. After rubbing, repeat the poultice.
Apply daily on the affected joints compress of oatmeal. Cook for 5-7 minutes, three spoons of cereal in 400 ml of water. The mixture cool and apply.
Try to take coniferous baths.
Drink a decoction of leaves of bilberry. Pour a Cup of water 2 teaspoons of raw, boil a quarter of an hour. After cooling and straining, the decoction is ready. Need to drink it throughout the day. To use this tool you need at least 2 weeks.
Review the principles of nutrition, especially if you are overweight. Never make a hungry days, so as not to weaken the cartilage. Enter in the diet of seafood, fresh vegetables, fruit and grain fiber. In the period of exacerbation exclude meat soups, offal, fried, spicy, smoked and salted foods, legumes, dairy products and tomatoes, as well as alcoholic drinks, strong coffee and tea.
Several times a week to engage in therapeutic exercises that support joint mobility, increase flexibility and muscle strength. Very useful stretching exercises, swimming, and dosed walking. But eliminate all of that putting a strain on the joints and made a breakthrough. Harmful Jogging, tennis, lifting weights, long stay in a standing position. Daily, 10-12 minute, do gymnastics extremities: compress and do this with your toes and hands, rotate the feet and hands, raise your hands and rotate them, do the "eight" hips.
Advice 2 : What if aching joints
It happens that for some reason people have a rather unpleasant pain in the joints. People say that they ache. For example, waking up in the morning, you can't move your hand, fingers or foot. The severity of such disease is determined by what time it lasts numbness. What should I do? There are few tips by which you can get rid of this disease.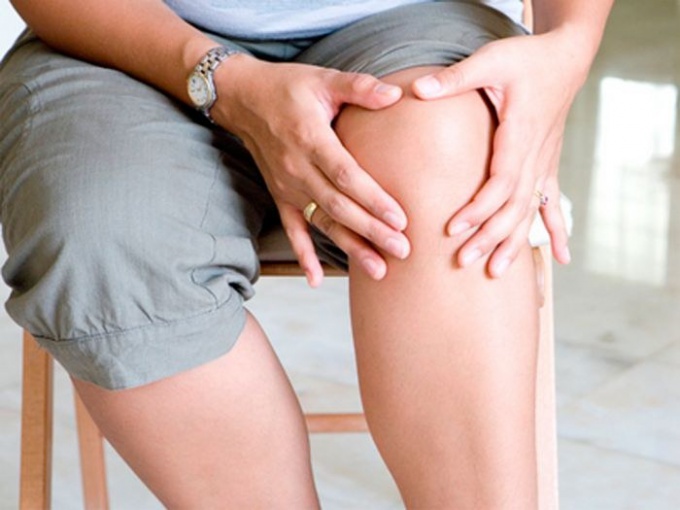 You will need
- inula;
- comfrey;
- Potentilla;
- peony;
- tamus;
- Brioni;
- Rhodiola rosea root;
- vodka.
Instruction
The joints need to warm up. If you have a healthy blood vessels and good circulation, before bed take a hot bath. From time to time go to the sauna or steam bath. There you not only warm, but also print the body of toxins, clean the skin.
Should eat right. Be careful in the diet was present more vitamins and minerals, but do not settle on fatty foods. Eat more plant-based foods, lean fish, meat.
Keep yourself in good physical shape. At least 20 minutes a day charging. Develop a motility of fingers of arms and legs, often bend them. It is useful to roll the feet on the floor, for example, the bottle to touch the hands small balls.
Possibly reduce the occurrence of stressful situations, a nervous overstrain. Try to observe the daily routine. Sleep at least 7 hours a day. Because sleep deprivation is a common cause of the disease.
Try to use traditional methods, such as herbs. Take in equal proportions elecampane, Rhodiola rosea root, bryony, tamus, peony, comfrey and cinquefoil. All components mix, pour vodka 1:10 and leave for 30 days in a cool dark place. In order to heat the patient's joint, make a compress with the tincture at night. If you just want to relieve pain, lubricate the affected area, but do not RUB.
Note
Before using any medicines consult your doctor to rule out any contraindications.
Useful advice
With the aching joints will help to manage medication. If the disease is not running, use non-steroidal anti-inflammatory drugs, e.g., ibuprofen, diclofenac, nimesulide. Remember, these drugs are not a panacea, they can help relieve and remove the pain. Treatment need complex.