Instruction
Delphiniums are very popular among gardeners. It is densely covered with flowers in the form of bells plants. The flowers have a large, therefore the plant needs support, so he doesn't lay on the ground.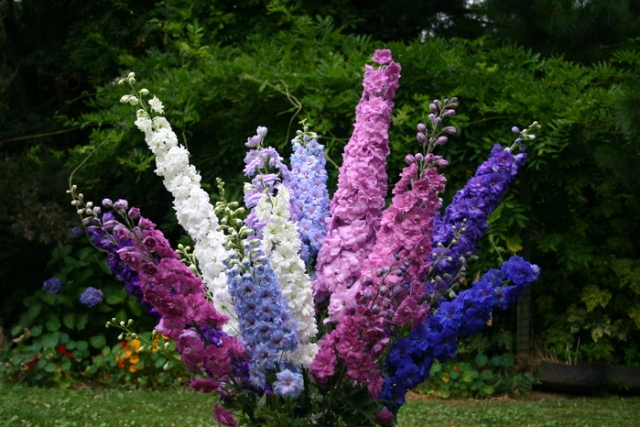 The sun perfectly grow Phlox. Phlox paniculata is a perennial herb of small stature. He stalks thick, with large flowers of different colors. Phlox smells very nice. If after flowering it is cut, then over the summer it will bloom a second time.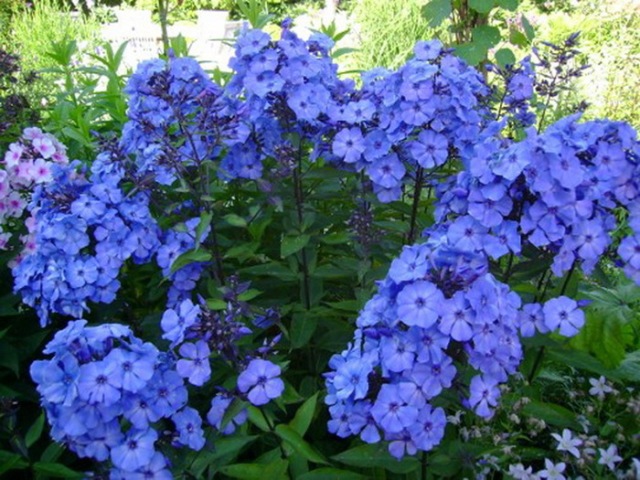 Bushy Aster is a groundcover that blooms star-shaped flowers until late autumn.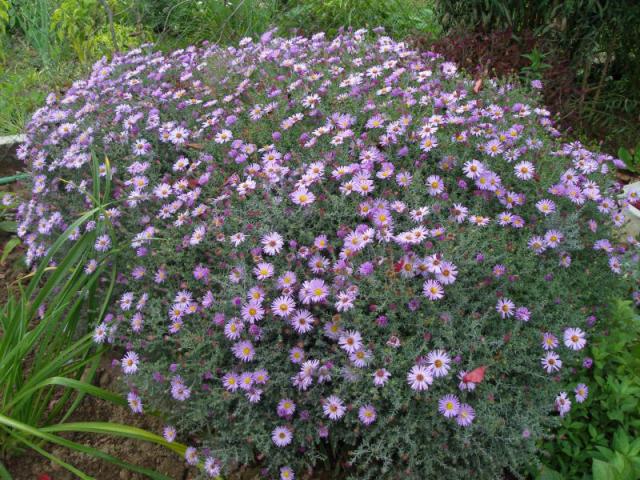 Heliopsis – perennial, somewhat resembles a sunflower. The flowers have a large, long stored in the plant.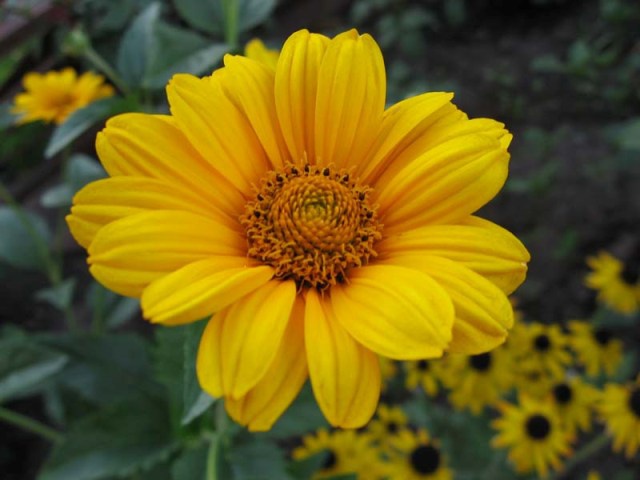 The daylily is a perennial plant with large flowers in the form of stars or bells. It is quite invasive.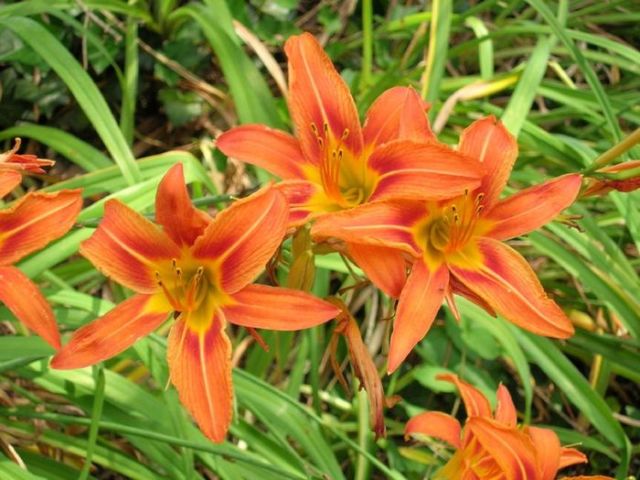 Rudbeckia is a very hardy plant, with buds in the shape of daisies. This plant is strong and grows quickly, so needs constant pruning.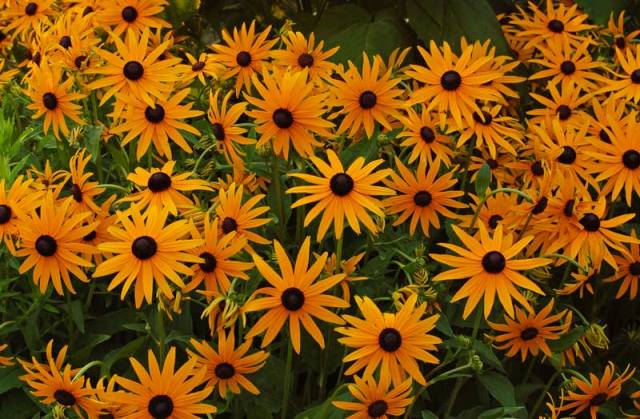 Catnip – this plant is a shrub that can be cut to any shape. It blooms with numerous small flowers. Catnip suitable for any beds.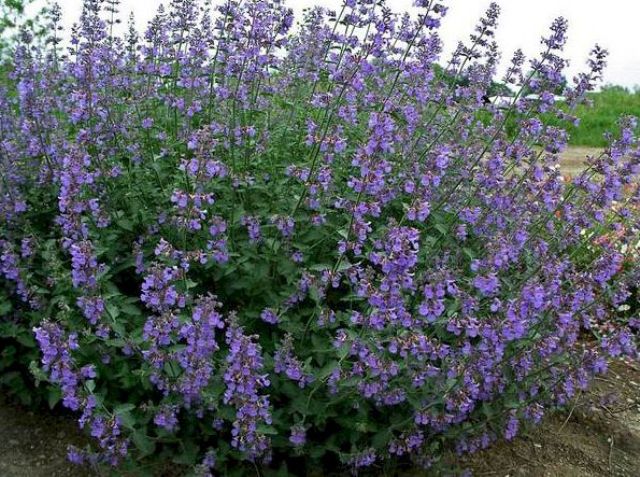 Lavender is a small plant with hairy leaves and fragrant flowers. It is often planted near the curbs due to its bushiness.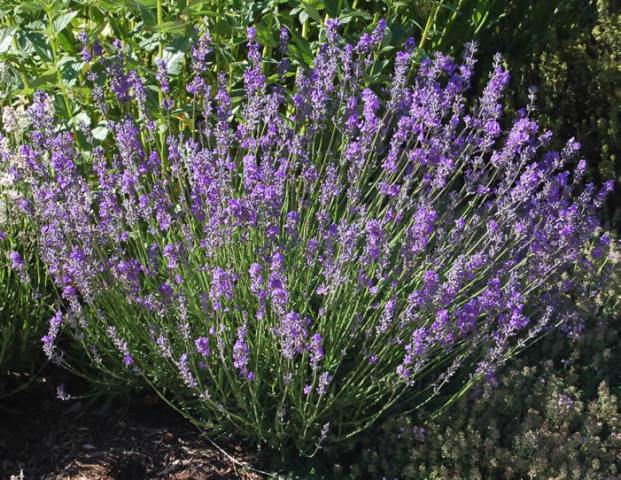 Mallow – tall, with numerous flowers of a plant. The flowers have a simple, color is a shade of pink to purple. It is often planted at the end of the area, so they towered above all other flowers.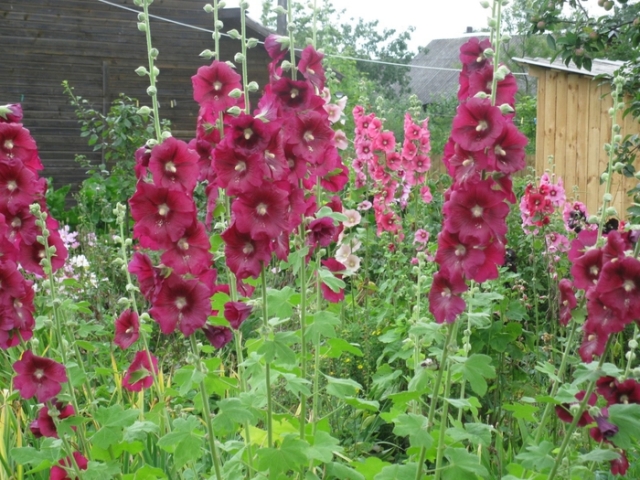 Useful advice
To extend the flowering perennials you can, if you are after flowering cut them.
Advice 2: How to plant sunflowers
A small yellow sun on tall stems can be found in almost every garden. During the time the sunflower was very fond of our gardeners for its simplicity, ease in rearing, breeding of sunflowers has its own quirks and nuances.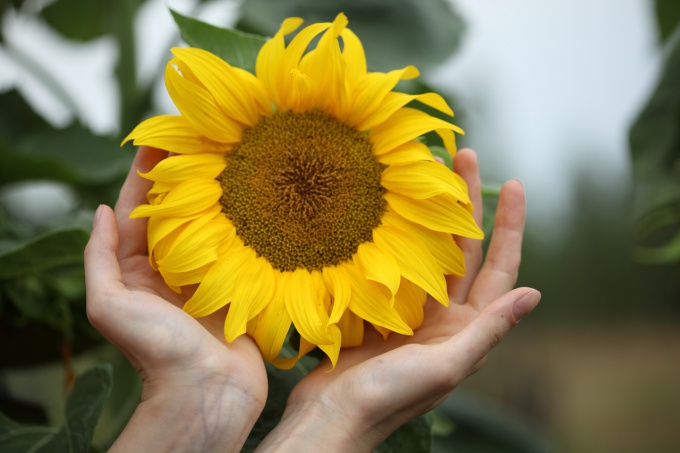 Instruction
Some gardeners prefer to grow sunflower seeds by seedlings, but the trouble is that not all varieties have a strong enough root system to safely survive the transplanting from one place to another. On the other hand, if you plant sunflower seeds directly into open ground, frost can easily damage the young plants.
Therefore, for the successful cultivation of sunflowers select the most suitable for your band variety is frost resistant and early ripening.
For planting sunflowers select from autumn plot, dig it to a depth of 20 cm, fertilized with manure, compost, mineral supplements.
The sunflower refers to cross-pollinated plants, therefore, give the preference to any one class. Two classes propylbis will only hurt each other, the seeds they have will be smaller, yields will be reduced significantly.
The rarer shrubs will be planted, the larger they will the seeds, so allot for each plant plot with an area of at least 30 to 50 cm to Plant seeds when soil temperature reaches 8°C. Collect for planting large and heavy seeds with an intact shell.
Stick them in the ground to a depth of not more than 5 cm, sprinkle with ground pour water. In case some of the seeds came up in one hole you can plant up to 5 seeds, but leave in the end will have only one plant, ruthlessly deleting the other.
Young sprouts are tasty treats for birds, so set along all the beds on both sides of the pegs and pull between the white thread. To heighten the effect of the thread you can tie a white cloth or aluminum foil. On young plants the size of 8-10 cm, the birds no longer interested in them, and the design can be removed.
Note
Return the sunflower on the same bed only after 3-4 year break.
Useful advice
Sunflowers can be planted one by one in the aisle of potato and tomato beds
Advice 3: How to plant chamomile
Chamomile is a perennial plant, and like all perennials need humus-rich well-drained soils. Perfectly these flowers growing in the Sunny areas, however, not tolerate prolonged drought. For daisies optimal watering – once every two weeks.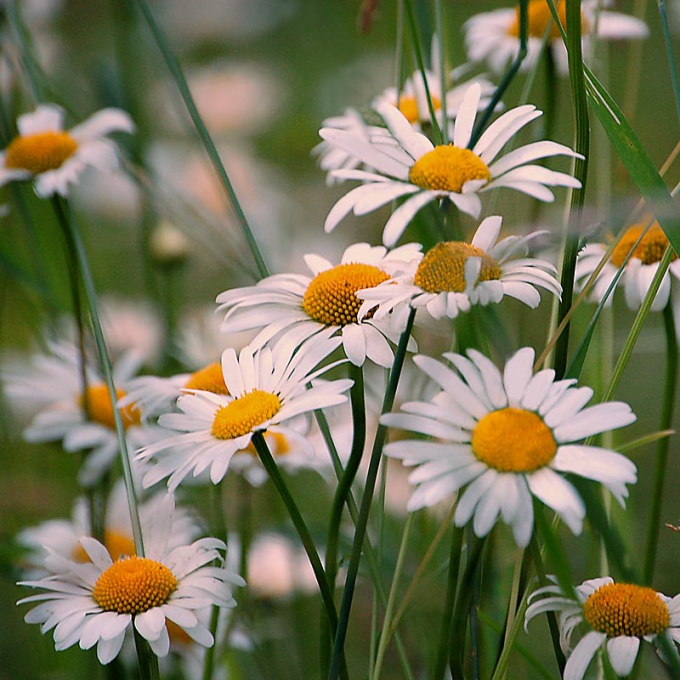 You will need
seeds, sand, seedling box, soil, shovel, land, lake, water, fertilizer
Instruction
Mix equal parts peat, compost and garden soil. Fill with a mixture of boxes of seedlings. Tamp and thoroughly water. Chamomile seeds are quite small, so before planting they should be mixed with dry river sand in the ratio 1:1. So they will be easier to plant. Visivite seeds in two rows, preferably not very thick, otherwise then will have to dive seedlings.
Water seedlings as the soil is drying out, but not more often than once in two or three days. More frequent watering may lead to rotting of the barely hatched, but not yet who rise seeds. The drying of soil is also undesirable for young sprouts. Therefore, observe the water balance. When seedlings emerge, be sure to move the boxes in a Sunny place. Chamomile – a plant of long light day, shading will lead to a thinning and stretching of the seedlings, and to allow in any case impossible.
Feed the flowers at the stage of the third true leaf. It is better to use a combined fertilizer, composed of nitrogen, potassium and superphosphate in the ratio of approximately 2:1,5:1. Per liter of water is enough to take 3-4 g of the fertiliser.
Opt for chamomile suitable site. Dig the ground to a depth of the pin shovels. Make rotted manure, which can replace the compost with earth. Good pour. Make holes in three rows, having them in chessboard order on distance of 20-30 cm from each other. To each well additionally pour water and let soak. The exceptions are heavy clay soils with bad drainage. If that is the case, the water in the wells pouring should not be, stagnant water is not the best way affects the survival rate of the daisies.
Planted flowers in the evening, after the plot will go direct sun. Try to take out a plant with a clod of earth, so reduces the chance of injury to young roots. After planting the seedlings, sprinkle its fertile land. If the days are hot and dry – over mulch the soil around the daisies. As mulch you can choose sawdust, or very fine clay.
Take care of flowers, watering regularly, loosen (pushing the mulch), fertilize with liquid organic fertilizers. When they enter at the time of flowering, don't forget to snap off faded blossoms. Thus will stimulate new flower buds, and chamomile, respectively, longer than to please the eye.
Note
Grow Daisy seedlings. Planting seeds in open ground creates the risk that the flowers will start to blossom only in the second year.
Useful advice
Plant chamomile groups that occupied the area was at least 0.5 sq. m., so flowers will look better.
Advice 4: How to plant asters
The Aster is a herbaceous plant with lush flowers. There are annual and perennial forms of this flower. Asters differ in a variety of colors, bloom for a long time, are good in the vase life. In addition, Astra is quite unpretentious, and loved by gardeners. In open ground, this plant planted seedlings or sown seeds.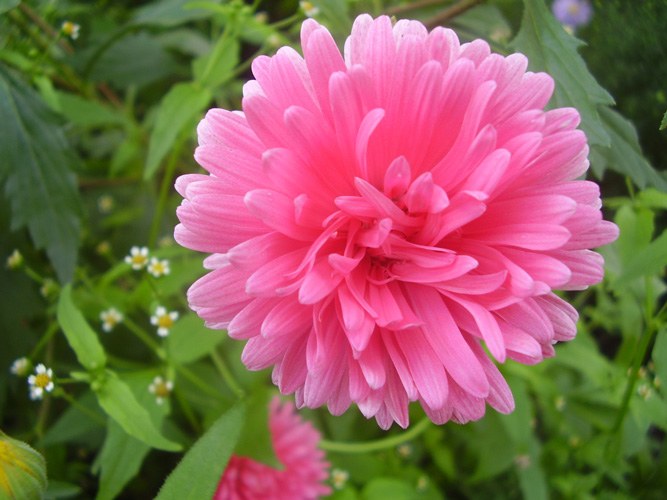 You will need
loam;
- peat;
- sand;
- superphosphate;
- wood ash;
- potassium sulphate;
- ammonium nitrate.
Instruction
Annual asters that are most often found in the gardens of Central Russia, propagated by seeds. The seeds of these flowers can be directly sown in open ground, you can plant asters in the greenhouse and planted in the flower bed seedlings. If you want to grow your own seedlings in March or early April, prepare a soil mixture of six parts sod land, one part sand and two parts peat. Pour the soil into the box and put it on top of a two-centimeter layer of sand.
Sow the flower seed in sand to a depth of half an inch. After sowing the soil in the box should be carefully watered.
It is sometimes recommended to sow asters in late January or early February. The boxes with seeds after sowing are stored under the snow until March. It is believed that the seeds tempered in this way, better resist pathogens. In March, the boxes are transferred to a room with a temperature below twenty degrees. A week after that will begin to appear on sprouts.
After sprouts appear at the two true leaves, seedlings asters in pots or boxes. The distance between individual seedlings must be at least five centimeters. If the plants have time to stretch, Zaglebie their cotyledon leaves. If you are growing seedlings in the flat on a windowsill, use a fluorescent lamp as additional lighting.
In mid-may transplant the flowers in the open ground. For astr fit lit smooth area of soil, which after rain is not stagnant water. Try not to plant these flowers in areas where in the next three years has grown potatoes or tomatoes. In the ground before planting, make sixty grams of superphosphate and one hundred grams of wood ash per square meter.
Put plants at a distance of twenty to thirty centimeters apart and pour.
In ten or fourteen days after transplanting, make the per square meter of soil twenty grams of sulphate of potash, thirty grams of superphosphate and the same amount of ammonium nitrate. Try to make sure that the fertilizer does not fall on the leaves.
Regular watering of asters, after watering loosen soil and remove weeds.